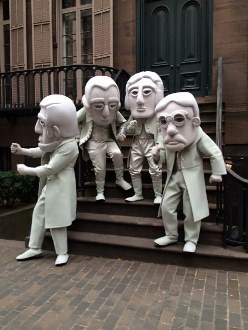 On November, 26, 2013, visitors and staff at Theodore Roosevelt Birthplace received a pre-holiday visit by four very special individuals who many people will recognize from one of the National Park Service's most famous and recognizable national monuments.
The 'Mount Rushmore Mascots' visited New York City, courtesy of the South Dakota Department of Tourism, to spread awareness for the State of South Dakota.
Joined by South Dakota's Secretary of Tourism James Hagen, as well as photographers and videographers, the mascots visited iconic sites around New York City, including Federal Hall National Memorial, and marched in Macy's Thanksgiving Day Parade.
Their travels around the United States have not only boosted tourism for the state, but also for Mount Rushmore National Memorial.