THING TO DO
Storm Point Trail

This trail begins in the open meadows overlooking Indian Pond and Yellowstone Lake. It passes alongside the pond before turning right (west) into the forest. The trail continues through the trees and out to scenic, wind-swept Storm Point. The rocky area near the point is home to a large colony of yellow-bellied marmots. Following the shoreline to the west, the trail eventually loops back through the lodgepole forest and returns to Indian Pond.
Safety notes: Often closed in late spring and early summer due to bear activity. Inquire at the Fishing Bridge Visitor Center about trail closures before hiking.
Trailheads: Indian Pond pullout, 3 miles (5 km) east of Fishing Bridge Visitor Center.
This is a 2.3-mile (3.7-kilometer) loop trail that begins and ends at the same trailhead.
Entrance fees may apply, see Fees & Passes information.
This trail is located in the central part of the park, with the trailhead east of the Fishing Bridge developed area at Indian Pond.
Area Closure
The beach area west of Storm Point Trail is closed by order of the superintendent to protect important plant habitat pursuant to 36 CFR 1.5(a) (2).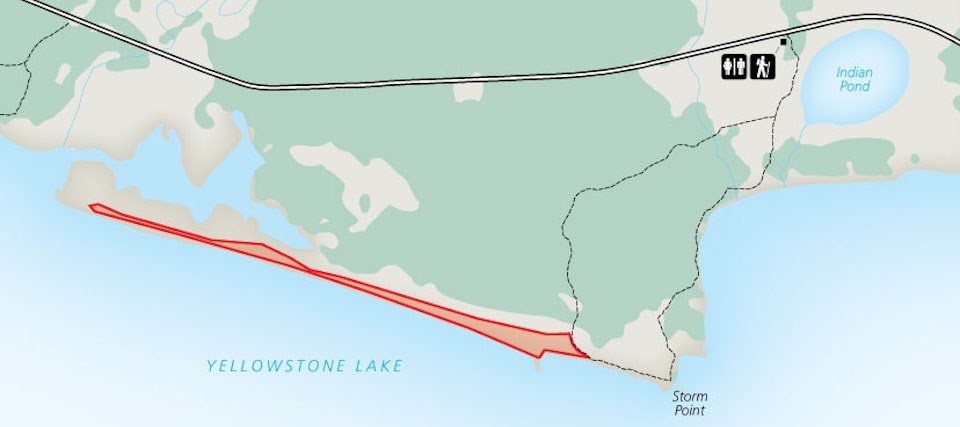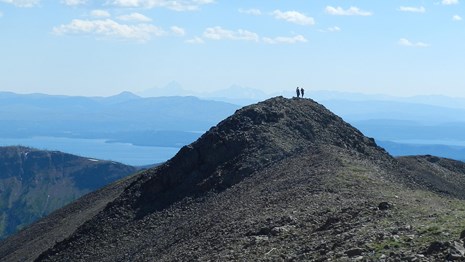 Yellowstone Day Hikes
Lace up your boots and explore some of the over 1,000 miles of trails in Yellowstone National Park.
Lake Area Day Hikes
Explore trails that traverse a variety of Yellowstone ecosystems and provide stunning views of Yellowstone Lake.
Last updated: August 4, 2021