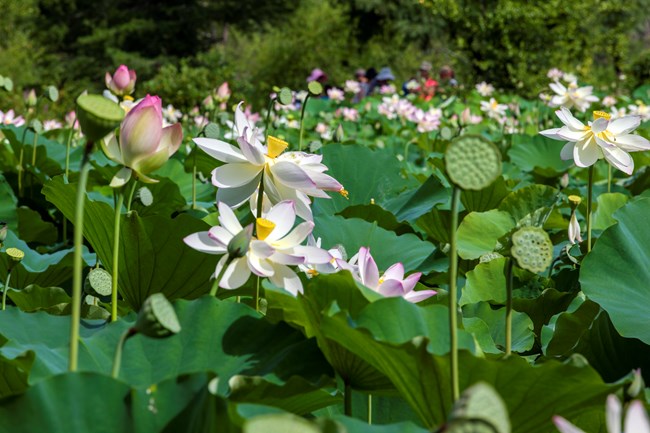 Sparkling in the sun on a breezy day, this natural area of Anacostia Park has
origins
in a 1926 act of Congress to preserve the forests, water quality, and recreation value of the waterways of
Washington, DC.
The park reflects the policies that affect rivers and wetlands.
Come out and walk the boardwalk for winter birding. See the park come to life during spring as the sights and sounds wake up and fill the park. Early summer mornings are prime time to see our famous water lilies and large lotus flower as they take center stage before closing up during mid day heat (late June-July). Come during fall and enjoy crisp cool air and splashed water colors as the leaves dance with color. There is an ever changing pallet of activities for ALL throughout the year.
Explore and walk the aquatic gardens with a ranger and experience the sights and sounds of Kenilworth's aquatic environment.
Rangers lead Garden Walks everyday at 2:00 p.m. Garden Walks meet and start in front of the visitor center.