Operating Hours & Seasons
Kenilworth Aquatic Gardens
Located on Anacostia Avenue, the park contains the gardens, greenhouses, boardwalk trail, and Visitor Center. During the winter (November 1 - March 31), visitor services are available from 8:00 a.m. to 4:00 p.m. and during the summer (April 1 - October 31), from 9:00 a.m. to 5:00 p.m.
Visitor services include the Visitor Center, restrooms and rangers on site to answer your questions and provide programs.
The park grounds are open from 7:45 a.m. - 4:00 p.m. for early birders, photographers and morning walks. There are NO visitor services availalbe until 9 a.m.
The park is closed on January 1, Thanksgiving Day and December 25.
No matter the season, there are a variety of things to do throughout the year.
Kenilworth Park (Athletic Fields and Meadow)
This area of the park, entered from Burroughs Avenue, contains the athletic fields and meadow. It is open daily from 8:00 a.m. to dusk. This area may be closed if road conditions are hazardous or after heavy rains to prevent damage to the fields.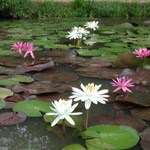 Last updated: November 15, 2018