Thing to Do
Paddling in the North Cascades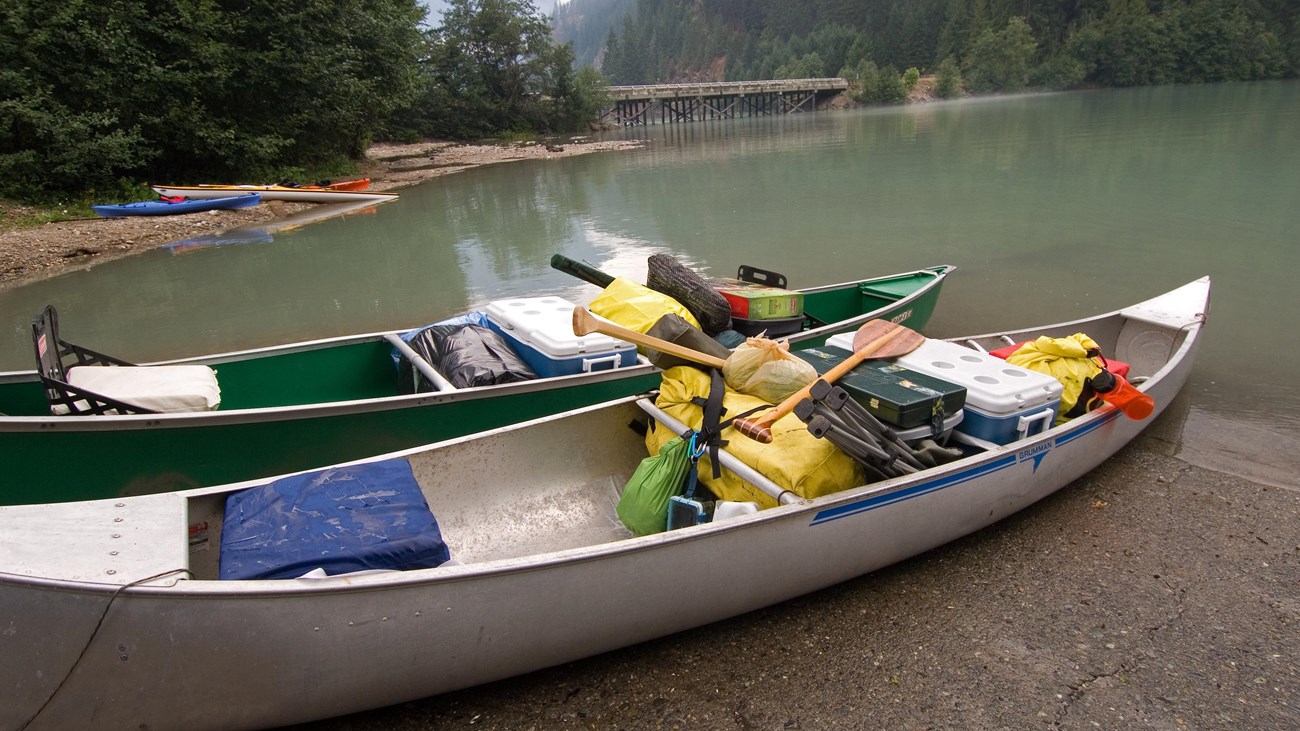 Kayaking and canoeing are popular activities on Gorge, Diablo, and Ross lakes, and on Lake Chelan. Ramps and launches are located at Gorge Lake, Diablo Lake, the north end of Ross Lake at Hozomeen, and Lake Chelan. There is not a boat launch on the south end of Ross Lake, and Ross Lake is not accessible by car from State Route 20.
Boat Rentals
There are no boat rental options for either Diablo or Gorge Lakes.The Ross Lake Resort rents motorboats, kayaks, canoes, and other equipment for Ross Lake, as well as offering a water taxi service. Limited paddle craft rentals are available at Stehekin on Lake Chelan.
Boat-in Camping
Boat-in camping is available on Ross and Diablo lakes, and Lake Chelan. Please note that boat-in camping on Ross Lake and Diablo Lake requires a backcountry permit issued from the Wilderness Information Center. Boat-in camping on Lake Chelan requires a federal dock permit if you plan on using the dock. 
Portage Notice for Ross and Diablo Lake Boaters
There is no boat launch on the south end of Ross Lake. Boats must be portaged between Diablo and Ross Lakes. For boaters approaching from Diablo Lake: Use the portage dock for all canoe and kayak portage activities. Do not use the ferry dock. The portage is 1.2 miles over a gravel road, with an elevation gain of 525 feet, elevation loss of 100 feet. The Ross Dam Trail (milepost 134 off State Route 20) could also be used as a portage route to Ross Lake if needed. This is a rocky, switchbacking trail that descends one mile and 900 feet to reach the lake.

Ross Lake Resort offers a portage service. It is not possible to portage larger power boats, or any other boat that cannot be carried between Diablo and Ross lakes. A portage phone is installed near the dock for visitors to call and request portage service from Ross Lake Resort. For portage questions or updates regarding portage service call Ross Lake Resort at 206-386-4437.  
Boating Safety
Water temperatures in the park complex seldom reach above 50°F (10°C). Accidental cold-water immersion can be fatal within minutes. Hand powered watercraft overturn frequently and it can be extremely difficult to get to shore or out of the water. Take precautions when recreating on water:
Wear a properly fitting life jacket: it can save your life.
Know the weather forecast. Sudden gusty winds and swells are common in the afternoon but can occur at any time.
Wear synthetic clothing appropriate for the conditions. Consider air AND water temperature.
Have a plan for self-rescue if you fall in the water.
Boating in the North Cascades includes the chance to go kayaking, canoeing, paddleboarding, rafting, and motorboating.
Entrance fees may apply, see Fees & Passes information.
Accessibility Information
The boat ramp at Colonial Creek is dirt, but accessible for some wheelchairs.

Service animals are allowed on boats.
Last updated: April 14, 2021