THING TO DO
Step Back in Time at Jefferson Rock
"This scene is worth a voyage across the Atlantic." Thomas Jefferson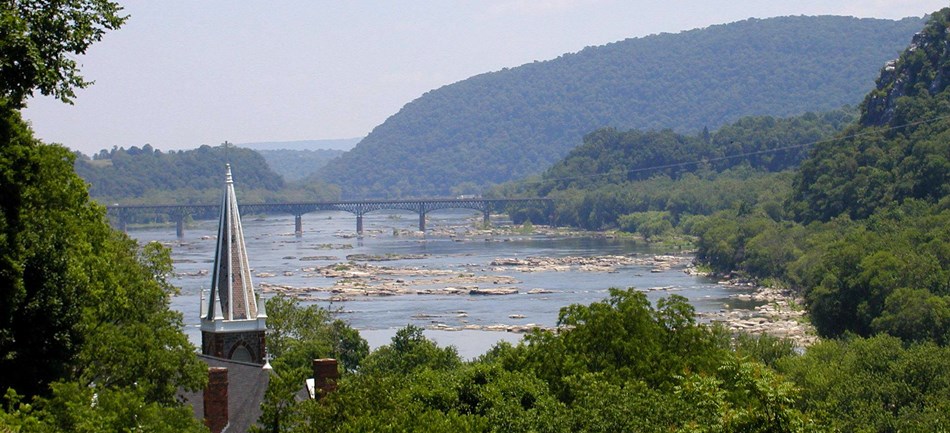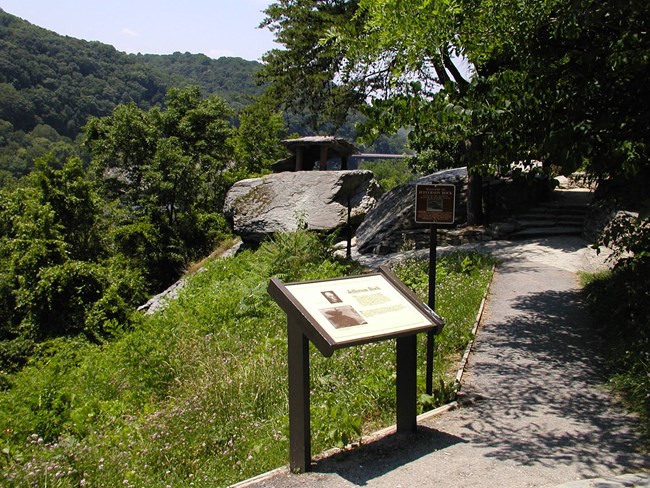 Visiting Jefferson Rock
Jefferson Rock derives it's name from Thomas Jefferson, who stood there on October 25, 1783. He described his first view from the landmark as a scene,
"worth a voyage across the Atlantic."
Four stone pillars were placed under the uppermost slab of Jefferson Rock to stabalize it sometime between 1855 and 1860. Today, visitors can hike up to Jefferson Rock from Lower Town, passing the African American History Museum and the Civil War Museum on High Street, St. Peter's Catholic Church and the ruins of St. John Episcopal Church.
Rules / Regulations
Please note the following regarding your safety and the protection of Jefferson Rock as a cultural resource:
Jefferson Rock is unstable.
Walking on, climbing, ascending, descending, or traversing Jefferson Rock or its supporting base rock is prohibited. [36 CFR 2.1 (a) (5)]
Leash your pet. Pets must be kept on a six-foot leash at all times while visiting any area of the park. This prevents encounters between pets and wildlife, protects pets from hazards, and prevents unwanted interaction between pets and other visitors. Retractable leashes should be kept at a maximum length of six feet.
Plan your day. Pets are not permitted on the park shuttle buses or in park buildings. Pets also may not be left unattended while their owners explore the park. When planning your visit, please determine what activities you plan to enjoy before deciding to bring your pet. Adequate water, shade, and supervision are all important considerations for your pet, especially in the hot summer months. Information on areas closed to pets is available at the park Visitor Center on the day of your visit. (Exception: Service animals are permitted on park shuttles and in buildings while functioning in their work capacity.)
Dispose of pet waste. All pet waste must be removed from the park. If you are visiting with your pet, please remember to bring plastic bags or a scoop and determine how you will transport waste from the park. Pet waste may not be left on the ground or disposed of in park trash receptacles.
Practice good behavior. Harpers Ferry is a popular destination. Visiting pets should be accustomed to crowds and capable of good behavior in the presence of other pets and wildlife. Unreasonable amounts of noise and harassment of wildlife are not permitted in the park. Digging, clawing, and other destruction of natural and historical resources are also strictly prohibited.
Report loose pets. If your pet escapes its leash and becomes lost in the park, please notify park staff immediately. Never abandon a pet, wanted or unwanted, in the park.
For additional information, please contact the park Information Center at 304-535-6029.
Entrance Fees for Harpers Ferry NHP

Park passes may be purchased at the fee collection entrance station daily.
Vehicle Pass - $10.00 per single, private vehicle (excludes group tours and 7+ passenger vans - visit the Group Fees and Reservations page for more information).
Individual Pass - $5.00 per person arriving on foot or bicycle
Harpers Ferry Annual Pass $30.00 Valid for one year from month of purchase for Harpers Ferry NHP only. Admits pass-holder and passengers in a single, private vehicle (excluding groups) or immediate family if entering by other means. Nontransferable.
Entrance passes are valid for three consecutive days, beginning on date of purchase and are required in all park areas. Fees are payable at Cavalier Heights Entrance Station, Bolivar Heights, Maryland Heights, Harpers Ferry Train Station, and River Access Parking Lot. Credit cards are accepted only at Cavalier Heights.
To learn about the fee system and the projects fees support, please visit the Your Dollars at Work portion of the website.
From the Information Center in Lower Town, hikers find the Appalachian Trail (AT) on High Street and head up the stone steps to Jefferson Rock. 
Harpers Ferry National Historical Park is open year round with the exception of Thanksgiving Day, Christmas Day, and New Year's Day. Park passes may be purchased at the fee collection entrance station daily.
The park's operating hours are as follows:
The park is open daily from 9 a.m. to 5 p.m.

Park shuttle bus hours begin at 9am daily, though the end time for buses varies by season. Please call ahead or check on the day of your visit to verify shuttle bus hours.

The Train Station will no longer open at 5:45 a.m. It will be open during regular park operating hours.
Accessibility Information
The National Park Service welcomes people with disabilities. The links below provide information about specific facilities, programs, and services that may help you better plan your visit. If a particular service is not mentioned below, such as alternate formats for print materials, audio description, assistive listening, captions, or physical access to particular facilities, programs or services, please contact the park at 304-535-6029 or via email.
You may wish to learn about the America the Beautiful National Parks and Federal Recreational Lands Access Pass -- or simply, the Access Pass -- which provides a wide range of discounts on activities and services when you visit federal lands.
General Information
Harpers Ferry is a park consisting of historic buildings, Civil War battlefields, hiking trails, and much more. Within this complex park there is something for everyone to connect with and enjoy. Please be aware that due to the uniqueness of the park - its historic setting - some locations may be more difficult to access than others. This page offers you a glance at the park's amenities and features so that you may better prepare for your visit to Harpers Ferry.
Physical / Mobility Accessibility
Visitor Center (located at 171 Shoreline Drive)
Parking: There are accessible parking spaces at the Visitor Center complex.
Entrance: The Visitor Center doors only open manually.
Restrooms: The restroom building's exterior doors open manually.
Wheelchairs: The park has two wheelchairs available that may be borrowed by visitors upon request.
Shuttle Bus: The park's shuttle buses are equipped for those with physical limitations. The buses kneel and have lifts to accommodate those who are unable to utilize the stairs.
Lower Town
Restrooms: An accessible restroom is located in the Bookshop building on Shenandoah Street. Restrooms are also located on the second flood of the John Brown Museum.
Exhibits and Museums: Most exhibits and museums in Lower Town have accessible entrances. These entrances are not always visible from the sidewalk. An accessible entrance map of Lower Town is available at the park's Visitor Center or Information Center.
Sidewalks and Trails: The sidewalks in Lower Town are made of various materials including brick, slate, and cobblestone. Trails in Lower Town are mostly compacted dirt. The walkway between the John Brown Fort and The Point is gravel.
Shuttle Bus: 

The park's shuttle buses are equipped for those with physical limitations. The buses kneel and have lifts to accommodate those who are unable to utilize the stairs.
Programs and Tours
Ranger-guided programs vary in topic and tour stops. Please feel free to contact the park ahead of time to ask about program routes and accessibility.
Deaf / Hearing Loss Accessibility
Exhibits and Museums: Video presentations within the park's museums are open captioned. Printed copies of video transcripts are available upon request.
Programs and Tours: The park has assisted listening devices available, which may be borrowed by visitors upon request.
Online audio / video presentations: All videos on the park's website are closed captioned. All audio presentations on the park website are accompanied by downloadable text transcript files.
Blind / Low Vision Accessibility
Braille: The park's brochure is available in braille. It is available at the park's Visitor Center.
Exhibits and Museums: Some exhibits, museums, and outdoor waysides have tactile components and audio descriptions.
Service Animals
For more information regarding visiting Harpers Ferry with an animal, please see our Pets page.
Last updated: January 18, 2018