Thing to Do
Hiking to Waterfalls on the Natchez Trace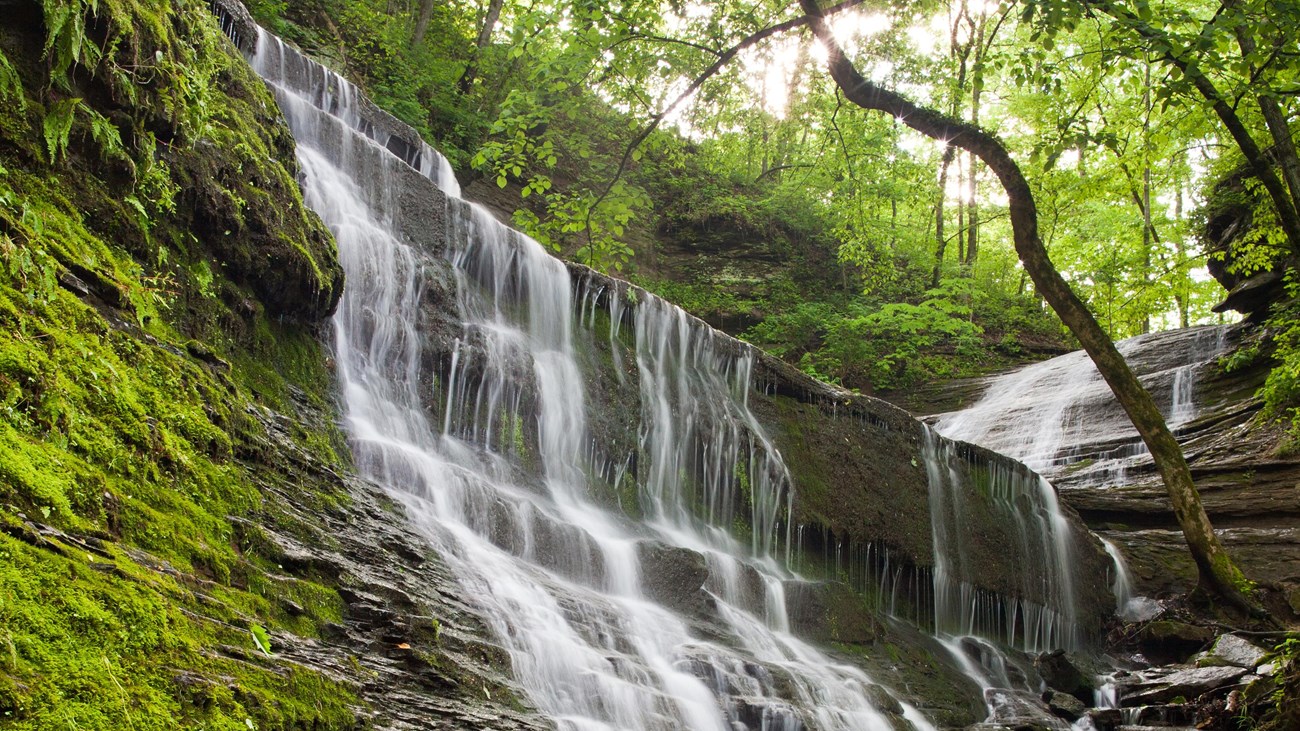 Perhaps two of the most awe-inspiring sites along the Natchez Trace Parkway are Jackson Falls (milepost 404.7) and Fall Hollow (milepost 391.9) located in Tennessee. Though both falls are equally picturesque, each fall offers a unique experience.
Both Jackson Falls and Fall Hollow provide beautiful scenery, but also offer opportunities to see wildflowers, birds, and other wildlife. You will not be disappointed in the experiences you can have at these two sites along the Natchez Trace Parkway.
Jackson Falls, located at Milepost 404.7 on the Natchez Trace Parkway
For thousands of years before the falls existed Jackson Branch flowed into this high valley isolated from the Duck River below. Then in a classic case of stream piracy, the Duck River captured Jackson Branch. The flooding river and other erosional agents wore away at the bluffs, cutting a new channel through faults in the rock. At the site of Jackson Falls the diverted stream slips down into the Duck River Valley abandoning its former course.
A steep trail (concrete sidewalk) 900 feet long takes you to a clear pool at the base of these falls. This trail descends to Jackson Falls a beautifully sculptured cascade. This is one of two waterfalls along the Natchez Trace Parkway. The other waterfall is Fall Hollow located at milepost 391.9 near Hohenwald, Tennessee.
Please do not climb on the falls it is very slick and dangerous and can lead to significant injuries.
Fall Hollow, located at Milepost 391.9 on the Natchez Trace Parkway
Fall Hollow is one of two waterfalls along the Natchez Trace Parkway. Almost immediately after leaving your vehicle you can hear the water descending over the twenty foot drop making Fall Hollow waterfall. If you continue down this short trail you will come to a viewing platform that views the 20-foot tall waterfall. The trail and platforms get slippery due to the water and moisture of the area. Please watch your step.
Please do not climb on the rocks around the waterfall. The rocks become very slippery and dangerous. You can sustain significant injuries if you fall.
Activity
Front-Country Hiking
Pets must be on a leash at all times and owners are required to pick up after their pets.
Entrance fees may apply, see Fees & Passes information.
The trails leading to both waterfalls can be slippery after heavy rains or snow/ice storms.
Accessibility Information
Both trails are paved to the viewing platforms for the waterfalls. Fall Hollow is a more level path but does go over very shallow standing water. Jackson Falls trail is paved however it is very steep. There is a handrail for use leading down to Jackson Falls as well as a bench roughly half way down.
Last updated: September 15, 2022