Thing to Do
Hike the Tomales Point Trail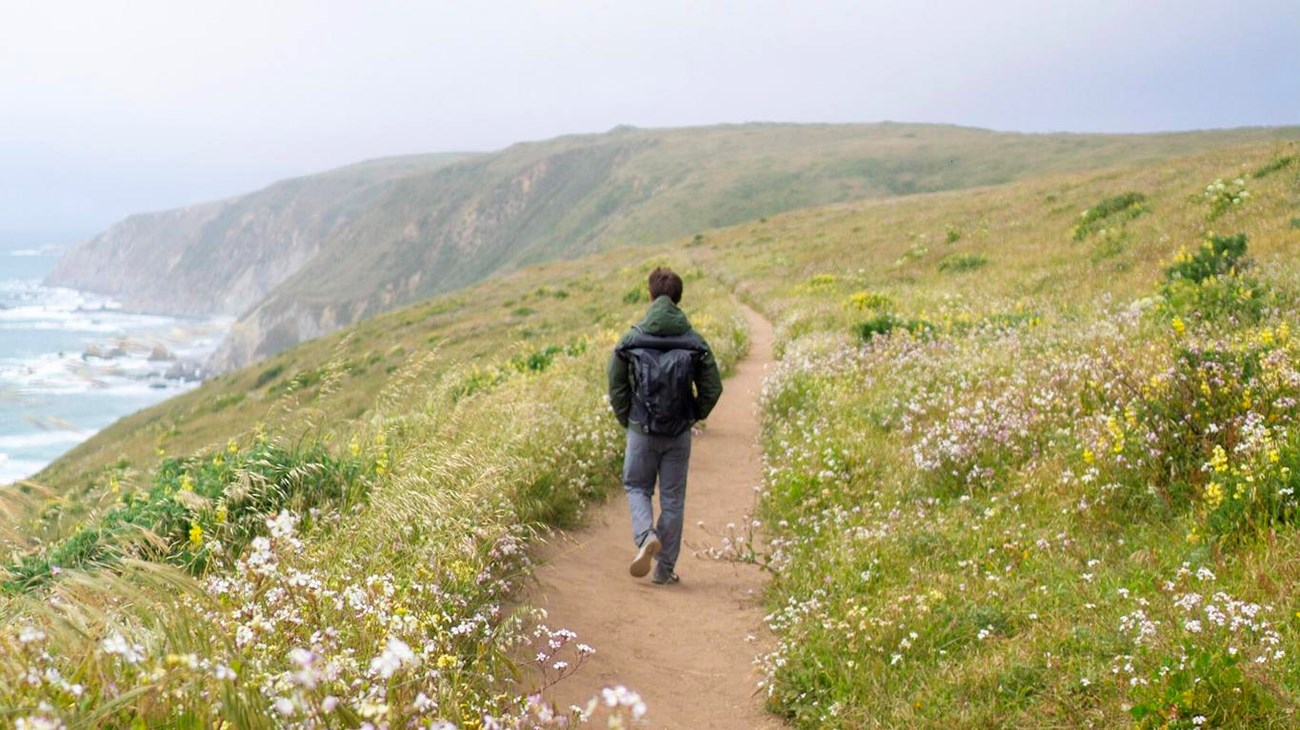 Distances:
To Windy Gap: 2 miles (3.2 km) roundtrip
To Lower Pierce Point Ranch site: 6 miles (9.6 km) roundtrip
To Tomales Point: 9.5 miles (15 km) roundtrip
This hike starts from the Tomales Point Trailhead by passing along the west side of Pierce Point Ranch before veering west through coastal scrub to the top of tall coastal bluffs. This trail rambles along the crest of an open ridge as it follows an old ranch road northwest. It offers spectacular views of Tomales Bay, Bodega Bay, and the Pacific Ocean. It is also a prime wildlife viewing trail, as it traverses through the Tule Elk Reserve. The Tomales Point Trail is an out-and-back trail, so it provides visitors with the flexibility to choose how long they want to make their adventure.
The first mile of the trail is fairly level and broad, with views looking west over the Pacific Ocean. This is an opportune section of the trail to be on for sunset (so long as fog doesn't obscure the view). One can catch the sun setting "into" the ocean and still have enough twilight to walk back to one's vehicle before dark.
After 1 mile (1.6 kilometers) with very little change in elevation, the trail drops a bit into a saddle, called Windy Gap, at the head of White Gulch. This is a good location from which to view tule elk gathered at a perennial spring in the gulch below. Looking beyond White Gulch, one has a view of Hog Island in Tomales Bay. This is a good destination at which to turn around for visitors wanting to do a shorter hike.
Continuing north on the trail, one begins to ascend along the ridge crest to the highest location along the trail, located approximately 2.25 miles (3.6 km) from the trailhead. If you don't want to sweat much on the return hike, turn around here. Beyond this "peak", the trail descends rather steeply over the next 0.75 miles (1.2 km). But, if you are willing to proceed, you will soon arrive at a stock pond at the site of the Lower Pierce Point Ranch where elk, herons, and ducks can usually be seen. If you have yet to see elk, you'll likely see some here. Turn around here if you desire a 6-mile (~10 km) round-trip hike.
Beyond the Lower Pierce Point Ranch site, it is 1.7 miles to the tip of Tomales Point, but the trail is unmaintained, sandy, and is often overgrown. Long pants and long sleeves are advised. Fog and wind can limit visibility and make this hike more challenging; along some stretches it can be difficult to recognize which path to follow among the bush lupine. But the myriad paths tend to reconnect and ultimately merge into one path along the last half mile (0.8 km) of the "trail."
An important note to all visitors: Please stay on the main trail and away from the cliff tops. Bluffs along the California coast are inherently unstable. As an example, in January 2017, part of the bluff at the northern end of Tomales Point collapsed with no warning. As a result, a section of the Tomales Point Trail is no more. If you plan on hiking to Tomales Point, please be mindful of these hazards. Be aware of your surroundings and stay back from the edge. Many of the cliffs around Point Reyes are unstable and prone to slides or collapse, especially in wet weather. It is very dangerous to climb or walk along the edge of cliffs.
This route description alone is not a substitute for a trail map. Print out the park's Tomales Point Map (1,116 KB PDF) and North District trail map (3,409 KB PDF) before your visit, or pick one up at a visitor center on your way.
Always check current conditions before heading out into the park and familiarize yourself with park regulations.
The Tomales Point Trail is mostly within the Phillip Burton Wilderness. Please practice Leave No Trace principles.
Visit the park's Hiking at Point Reyes National Seashore page for hiking tips and information about trail etiquette and safety.
Visit the park's Trail Advisories and Closures page for current information about closed trails, trails blocked by trees, or other temporary hazards or advisories.
Visit the park's Tomales Point, Pierce Point Ranch, and the Tule Elk Reserve for more information about other points of interest and activities in the immediate vicinity.
The Tomales Point Trail is an out-and-back trail.
Allow 40 to 60 minutes to hike to Windy Gap and back.
Allow two to three hours to hike to the Lower Pierce Ranch site and back.
Allow four to 5 hours to hike to the end of the Tomales Point Trail and back.
Allow for more time for viewing elk.
Consider the weather, your preparedness, and overall group speed in deciding when to turn around.
Pets are prohibited on the Tomales Point Trail (or anywhere else within the Tule Elk Reserve). Visit the park's Pets page to learn where pets are welcome at Point Reyes National Seashore.
Entrance fees may apply, see Fees & Passes information.
Winter
The heaviest rainfall occurs in the winter months. Come prepared for rain and drizzle to possibly last for several days. In between winter rains, it is often sunny, calm, and cool.
Spring
Most spring days are windy and Tomales Point frequently experiences strong breezes. Expect cool temperatures in March. By late May and early June, temperatures can be quite pleasant, even warm.
Summer
Although there is very little rain during summer months, there is often dense fog throughout the day in July, August and September with temperatures often 20 degrees cooler than at Bear Valley.
Fall
The coastal areas of Point Reyes experience some of the clearest days in late September, October and early November. The occasional storm will start rolling through in late October, bringing clouds, wind, and rain. The strongest winds occur in November and December during occasional southerly gales.
Accessibility Information
The Tomales Point Trail does not meet criteria for being accessible. However, the first mile (1.6 miles) of the Tomales Point Trail is fairly level and wide with mostly hard-packed soil. Beyond Windy Gap, the trail ascends for 1.25 miles (2 km) along a rutted section of an old ranch road before steeply descending from 0.75 (1.2 km) as the trail narrows to about two to three feet (>1 meter) wide in places. The trail surface is primarily hard-packed soil for the first 3 miles (5 km), but then becomes sandy for the final 1.7 miles (2.7 km).
Last updated: September 12, 2022