Thing to Do
Hike the Huginnin Loop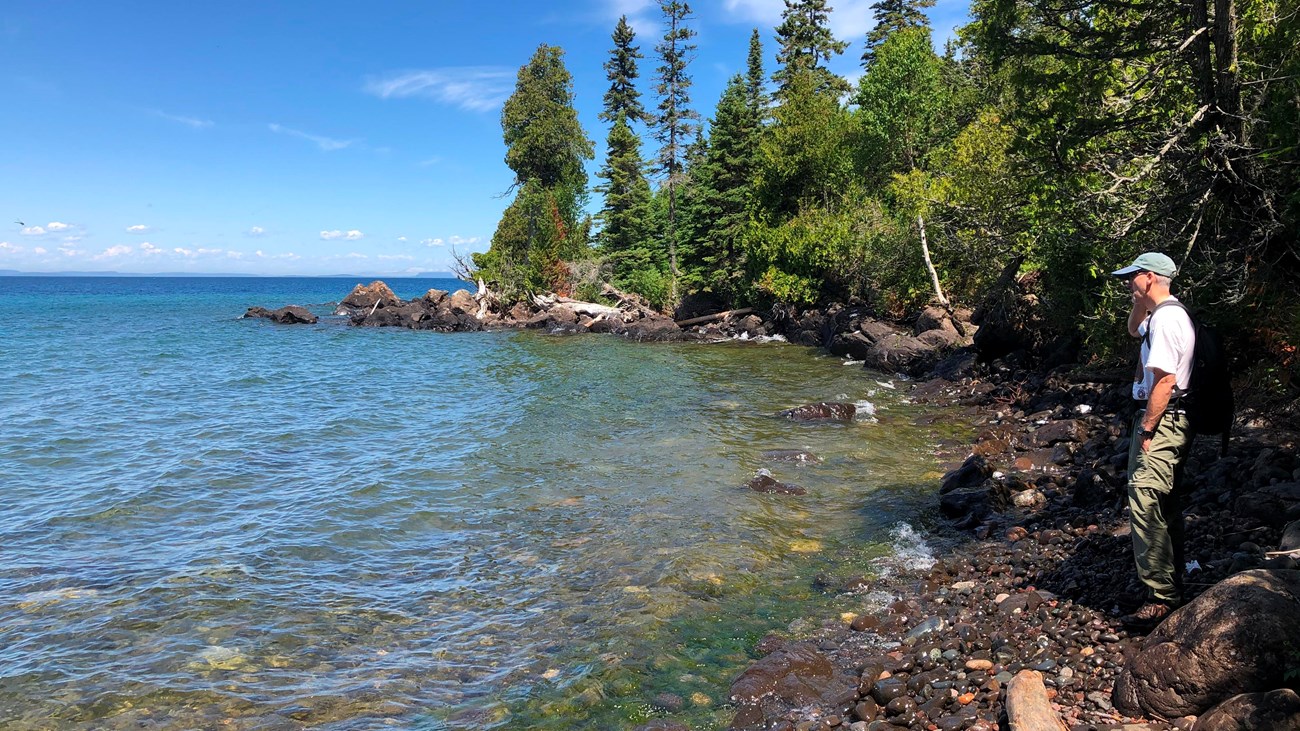 About this Trail
Total Mileage: about 8.2 miles (including spur trail to Windigo area)
Rating: beginner backpackers or experienced day hikers
Rocks and roots on trail
Changing trail conditions require a map, compass, and navigation skills
Boardwalks slippery when wet
Trailheads
The Huginnin Cove Loop can be done as a day hike or an overnight backpacking trip. The two sides of the Loop are different and both lead to the Huginnin Cove Campground located on the north shore of Isle Royale. 
West Huginnin
Mileage: about 3.1 miles
This section of the loop is a shorter distance to the campground. The start of the hike hugs Washington Harbor and then cuts north towards Isle Royale's north shore. The trail rolls up and down the actual Minong Ridge. Eventually a stream appears to the east of the trail, this is how you know you have almost reached the Huginnin Cove Campground. Make sure to take a break and enjoy the view of Lake Superior and Canada from the campground.
East Huginnin
Mileage: about 3.3 miles
The East Huginnin is a longer trail section and a favorite among many hikers. Start with the best, or save it for last—this section of trail will not disappoint. Starting from Windigo this trail follows the beginnign of the Minong Ridge Trail. At the junciton the East Huginnin cuts north. The trail rolls over the actual Minong Ridge and passes remnants from a Wendigo Mine exploration site. Continue until the trail moves adjacent to the northern shore of the island. This last section of trail before the campground offers scenic views of Lake Superior and Canada in the distance (on a clear day). Watch your step, the rocky trail lacks sure footing. 
Found Nearby
Huginnin Cove Campground
Washington Creek Campground
Windigo Store
Activity
Backcountry Camping
Some hikers choose to do the Huginnin Loop as a day hike. Others choose to backpack and camp at the Huginnin Cove Campground. 
Entrance fees may apply, see Fees & Passes information.
Location
Hugunnin Cove Trail at Isle Royale National Park
Season
Spring, Summer, Fall
Accessibility Information
The trail is 18 inches wide and covered in rocks and roots.
Cell Phone Additional Information
Internet Additional Information
Accessibility Information
Washington Creek Campground
Cell Phone Additional Information
Internet Additional Information
Accessibility Information
Last updated: February 23, 2022