Thing to Do
Hike Joyner Ridge Trail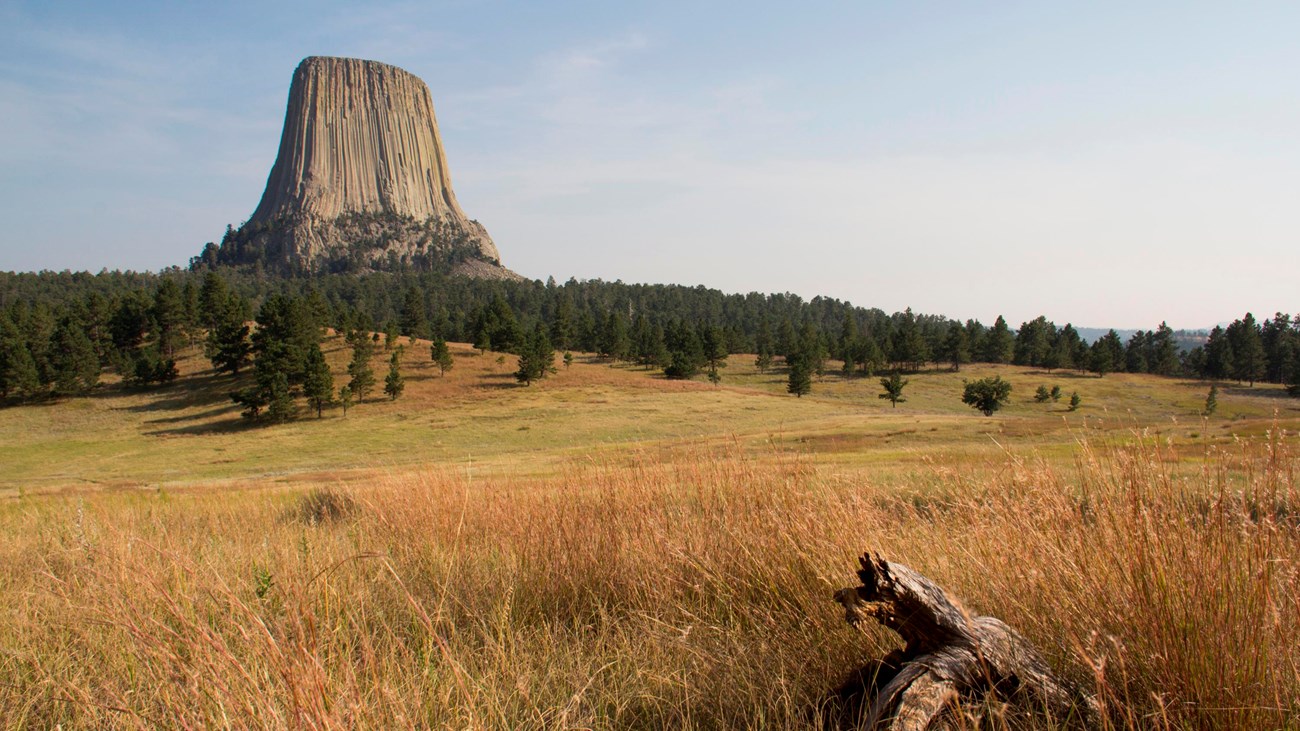 Joyner Ridge Trail is one of the most scenic trails at Devils Tower. Located along the north boundary, this 1.5-mile (2.4 km) loop follows Joyner Ridge and dips down into the draw below. Named after Devils Tower park custodian Newell Joyner, this trail offers dramatic views of the Tower and winds its way through tall grass prairies and dense forests. You may even spot a deer or two on your hike.  
Along the way learn more about the wide variety of ecosystems at the park via wayside exhibits. During the late spring and summer months at the Tower, bring your wildflower guide book to spot pasqueflowers, sego lilies, Oregon grape and more! 
Enjoy the full loop of Joyner Ridge Trail or use the 0.6-mile (1 km) connector trail (located about half-way) to Red Beds Trail to explore the rest of the park.  
Be aware that there is significant elevation change along the eastern portion, dropping from or climbing the ridge. The trail is not maintained in the winter, and commonly has packed snow and ice from December through April. 
This is a 1.5-mile (2.4 km) loop trail that begins and ends at the same trailhead, or segments can be done as out-and-backs. 
Activity
Front-Country Hiking
All ages, but minors should be with an adult parent or guardian. 
You may walk leashed pets on the unpaved road leading to the Joyner Ridge parking area. 
Park entry fees are required. 
Location
Joyner Ridge parking area
Access the trailhead by driving about 2.5-miles past the Devils Tower entrance station. Turn down an unpaved road from the main park road. The parking area is located on the right.  
Summer and spring: Possibility for hot weather and many areas on the trail are not shaded. Bring plenty of water and sunscreen for your hike. 
Winter and fall: Trail is not maintained in the winter. It commonly has packed snow and ice from December through April. 
Visit Joyner Ridge at any time of day. Rise early to watch the sun rise behind the Tower or use its secluded location to stargaze at night. If hiking at night, avoid the abrupt edge of the ridge line and the steep stairs on the east portion of the trail. Instead stroll through the prairie or sit at a bench overlooking the ridge. 
Accessibility Information
The Joyner Ridge Trail is not accessible by ADA standards; it is not wheelchair or assistive device accessible. This primitive trail has rocky, uneven terrain with steep sections throughout. Many parts consist of loose rocks and dirt and is only wide enough for one person. Along the ridge line there are steep drop offs with no railings. 
Last updated: October 18, 2020