Thing to Do
Hiking the Highland Rim Section of the Natchez Trace National Scenic Trail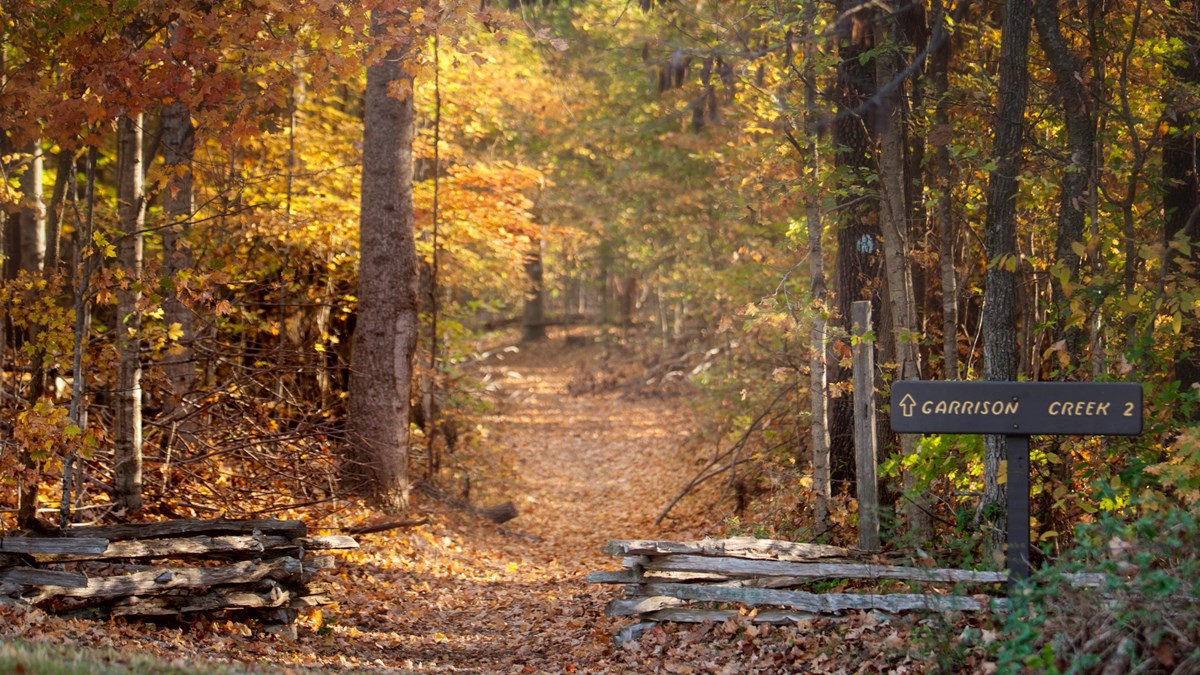 This twenty mile section is a popular hiking and equestrian corridor for visitors south of Nashville in Tennessee. Bicycles are prohibited on this trail. You can view a basic map of the Highland Rim section of the Natchez Trace National Scenic Trail
here.
Camping is not permitted along this section of trail. All camping must take place in designated campgrounds. For more information about camping check 
Camping Along the Natchez Trace Parkway.
See 
Alerts & Conditions
and
What's Open What's Closed
for additional information.
Areas on the Highland Rim Section of the Natchez Trace National Scenic Trail
Northern Terminus Trailhead at Garrison Creek (Milepost 427.6):
 The Garrison Creek Trailhead is popular for both horseback riders and hikers alike. There is a designated parking area for horse trailers on the North end of the parking lot. Picnic tables and hitching posts are found near the Creek. Visitors will find drinking water near the restrooms. Hikers can start their walk from the trailhead near the restrooms, or at the trailhead near the picnic tables. As the northern terminus for the Natchez Trace National Scenic Trail, it is a great location to start a hike or trail ride.
War of 1812 Memorial (Milepost 426.3):
 The War of 1812 Memorial, Milepost 426.3, honors the service and sacrifice of all brave volunteers who marched on the Natchez Trace during the War of 1812 especially those that are buried in unmarked graves up and down the Old Natchez Trace.
You can hike a roughly 1.3 mile section of the Old Natchez Trace here. This section is relatively flat through the shaded forest until you start to descend to the Garrison Creek trailhead. 
Burns Branch (Milepost 425.4):
 This trailhead has parking for vehicles but not trailer parking and is not a staging area for horses. The site offers a hitching post and a picnic table to take a break if you would like.
Tennessee Valley Divide (Milepost 423.9):
 This trailhead parking is open to hikers only. As the scenic trail passes the parking lot, riders and hikers are rewarded with views of the Parkway, including vibrant blooms in the spring, and spectacular colors in the fall.
Carter Lane Picnic Area (Milepost 422.9):
 This picnic area is not accessible from the Natchez Trace Parkway. A hitching post and picnic table is available at this area. The large grassy area can become very muddy after rainfall.
Fly Trailhead on Highway 7 (Near Milepost 416):
 The Highway 7 Trailhead provides a small parking area for one or two horse trailers. If space is available, this will be a great starting point for just a few people. If there are numerous people riding together, the Highway 50 trailhead may be a better option. There is no water available at this trailhead. One hitching post is available here.
To reach the trailhead north of TN Hwy. 7, exit the Parkway at Milepost 416, turn left on Hwy. 7, then turn left on Old Natchez Trace Road. The trailhead is at the top of the hill on the left.
Shady Grove Trailhead on Hwy. 50, Southern Terminus (Near Milepost 408):
 This trailhead is a great place for hikers and horseback riders alike to start their journey on the Highland Rim Section of the Natchez Trace National Scenic Trail. There is ample parking for horse trailers, two hitching posts, and water available for horses. Visitors will need to get drinking water at the Gordon House, milepost 407.7.
This trailhead is located west of the Parkway on Totty Lane. Totty Lane is a gravel lane and ample parking is on your right once you pull onto Totty Lane.
This trail is 20 miles in one direction. Dispersed camping is not permitted on the trail. All camping must take place in
designated campgrounds.
Pets must stay on a 6ft leash and controlled at all times. Owners are responsible for cleaning up after their pet.
Entrance fees may apply, see Fees & Passes information.
Time of Day
Day, Dawn, Dusk
There is no camping allowed on the trail or at the trailheads. All camping must take place at designated campgrounds.
Accessibility Information
This trail stretches for 20 miles in total. The trail is about 3 to 4 feet wide and goes over uneven terrain. The trail can get muddy due to use as well as after rainfall. Please watch your step on steep sections of the trail at the Garrison Creek Trailhead
Last updated: November 4, 2021