Thing to Do
Harbor to Hills Section 1: Hike from Rock Harbor to Three Mile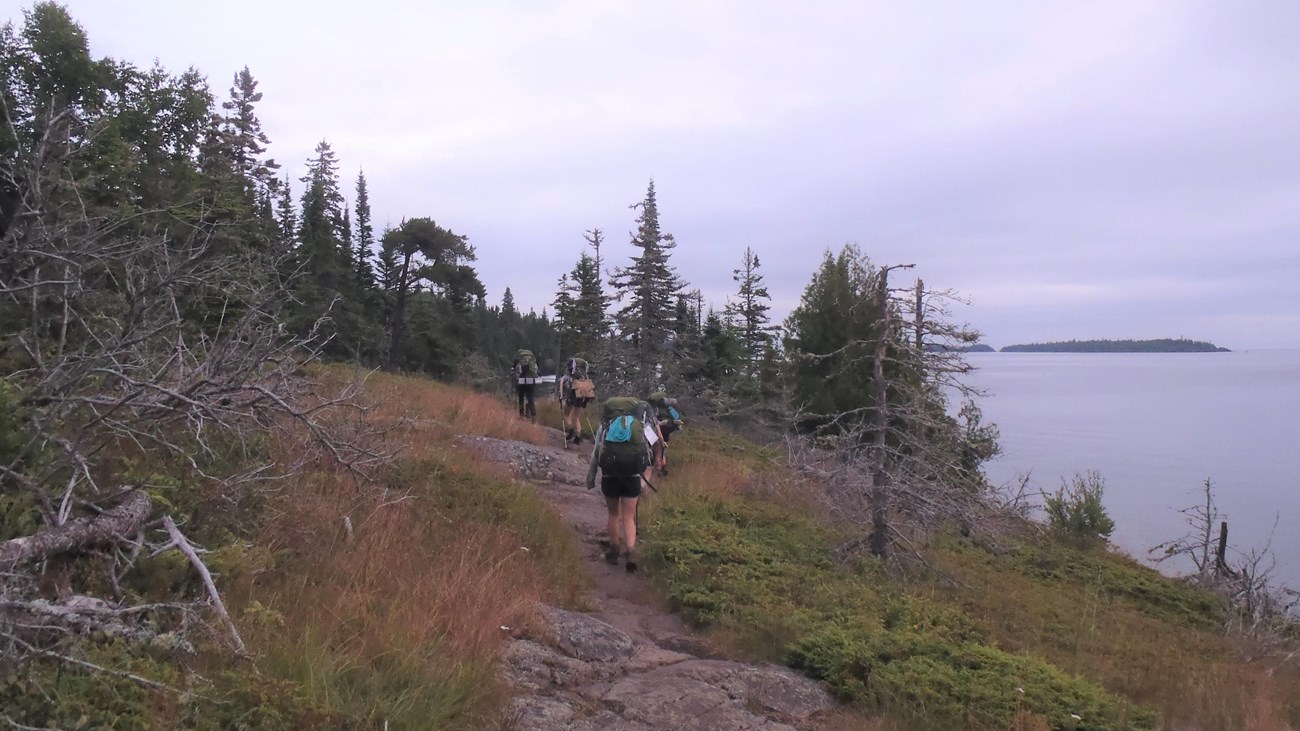 About this Trail
Mileage: About 3.6 miles

Overgrown vegetation near trail 

Rocks and roots on trail
Many ups and downs on slippery rocky surfaces
Trailheads
The Rock Harbor Trail can be busy because it leads to one of the island's main transportation hubs, Rock Harbor. This section between Rock Harbor and Three Mile offers picturesque views of the Rock Harbor Channel and the outer islands. The Rock Harbor Trail begins past the Rock Harbor Campground. Much of this trail transverses over rocky outcroppings and it can be difficult to find secure footing. Cairns (rock stacks) are placed on open ridges to mark the way.

After hiking about 1.8 miles from Rock Harbor the trail cuts into the woods and arrives at the trailhead for Suzy's Cave. Suzy's Cave is an inland sea arch carved by waves when Lake Superior's shoreline was higher. Past Suzy's Cave is the junction with the Tobin Harbor Trail and Mount Franklin Trail.

The Rock Harbor Trail continues along the shoreline for about another 1.8 miles to Three Mile Campground. Three Mile Campground is located right on the shore. Campers enjoy the sounds of water lapping the shoreline while relaxing at camp in the evening. 

Found Nearby
Rock Harbor Campground
Three Mile Campground
Daisy Farm Campground
Activity
Backcountry Camping
Entrance fees may apply, see Fees & Passes information.
Location
Rock Harbor Trail at Isle Royale National Park
Season
Spring, Summer, Fall
Accessibility Information
The trail is about 18 inches wide and is covered in rocks and roots.
Cell Phone Additional Information
Internet Additional Information
Accessibility Information
Cell Phone Additional Information
Internet Additional Information
Accessibility Information
Last updated: February 23, 2022