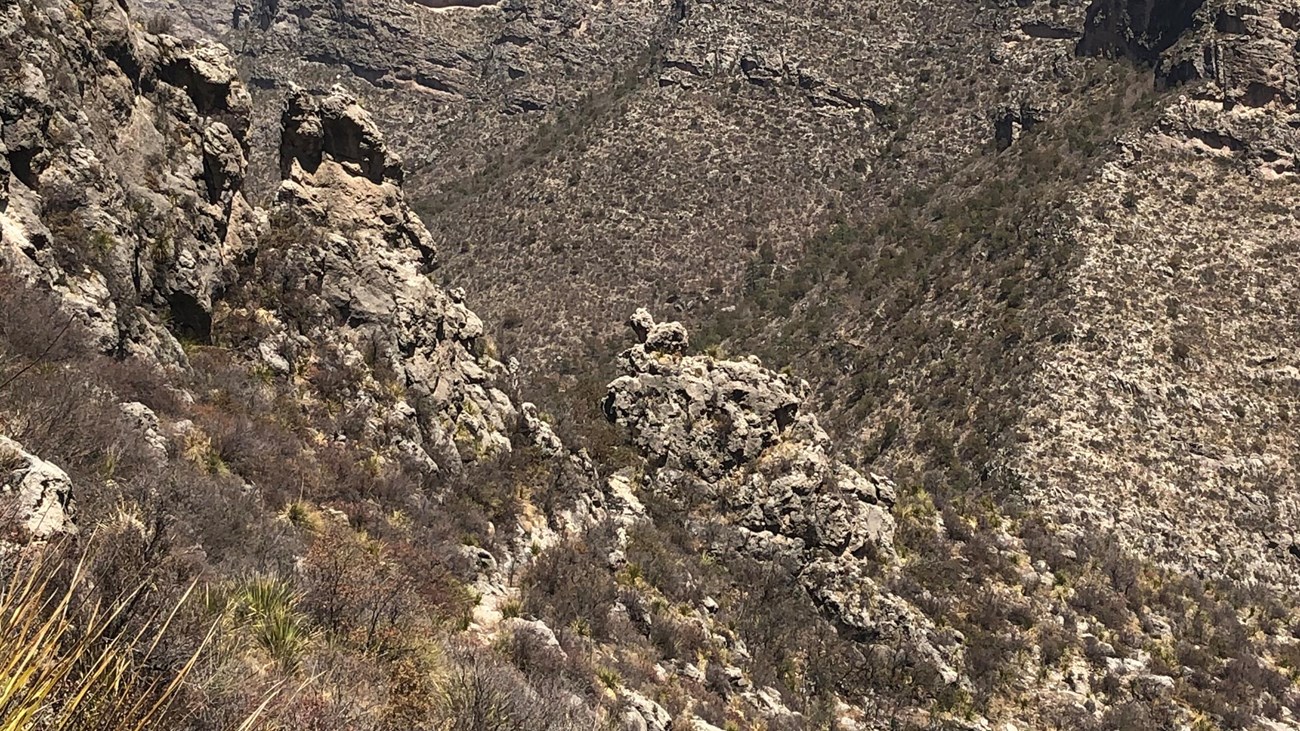 The hike to "the Notch" is a challenging day hike that proceeds through McKittrick Canyon to a dramatic viewpoint about half way up toward McKittrick Ridge. For most hikers this destination makes a dramtic turn-around point for an excellent day hike in McKittrick Canyon.  
Distance: 9.0 miles (14.5 km) round-trip, out and back
Elevation Change: 1,092 feet
Time Estimate: 5-7 hours
Difficulty: Difficult, past the Grotto
To access this run, park at the McKittrick Canyon Visitor Center. The McKittrick Canyon Trail starts from the back of the visitor center and heads west along a very gentle grade. The first couple miles of this run are pretty mellow and easily accessible, first winding through desert, then passing into a more riparian ecosystem. You'll cross water several times on your way up McKittrick Canyon. After about 2.4 miles, you'll reach Pratt Cabin. If you want to see the cabin, take a right through the stone gate. Otherwise, continue on the main trail up McKittrick Canyon. Foot traffic is limited to the trail in the McKittrick Canyon complex in order to preserve the environment.

From the Pratt Cabin  the trail continues up the canyon, and the trail surface transitions away from river gravels. It continues to follow the stream. About 3.5 miles into the run you'll reach the Grotto, an excellent picnic spot. Only a short distance beyond the Grotto is Hunter Line Shack. 

Once back on the main trail, as you head up canyon, the grade begins to steepen significantly. The trail from here to the Notch includes steep grades, and several switchbacks. From the Notch overlook you'll have outstanding views of South McKittrick Canyon in both directions.
McKittrick Canyon is beautiful all year but is especially well known for fall colors in late October. 
The McKittrick Canyon trail complex is designated a day use area below the
McKittrick Ridge Wilderness Campground
;
Wilderness Use Permits
must be obtained to camp overnight. The gate to the canyon closes daily at 5:00 p.m. Mountain Time. Visitors must be out of the area before the gate closure time.
Accessibility Information
Trail surfaces are loose rock or hardened rock surfaces. Hiking or trekking poles are highly recommended. Trail widths vary from two to six feet depending on the trail. 
Parking
All trailhead areas have accessible parking available. 
Service animals 
Only service animals that have been individually trained to perform specific tasks for the benefit of persons with disabilities are allowed in the park and on trails.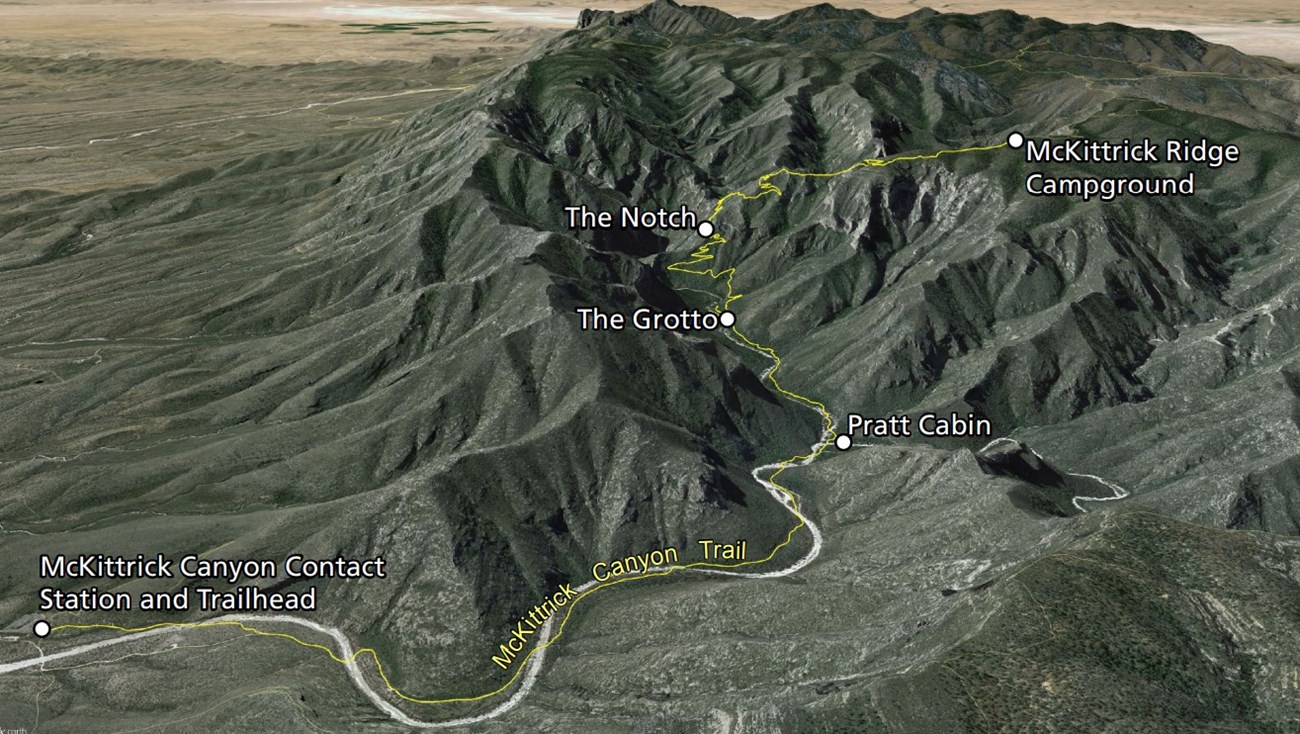 3D map image of the trails in McKittrick Canyon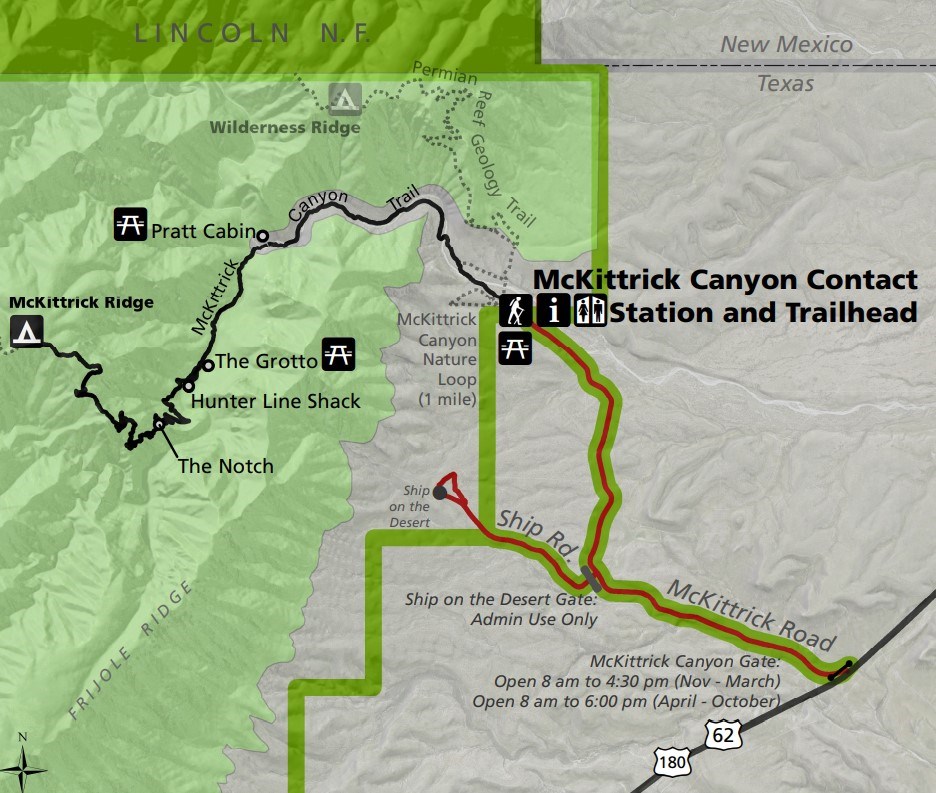 Map of the trails in McKittrick Canyon

Mileage and elevation chart for trails in McKittrick Canyon
Last updated: December 13, 2022