THING TO DO
Take a Half-Day Hike in Glacier

Hiking time depends upon many factors, like elevation change and your own speed and abilities.
Age will vary with every child's hiking abilities.
Entrance fees may apply, see Fees & Passes information.
Reservations are highly recommended if you plan to hike in conjunction with a boat tour.
Season
Spring, Summer, Fall
Trails are covered in snow throughout the winter, causing hiking to take a seasonal backseat to activities like snowshoeing and cross-country skiing. Check Glacier's Trail Status webpage or at a ranger station to stay updated as trails are cleared of snow and debris in spring.
Time of Day
Day, Dawn, Dusk
Hikers are encouraged to stay alert, hike in groups, and make noise on trail. Animals are most active early in the day and at dusk. Night hiking is inadvisable because the chance of surprising wildlife, like bears, is high.
Accessibility Information
Glacier's rugged terrain makes accessibility very difficult. Half-day hiking trails have uneven terrain on varied surfaces with barriers. Trail width is also a concern. Most west side hikes start around 3,000 ft in elevation. Most east side hikes start around 5,000 ft.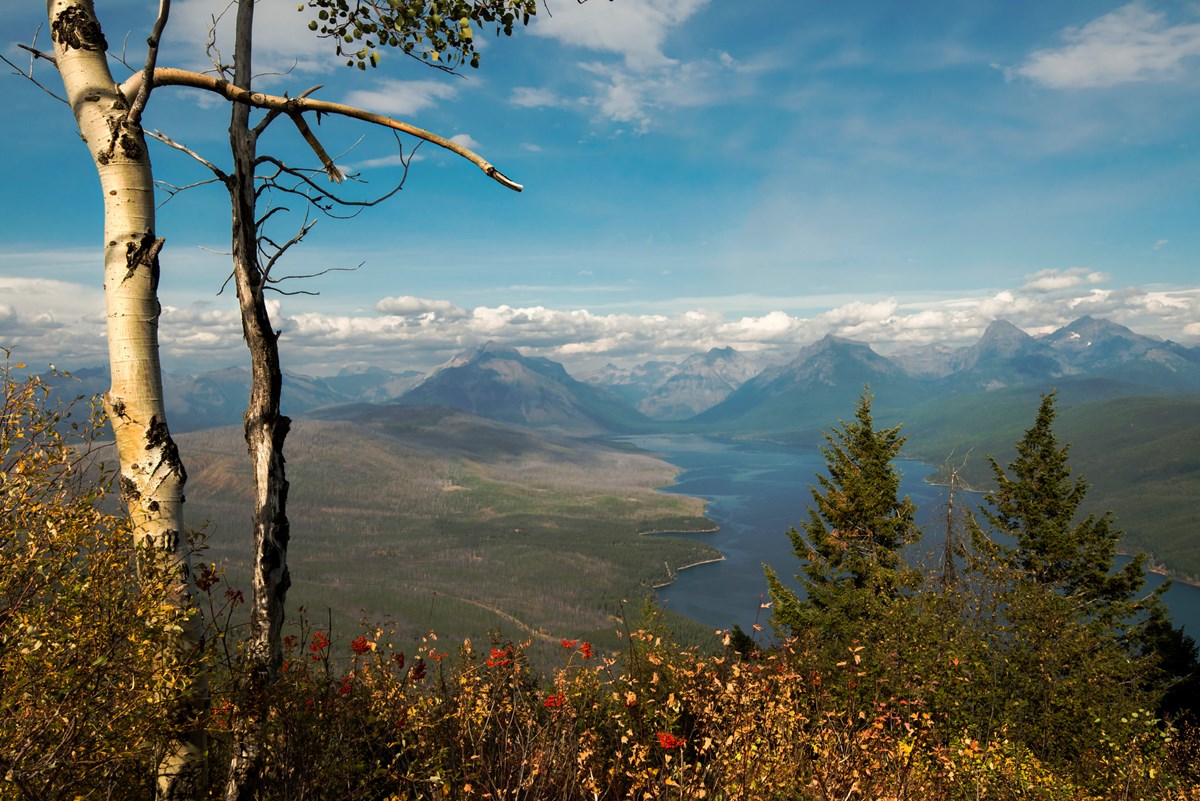 Glacier boasts 734 miles of trail. It is safe to say there is something for every ability level. Day hikes abound in every section of the park, from a short lakeside stroll to a hike up a mountain.
Bring plenty of food and water on your hike, wear sturdy footwear, and remember the weather can change at any time. Be prepared with both rain gear and sunscreen.
Below are some popular trails for a half-day (3-5 hour) excursion. These hikes may take longer depending on your hiking speed and ability. Mileages listed are ONE-WAY.
West Side
Apgar Lookout
3.6 mi (5.8 km)
Elevation gain: 1,850 ft (564 m)
Trailhead: Turn left 0.5 miles north of the West Entrance, continue 1.5 miles beyond Quarter Circle Bridge
Avalanche Lake
2.3 mi (3.7 km)
Elevation gain: 500 ft (152 m)
Trailhead: Avalanche Picnic Area
East Side
St. Mary Falls & Virginia Falls
[a] 1.6 mi (2.6 km)
Elevation change: loss 260 ft (79 m), then gain 285 ft (87 m)
Trailhead: St. Mary Falls Shuttle Stop
[b] 1.8 mi (2.3 km)
Elevation change: loss 260 ft (79 m), then gain 285 ft (87 m)
Trailhead: St. Mary Falls Trailhead
[c] 2.4 mi (3.9 km)
Elevation gain: 425 ft (129.5 m)
Trailhead: Using concession operated boat from Rising Sun, tour fees apply
Many Glacier
Grinnell Lake
[a] 3.4 mi (5.5 km)
Elevation gain: 60 ft (18 m)
Trailhead: Grinnell Glacier Trailhead or Many Glacier Hotel
[b] 1.1 mi (1.8 km)
Elevation gain: 60 ft (18 m)
Using concession boat from Many Glacier Hotel, tour fees apply
Ptarmigan Falls
2.7 mi (4.3 km)
Elevation gain: 700 ft (213 m)
Trailhead: Iceberg Ptarmigan Trailhead
Redrock Falls
1.8 mi (2.9 km)
Elevation gain: 100 ft (30.5 m)
Trailhead: Swiftcurrent Trailhead, by motor inn parking lot
Swiftcurrent Nature Trail
2.3 mile loop (3.7 km)
The first ¼ mile past the Grinnell Glacier Trailhead is wheelchair accessible Trailhead: Grinnell Glacier Trailhead or Many Glacier Hotel
Two Medicine
Rockwell Falls
3.5 mi (5.6 km)
Elevation gain: 375 ft (114 m)
Trailhead: South Shore Trailhead
Scenic Point
3.9 mi (6.3 km)
Elevation gain: 2,350 ft (716 m)
Trailhead: Scenic Point parking area, 0.25 miles east of Two Medicine Ranger Station
Twin Falls
[a] 3.5 mi (5.6 km)
Elevation gain: 75 ft (23 m)
Trailhead: North Shore Trailhead
[b] 0.9 mi (1.4 km)
Using concession boat near South Shore Trailhead, tour fees apply
Last updated: January 18, 2017