THING TO DO
Attend One of Glacier's Evening Programs

Most evening programs are 45 minutes.
Children are welcome, but must be accompanied by an adult. This age is only a suggestion. Consider your child's attention span when deciding whether or not to bring him or her to a presentation that is not specifically a children's program.
Majority of programs are free of charge, however there is a cost associated with the Blackfeet Singers and Dancers demonstration.
Accessibility Information
The following evening program sites can accommodate a person in a wheelchair:
Apgar Campground Amphitheater

Fish Creek Campground Amphitheater

Lake McDonald Lodge Auditorium

Many Glacier Campground Amphitheater

Many Glacier Hotel Auditorium (Enter lower level to access)

Rising Sun Campground Amphitheater

St. Mary Visitor Center Auditorium
All ranger programs strive to engage multiple senses and learning styles, and often include audio components and/or tactile objects. Groups may request a special program by contacting the park, at least two weeks in advance.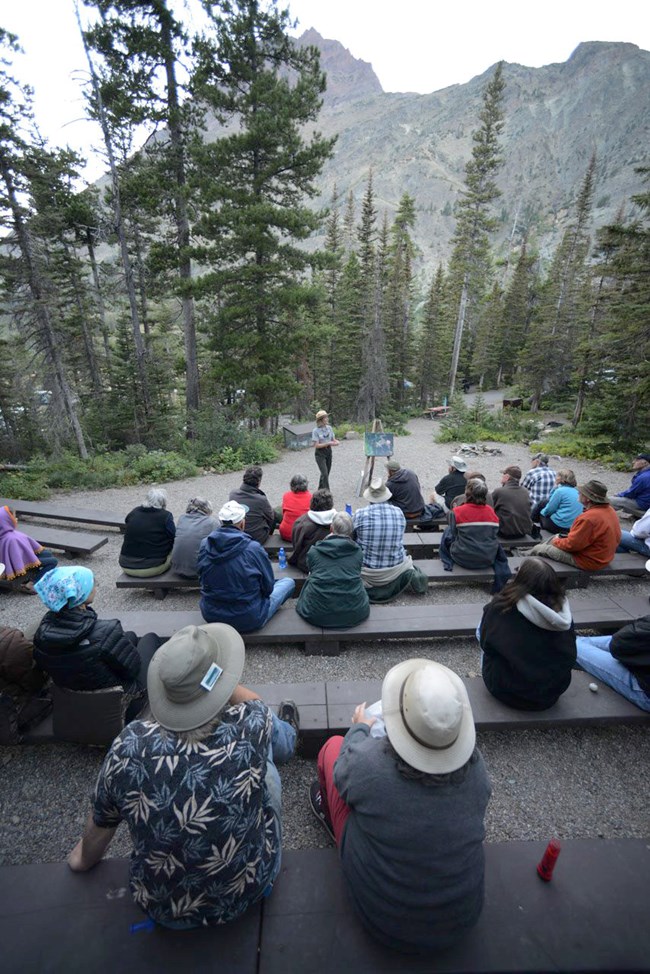 What's more fun than learning? Evening programs allow your weary feet to rest, asking only for an active mind. Gather at auditoriums or campground amphitheaters to listen to park rangers explain important park resources and engage in conversations about caring for those resources. History, geology, and ecology are just some of the subjects brought to life.
Glacier also hosts Native America Speaks evening programs, in which Blackfeet, Salish, Kootenai, and Pend d'Oreille tribal members share their knowledge, history, and culture. Highlights of the program include music and stories from singer/songwriter Jack Gladstone and demonstrations by the Blackfeet Singers and Dancers.
Check out the Ranger-led Activity Schedule for details.
Last updated: January 18, 2017