Thing to Do
Visit the Fort Vancouver Garden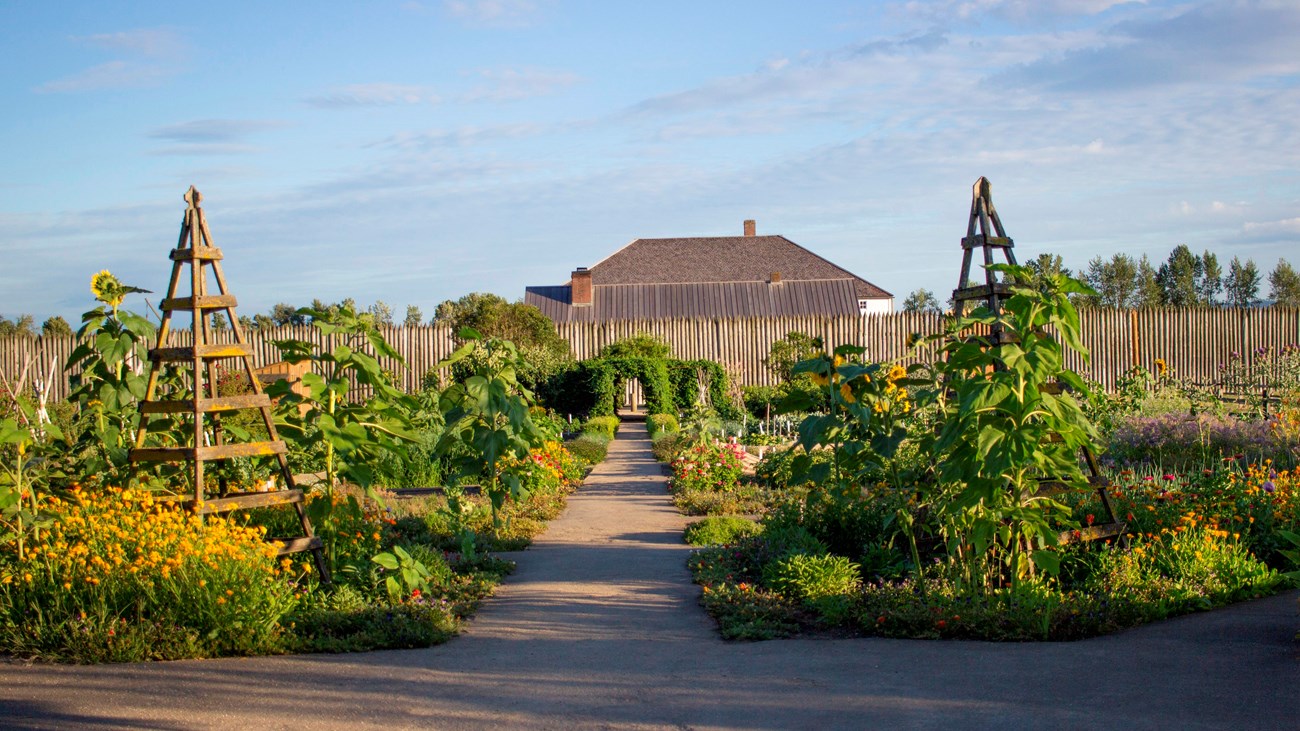 Take a walk through the beautiful Fort Vancouver Garden! Once spanning up to 8 acres, Fort Vancouver's garden was the source for many of the meals eaten by the residents of the Hudson's Bay Company fort. Today, a condensed version of the garden outside the fort's stockade is maintained by National Park Service volunteers and is open to the public from dusk to dawn.
In the garden, you will see a variety of flowers, fruits, and vegetables, some of which may be familiar to you and some that may be new. The plants grown in the reconstructed garden are based on historic records from Fort Vancouver and archaeological excavations. The products of the reconstructed garden are used in historic cooking demonstrations at the Fort Vancouver Kitchen.
You may also encounter volunteers tending the garden. Feel free to ask any questions you have about the history of the garden or about gardening in general! Our volunteer gardeners are a wonderful resource to learn more about keeping a garden healthy and productive.
Learn more about the history of the garden
here
.
Opening Hours & Parking
The Fort Vancouver Garden is located directly in front of the reconstructed Fort Vancouver.
Park grounds, including the garden, are open from dawn to dusk. Parking lots are open Tuesday through Saturday, 8 am to 4 pm (Labor Day to Memorial Day) or 8 am to 5 pm (Memorial Day to Labor Day). Vehicles must be removed from parking lots before the gates are closed. Street parking is also available. Check 
here 
for updated operating hours and seasons.
Help Us Keep the Garden Beautiful!
We hope that you enjoy your visit to the Fort Vancouver Garden, but please treat it with respect. 
In the garden, please do NOT:
Leave the paths
Ride a bicycle or skateboard
Bring your pets into the garden
Smoke
Pick flowers or seeds
Harvest produce
Dig up or harm plants
Leave trash or confetti
Depending on how long you wish to enjoy the plants at Fort Vancouver's Garden, this walk could be a brief walk or a long stroll!
All ages are welcome in the garden! Young children should be supervised to avoid picking up or stepping on plants.
Pets are not allowed in the Fort Vancouver Garden. Learn more about bringing pets to Fort Vancouver National Historic Site
here
.
Entrance fees may apply, see Fees & Passes information.
Location
Fort Vancouver Garden
The Garden is located outside Fort Vancouver's northern stockade wall. We recommend parking in the parking lot along East 5th Street during operating hours, or using street parking.
The Fort Vancouver Garden is open to the public all year long. The garden is most active in spring, summer, and early fall.
Time of Day
Day, Dawn, Dusk
Accessibility Information
The Garden at Fort Vancouver has firm, stable surfaces made of decomposed granite and minimal inclines. Benches are available in the Garden.
 
Last updated: April 14, 2021