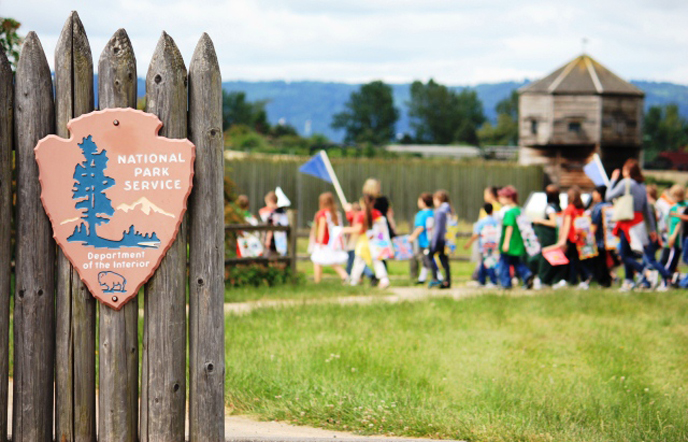 Fort Vancouver NHS, including the reconstructed British fur trade fort, the Army's Vancouver Barracks, Pearson Air Museum, and the McLoughlin House Unit, offer a variety of opportunities for people of all interests and ages.
Don't miss the newly restored Visitor Center at 1501 E. Evergreen Blvd, where you can watch the orientation film "One Place Across Time". View historical items recovered by Park Archaeologist that helps tell the story of Fort Vancouver NHS. Bring your children to participate in special hands-on exhibits. Enjoy the Friends of Fort Vancouver gift shop and bookstore where you can purchase many one of kind times.
Whether you prefer a solitary walk along a shaded historic pathway, the company of thousands of people at a special commemorative event, or an activity somewhere in between, Fort Vancouver NHS hosts many diverse activities and programs from which to choose. Cultural Demonstrations in the Blacksmith Shop, Carpenter Shop, and Kitchen connect you the historic lifeways from the 1840's, while Historic Weapons Programs, demonstrating small arms, swivel guns and howitzers that span the fur trade and nineteenth century US Army eras, reintroduce a thundering bang to the site.
For those desiring a more intimate experience, the park has walking paths with interspersed wayside exhibits and information panels in most buildings of the reconstructed fort for self-paced exploration. Don't miss the employee village just west of the Fort along the walking path starting at E. 5th Street.
For the latest information on events and activities at the park, check out the park's online Calendar or contact the Visitor Center Information Desk at (360) 816-6230 for a description of current programming.