Thing to Do
Bike the Denali Park Road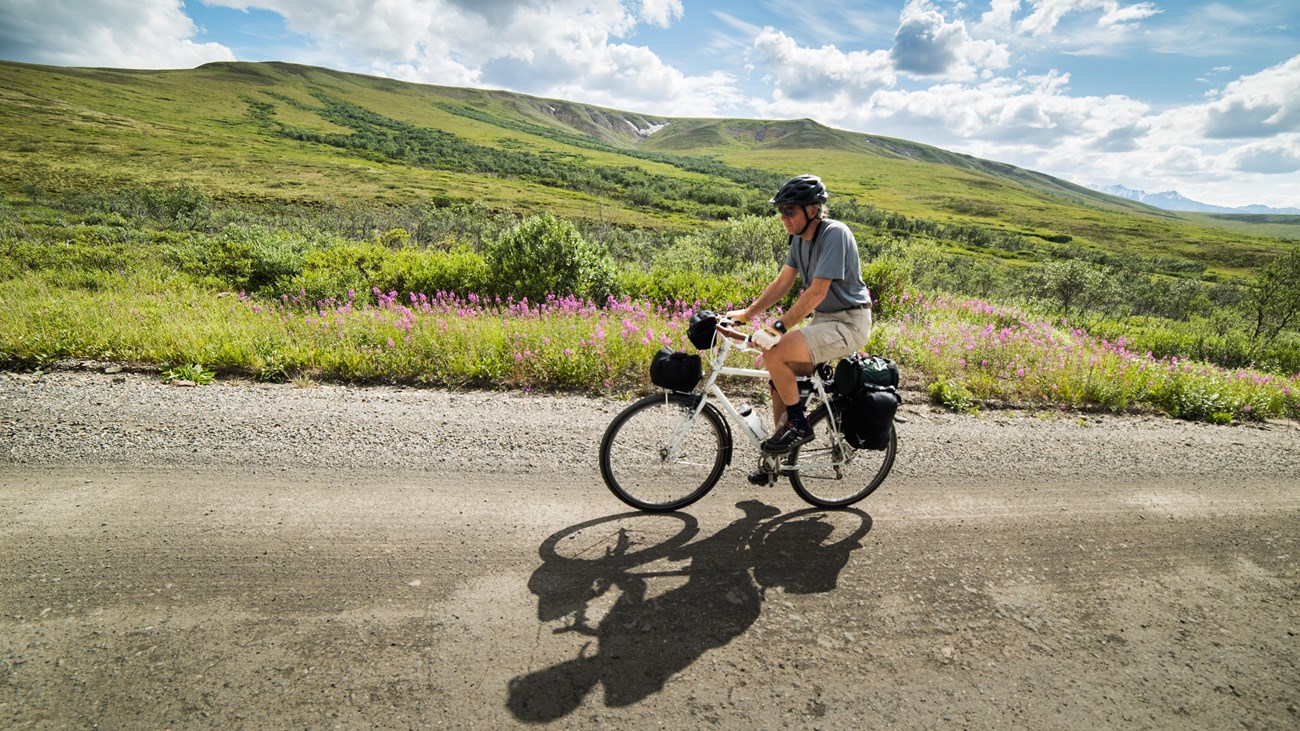 Biking the Denali Park Road is a rewarding way to explore the park at a slower speed than vehicles allow. Whether you have one hour, one day, or several days, you can plan a trip to see Denali by bike. Here, we will assume you are planning a day trip. However, know that it is also possible to plan an overnight bike camping trip. Read more about
cycling in Denali
to explore other trip options.
We recommend starting your trip at Mile 15, as this is where public vehicle access is restricted (mid-May through mid-September). You'll encounter significantly less traffic on the road west of this point. Drive your own car or ride the free Savage River Shuttle to Mile 15. Should you choose to drive, encountering full parking lots is common at Mile 15; additional parking is available at the Mountain Vista Trailhead (Mile 13), which rarely fills complete. The road climbs and falls, and climbs and falls, as you head west from Mile 15. Expect long, sometimes grueling climbs followed by thrilling downhills. Turning around at Sanctuary River (Mile 22) makes for a nice 14-mile round trip.
If you want to plan a longer day in the park, you can use the transit bus system to travel farther west before you begin biking. Book a transit bus ticket in advance, and be sure to note in your reservation that you'll be bringing bikes along, as each bus can only carry a few bikes. Let your driver know wherever you'd like to get off bus. If you don't have a particular destination in mind, consider riding all the way to your bus turnaround point, and on the return trip, you'll have an idea of what area(s) you might wish to bike—or you could even bike all the way back to the park entrance, if time and your energy allows!
Though a little more complicated, you can get off your initial bus and board a different bus later in the day, as long as it has space for you and your bikes. With this method, you could plan carefully and piece together shorter rides interspersed with lifts by bus (e.g., to enjoy the downhill sections of the road). You can also uses the buses to get around areas where wildlife might be right on the road. For example, if you see a bear is a quarter-mile ahead of you and looks like it isn't leaving the roadside any time soon, wait for a bus to come up behind you and ask the driver for a short lift past it. 
In the spring and fall—just before buses begin running at the start of the summer season and just after buses stop running at the end of season—if snow conditions allow, personal vehicles may drive to Teklanika River (Mile 30). This makes an excellent starting point for a bike ride as well. The views from Sable Pass (Mile 39) make the climb well worth it if you're looking for an 18-mile day.
If you will not be traveling with your own bike, check with the
local Chamber of Commerce
for rental options.
A day-trip can be as short or long as your stamina and schedule allows. 
If you choose to ride on the first 15 miles of the road, you'll be on pavement. If you cycle west from Savage River, the road is dirt and gravel, and a mountain bike or hybrid is probably a better choice than a road cycle. 
Pets Allowed
Yes with Restrictions
Pets are allowed on the Park Road as long as they are kept on a leash that is 6 feet or shorter. Bike-joring with a dog that is trained to pull your bike is also allowed.

Pets are not allowed on park buses or in the wilderness off of the road, so you should only bring your pet if they are used to biking with you and you plan to remain biking on the road for the length of your trip.
Entrance fees may apply, see Fees & Passes information.
Location
Recommended Day Trip: Savage River to Sanctuary River and Back
Denali has one road, running about 92 miles from east to west. Cycling can occur on any part of the road in summer, with the rare exception of when an area is closed due to wildlife activity or road construction.
From roughly Mile 1.5 to Mile 9, the road rises quite steeply up "Government Hill." The hill can be very challenging to bike up (or down—it's steep!) and it is a relatively busy part of the road in summer, so we suggest you
ride the free Savage River Shuttle
to Mile 15, Savage River, and begin biking west from there. A ride from Savage River to Sanctuary River (Mile 22) and back is a reasonable 14-mile ride with a nice mix of climbs and descents, and limited traffic. You can then ride the Savage River Shuttle back to the entrance.   
You may bike the road without reservations. If you wish to ride a bus past 15 mile as part of your biking trip, however, you should 
make a transit bus reservation
.
Snow-free months in the spring, summer, and fall are the best months for accessing the park road with a typical bicycle. In winter, the road is snowy and closed to vehicles, but can be biked with a fat tire bike.
Accessibility Information
See our cycling page for
details on the nature of the Denali Park Road
, which rises and falls thousands of feet several times throughout its length.   
Electronic Bikes (E-Bikes)
The term "e-bike" means a two- or three-wheeled cycle with fully operable pedals and an electric motor of less than 750 watts (1 horsepower).
E-bikes are allowed in Denali, in accordance with the provisions of 
36 CFR Part 4
. Specifically, e-bikes are allowed on park roads (e.g., the Denali Park Road and roads within campgrounds), parking areas, and trails (e.g., the Roadside Bike Trail) that are open to traditional bicycles.
E-bikes are prohibited where traditional bicycles are prohibited under 
36 CFR 4.30
. Notably, that section articulates that the following are prohibited:
Operating a bicycle during periods of low visibility or between sunrise and sunset, without a white light or reflector on the front, and a red light or reflector on the back, of the bike.
Operating a bicycle abreast of another bicycle (i.e., you should ride single-file).
Except where use of motor vehicles by the public is allowed, using the electric motor to move an e-bike without pedaling is prohibited. Functionally, this means that you cannot use an e-bike's 
motor 
in an area that is open to traditional bikes, but closed to motor vehicles.
A person operating an e-bike is subject to the same sections of 36 CFR part 4 that apply to the use of traditional bicycles concerning general cycling rules. These general cycling rules are articulated below, in the "Rules of the Road" section.
Except as specified in the 
Denali Superintendent's Compendium
, the use of an e-bike within Denali National Park and Preserve is governed by State law, which is adopted and made a part of said Compendium. Any violation of State law adopted by this paragraph is prohibited.
Last updated: May 4, 2022