Thing to Do
Hiking Off Trail in Denali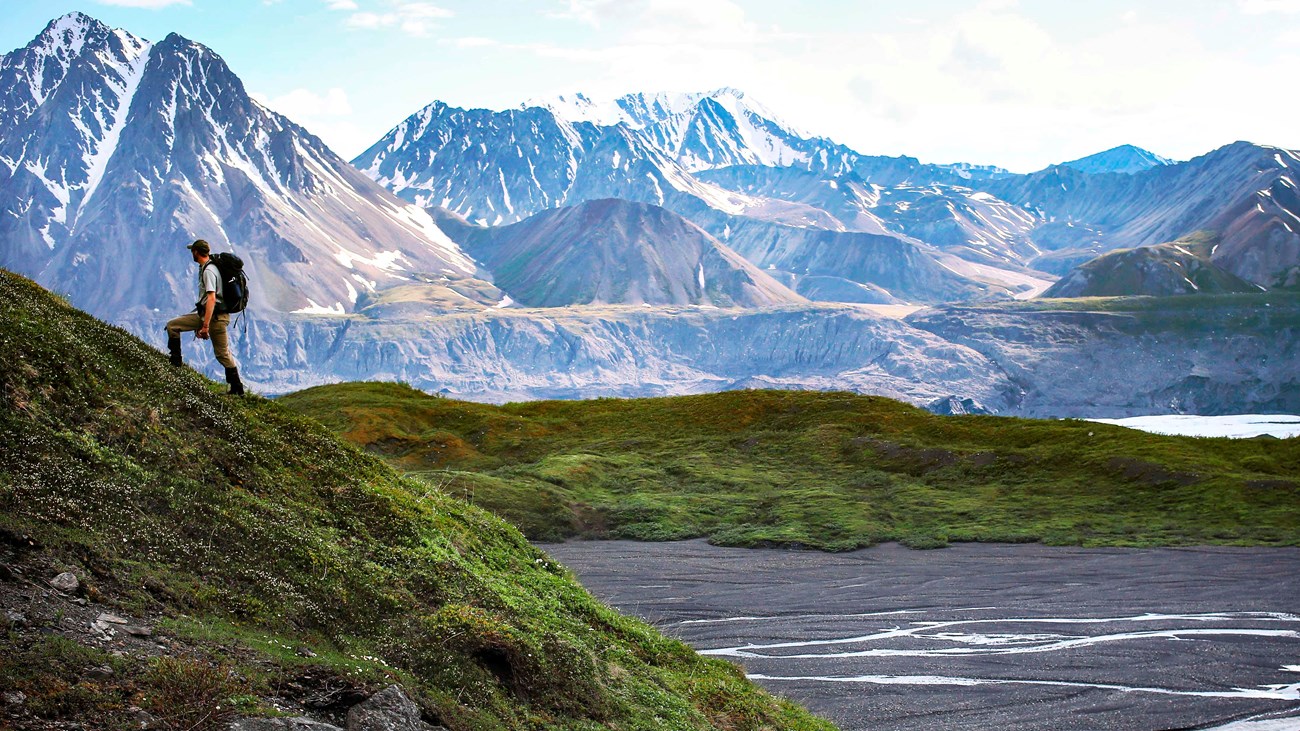 What to Know About Hiking Off Trail
Denali National Park and Preserve has very few formal trails for a park of its size, but hiking off trail offers limitless opportunities for recreation and exploration. The terrain and bus system in Denali make hiking off trail less intimidating and more approachable than it may seem at first.
Tree line in Denali is around 3000 feet in elevation, so much of the park is open tundra with excellent visibility. This means that in many places it is possible to hike off trail for several hours while staying within view of the Denali Park Road the entire time. The transit bus system gives you the freedom to get off the bus wherever you would like to begin your hike (provided you are not in one of the few
wildlife closures
). 
At the end of your hike, you can make your way back to any point on the Denali Park Road to wave down and board a bus.There is always the possibility that the first bus or two that passes by will be full, so be prepared to potentially wait on the side of the road for a bus that has space for your group.
Where to Go?
That's up to you!
Do you want to climb up steep terrain in search of expansive views, or take a more leisurely stroll along a river? Are you willing to do some bushwhacking as you hike, or would you prefer to avoid dense vegetation?
One strategy for choosing a hike location is to take an early
transit bus
into the park, traveling to either Eielson Visitor Center or Toklat River, and scouting the terrain from the Park Road. On your return towards the park entrance, you can tell your driver to let you off at whatever area looked most appealing. Note: Buses going to Wonder Lake and Kantishna probably take too long to incorporate a decent hike into your day.
If you don't want to use the bus system, it is possible to start an off trail hike from somewhere within the first 15 miles of the park road, which is the section that you can drive in your own vehicle. This part of the park is generally lower in elevation than areas that you reach by bus, so you may encounter more brush if you hike off trail within the first 15 miles.   
If you choose to hike off trail, you should be aware of how to stay safe in Denali National Park. Potential dangers include inclement weather, wildlife encounters, and river crossings. Read more about staying safe in the park.
Time will vary greatly depending on how much time it takes to reach the starting point of your hike, and how long you plan on hiking, as well as the length of time it takes to catch a bus back to the entrance. If you do a short off trial hike near Savage River, the whole experience might only take a few hours, but if you take a bus to the Eielson area and go for a long hike, the hike plus travel time could be more than 12 hours.
Activity
Backcountry Hiking
There is no minimum age for hiking off trail. If you take a bus to your start location, state of Alaska child safety laws require that kids under age 4 must be in a car seat. Car seats are not provided by the bus company, so please bring your own.

You must store the car seat somewhere that animals cannot chew on it while you hike, so if you have children that require car seats you should plan to start your hike at the Eielson Visitor Center, the Toklat Rest Area, or at a campground. These areas have large wildlife-proof containers that can accommodate a car seat.
Pets are not allowed off-trail, nor on buses. 
There is no activity-specific fee or permit for day-hiking.
There is, however, a
park entrance fee
 for all visitors, regardless of whether they hike or not. 
If you take a bus, ticket prices vary depending on the duration of the trip. Please 
visit the bus company's website
 to find current prices. 
You do not need to reserve the activity of hiking, but unless you plan to hike around Savage River (Mile 15), you'll likely want to reserve a transit bus ticket in advance—particularly if your visit to Denali is only a few days in total.

Visitors who will be in the Denali area for more than two or three days may find it more convenient to wait until arriving and purchase bus tickets in the park, at the Denali Bus Depot.
Season
Spring, Summer, Fall
We suggest you only hike off trail during daylight hours. Technically, you can hike whenever you want. Functionally, buses only operate during the day (generally from around 6 am to 11 pm), so you'll probably want to limit your hike based on the current bus schedule.

Always notify someone of your plans if you are going to hike in the park, particularly if you intend to hike very early or very late in the day.
Accessibility Information
Denali is largely wilderness without trails, designated by Congress to remain a "primitive" area in many respects. The National Park Service strives to make the park as universally accessible as possible. However, extra obstacles will be encountered because of the remote, wilderness nature of this special place.

The park is nearly the size of Switzerland, and so it is difficult to be very specific about conditions. In general, a few principles to keep in mind:
Terrain—Much of the park is hilly and mountainous, with fairly steep grades. There are numerous rivers flowing out of the Alaska Range which are bordered by wide swathes of gravel, which can be comparatively low grade. These river bars are often very uneven terrain still, however, as rock cobbles of widely varying sizes will be encountered. 

Wildlife—Denali is home to many large animals, and hikers must be alert at all times. Hikers should make noise, ideally with their voice as that is distinctively human (as opposed to tools like bear bells). Always hike with a companion, and always make noise, especially in areas of low visibility.
Brush—Much of the Denali Park Road travels through areas with thick brush, which can limit mobility of all hikers. 
Last updated: February 3, 2021