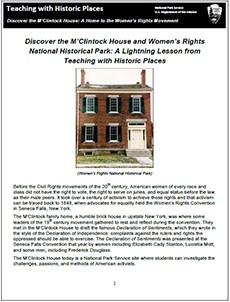 Contents
| Introduction
| Where it Fits Into the Curriculum (Objectives and Standards)
| Materials in the Lesson (Readings, Maps, Visual Evidence)
| Post-Lesson Activities
| More Resources
| About
Why did American women organize to fight for civil rights in the 19th century?
What historic place might you study to answer this question?
Before the Civil Rights movements of the 20th century, American women of every race and class did not have the Constitutional right to vote, the right to serve on juries, and equal status before the law as their male peers. It took over a century of activism to achieve those rights and that activism can be traced back to 1848, when advocates for equality held the Women's Rights Convention in Seneca Falls, New York.

The M'Clintock family home, a humble brick house in upstate New York, was where some leaders of the 19th century movement gathered to rest and reflect during the convention. They met in the M'Clintock House to draft the famous Declaration of Sentiments, which they wrote in the style of the Declaration of Independence: complaints against the rulers and rights the oppressed should be able to exercise. The Declaration of Sentiments was presented at the Seneca Falls Convention that year by women including Elizabeth Cady Stanton, Lucretia Mott, and some men, including Frederick Douglass.

The M'Clintock House today is the site of Women's Rights National Historical Park, operated by the National Park Service, where students can investigate the challenges, passions, and methods of American activists.