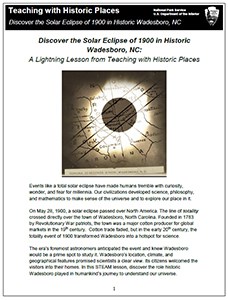 Contents
| Introduction
| Materials in the Lesson (Maps, Readings, Visual Evidence)
| Post-Lesson Activities
| Where it Fits Into the Curriculum (Objectives and Standards)
| More Resources
| About
What is a "total solar eclipse"?

What historic place might you study to answer this question? Why?


Events like a total solar eclipse have made humans tremble with curiosity, wonder, and fear for millennia. Our civilizations developed science, philosophy, and mathematics to make sense of the universe and to explore our place in it.

On May 28, 1900, a solar eclipse passed over North America. The line of totality crossed directly over the town of Wadesboro, North Carolina. Founded in 1783 by Revolutionary War patriots, the town was a major cotton producer for global markets in the 19th century. Cotton trade faded, but in the early 20th century, the totality event of 1900 transformed Wadesboro into a hotspot for science.

The era's foremost astronomers anticipated the event and knew Wadesboro would be a prime spot to study it. Wadesboro's location, climate, and geographical features promised scientists a clear view. Its citizens welcomed the visitors into their homes. In this STEAM lesson, discover the role historic Wadesboro played in humankind's journey to understand our universe.