Read a building like a book! Storytime with Historic Places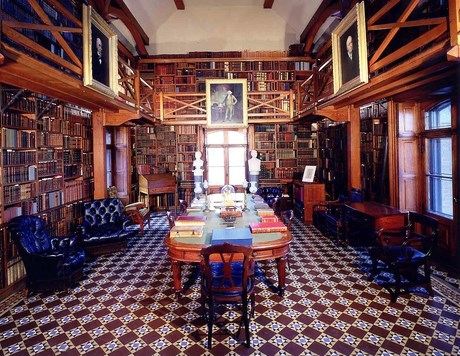 Whether it features fiction or nonfiction, a storytime linked to a real historic place has the power to engage library patrons of all ages. Heritage sites connect a library's resources with places and ideas that your community already values.
Storytime with Historic Places
is a flexible guide to create a library program based on a historic place and its themes. Teaching with Historic Places offers a downloadable Storytime with Historic Places template (
download as .docx file
).
It's easy to use the
Storytime with Historic Places
model to engage your audience with any cultural theme or historic moment. Over 100,000 historic places listed on the
National Register of Historic Places
already tell stories about American communities, cultures, and histories that can resonate with people from Maine to Guam. Historic bridges, churches, homes, schools, cemeteries, and courthouses may be documented by the National Register. They are evidence of the
human experience
and that makes a library the perfect place to feature them.
How to Create a Storytime With a Historic Place
To begin building your storytime outline, have in mind either the place or the themes and content you want your audience to take away from the program. You will need to know both to write the outline, but you can start with one or the other in mind before searching for the right historic place.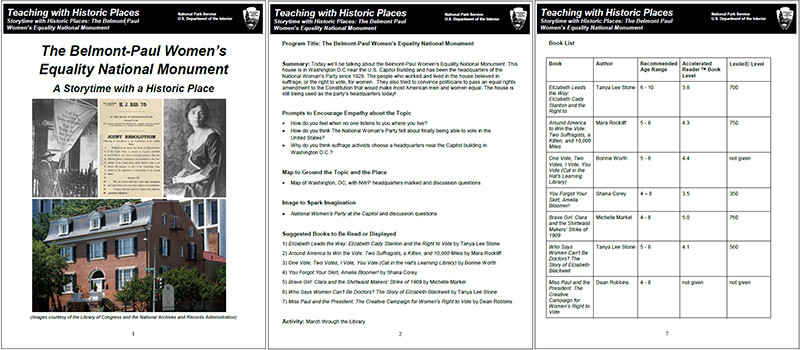 Click here to download the first TwHP storytime here as a PDF: Storytime with Historic Places: The Belmont Paul Women's Equality National Monument (2017)
National Park Service media, like the essays and photos on this website, are public domain unless credited to another source. The essays, images, and maps found in the
Heritage Travel
and the Teaching with Historic Places lesson plan series can be the perfect materials for a
Storytime
featuring a historic place.
1. Determine the place you want to feature
Starting with the place: Consider what themes, time periods, people, and histories are associated with the place. How can the place showcase these things? How is this place relevant to your patrons?
Starting with the theme: Think of places that are commonly associated with the history and themes you want to highlight. Did the history happen in schools, buildings, or towns like yours?
2. Find visuals of the place
All National Register sites have a nomination form with details and visuals found on the National Park Service website or state's own Historic Preservation Office. You can also search the Library of Congress' HABS/HAER/HALS collection, history and culture centers, websites, or your own library's collection. There may already be educational resources about the historic site.
You can print out to the visuals to pass around or display during the program. Ask the children to tell you what they see and think.
3. Add books and activities
Now that you have the place and visuals, you can begin to think about your program structure, related books and activities. You can begin by introducing the place and providing the visuals for reference. Ask guiding questions to the children and to tell you what they think.
Compile a list of any related fiction or nonfiction books, then read them aloud using dialogic reading practices. The questions should related to the historic place and the children's lives outside of the library.
Finally, prepare an activity that will reinforce the themes featured by the historic site. The activity could be a craft, game, service learning opportunity, or take home project. For library activity ideas, see the
activities index
on this website.
Last updated: October 2, 2019