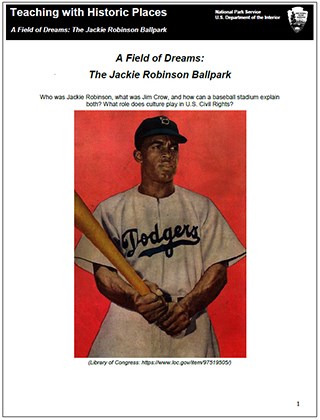 Contents
| Introduction
| Where it Fits Into the Curriculum (Objectives and Standards)
| Materials in the Lesson (Readings, Maps, Visual Evidence)
| Post-Lesson Activities
| More Resources
| About

Who was Jackie Robinson, what was Jim Crow, and how can a baseball stadium explain both? What role does culture play in U.S. Civil Rights?
Daytona Beach's City Island baseball stadium is a magical place. Not as large or new as other minor league parks, but on a steamy summer night, thousands revel in its cool ocean breeze, delight in twinkling marina lights, inhale the scent of ballpark hot dogs, and jump when crack! Bat meets ball.
Yet, what makes this historic field's baseball diamond shine brighter than any other in the United States is its heritage: it was at this place that the dream of racial equality in baseball took a great leap toward reality.
On March 17, 1946, African American rookie hitter Jackie Robinson played at City Island's ballpark on a mixed-race team against an all-white team. This was a first in professional baseball since the 1800s. There were thousands of spectators, including nearly a thousand African American fans seated in a segregated section. Robinson smashed a barrier for sports that day and was thrust into the nation's consciousness as a symbol of Jim Crow's demise.
Robinson went on to become Rookie of the Year in 1947 and a World Series player in 1955. He starred as himself in the dramatized version of his life, The Jackie Robinson Story (1950), played ball for 11 years, and became a Civil Rights era activist. He worked for that cause until his early death in 1972. In the 1990s, the ballpark was renamed in his honor and listed on the National Register of Historic Places.