Lone Woman of San Nicolas Island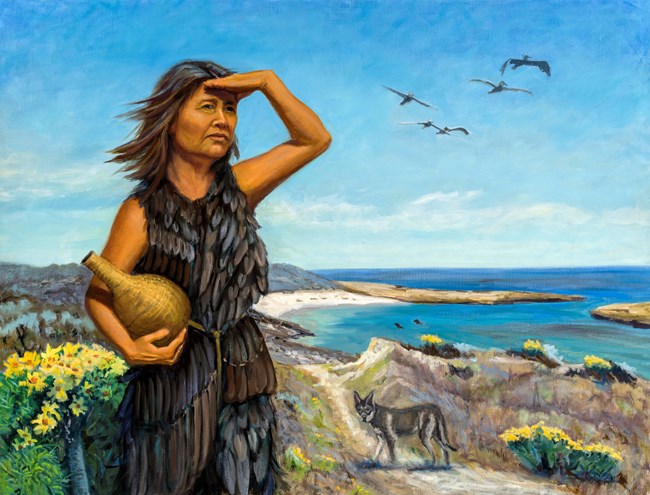 An American Indian who lived on San Nicolas Island, California, the Lone Woman was likely born about 1800. She was called the Lone Woman of San Nicolas Island because she lived isolated on the remote island for 18 years after her people went to the mainland in 1835. She left the island in 1853 and died in Santa Barbara, California. When she was near death, the Lone Woman was conditionally baptized by
Father Francisco Sánchez
. He gave her the baptismal name of Juana María in the
Santa Barbara Presidio burial registry
. The Lone Woman was the model for Karana in
Island of the Blue Dolphins
.
DATE OF BIRTH: About 1800
PLACE OF BIRTH: San Nicolas Island, Alta California, New Spain
DATE OF DEATH: October 19, 1853
PLACE OF BURIAL: Mission Santa Barbara, California, USA
Bibliography
Cronin, Blaise P. "Juana Maria."
Priestly Studies
12, 2 (1944): 68–75.
Dittman, Carl. "Narrative of a Seafaring Life on the Coast of California." Unpublished manuscript, 1878. Bancroft Library, University of California, Berkeley.
Ellison, William H., (ed.).
The Life and Adventures of George Nidever [1802–1883]: The Life Story of a Remarkable California Pioneer Told in his Own Words, and None Wasted
. Santa Barbara: McNally & Loftin, and Tucson: Southwest Monuments and Parks Association, 1984: 36–39, 80–89.
O'Dell, Scott.
Island of the Blue Dolphins
. New York: Houghton Mifflin, 1960: 182–83.
Last updated: November 16, 2018