FAQs
Is this a true story?
Island of the Blue Dolphins
is a work of historical fiction based on the life of an American Indian woman who lived 18 years in relative isolation on San Nicolas Island. Scott O'Dell conducted extensive research before writing the novel in order to assure as much historical accuracy as possible. Many of the book's facts and details, including specific events, can be backed up with historical and archeological evidence. Nonetheless, O'Dell's book is a work of fiction. In addition to gaining information from the books and articles he read during his research, he also absorbed myths, misinformation, and stereotypes.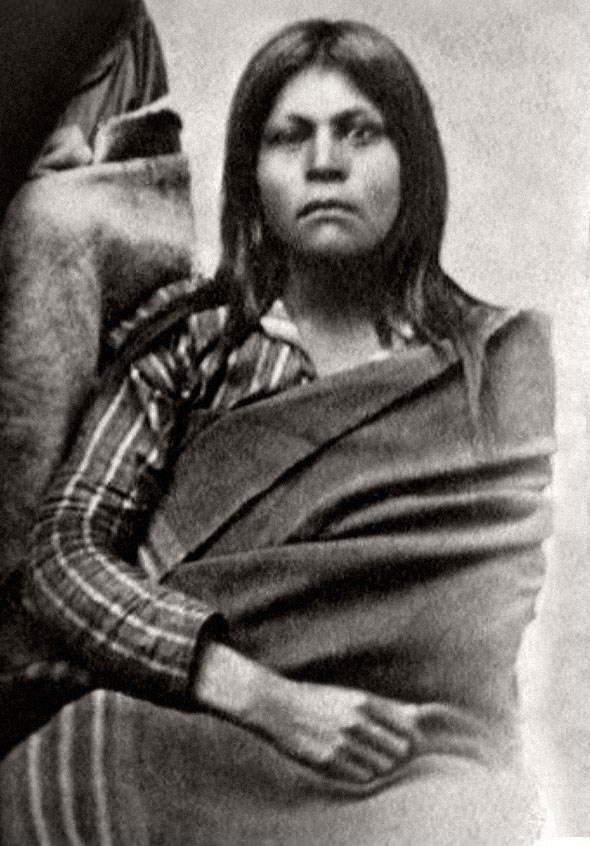 Is this a photo of the Lone Woman of San Nicolas Island?
This image of a young American Indian woman was thought by some to be a photograph of the Lone Woman of San Nicolas Island because it had been captioned on the reverse side "Juana Maria, the lone woman of San Nicolas Island" by an unidentified person.
It is thought that the studio of Edwin J. Hayward and Henry W. Muzzall, which operated in Santa Barbara in the 1870s, took this photo. That is after the Lone Woman's death. She died only seven weeks after arriving on the mainland in 1853, and there is no known photograph of her.
Carl Dittman and George Nidever, who encountered the Lone Woman on San Nicolas Island and returned to Santa Barbara with her, referred to the Lone Woman as "an old woman" and "about 50 years old." Others who met the Lone Woman in Santa Barbara also noted that she was an older woman.
Therefore, the young American Indian woman in the photograph is not the Lone Woman of San Nicolas Island, since the woman in the photograph appears to be in her late 20s—not 50 years of age or older.
Were there wild dogs on San Nicolas Island?
American Indians introduced dogs to the Channel Islands thousands of years ago. These dogs were domesticated (tamed) and were very important to people living on the islands and mainland. They were used in hunting marine mammals and waterfowl, to pull loads, as guards to warn of intruders, and as pets and companions.
If any dogs were abandoned when the Nicoleños and Chumash left San Nicolas and the other Channel Islands these dogs likely became feral (wild).
Last updated: May 11, 2018