Go Virtual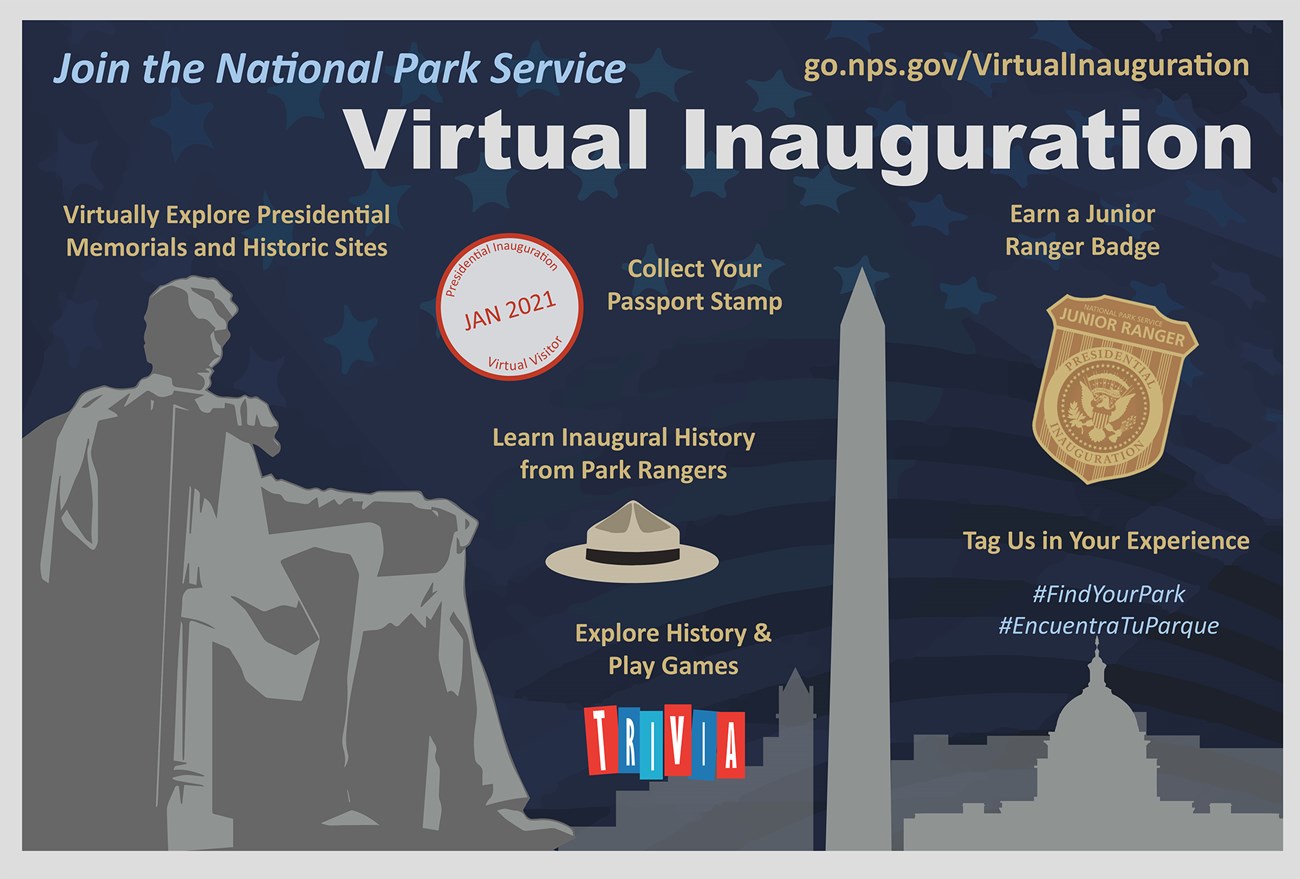 The image is an infographic to share ways that people can experience the presidential inaugurations with national parks. It includes illustrations of D.C. landmarks including a statue of Abraham Lincoln, the Washington Monument, Old Post Office Tower, and U.S. Capitol against a U.S. flag background.

Text reads "Join the National Park Service. Virtual Inauguration. go.nps.gov/VirtualInauguration.

Option 1 includes text reading "Virtually explore presidential memorials and historic sites."

Option 2 includes an image of a national park passport stamp for the 2021 presidential inauguration text reading " Collect your passport stamp".

Option 3 includes an image of a ranger hat with text reading "Learn inaugural history from park rangers".

Option 4 includes text reading "Explore history and play games. Trivia".

Option 5 includes an image of a presidential inauguration Junior Ranger badge with text reading "Earn a Junior Ranger badge".

Option 6 includes text reading "Tag us in your experience. #FindYourPark. #EncuentraTuParque".
Every presidential inauguration is a moment in our nation's history and every president made history. As caretakers of many of America's iconic treasures in the nation's capital and around the country, we've got some presidential stories to tell. Check out (and keep checking for updates) these things to do to take part in this year's Inauguration Day. Learn more about the history of U.S. presidents and our democracy through your national parks—virtually!
2021 Presidential Inauguration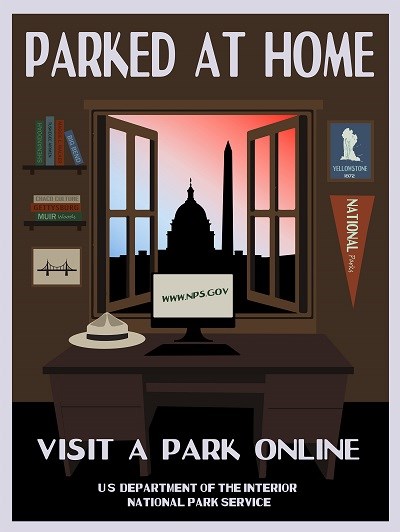 It went virtual! On January 20, 2021, President-Elect Joseph R. Biden and Vice President-Elect Kamala D. Harris took the oath of office during the 59th Presidential Inauguration. With 2021's inauguration theme of "America United" as the nation faced challenges that kept us physically apart, many of the traditional public events that happen in D.C. were reimagined as virtual experiences to allow people from anywhere in the world to take part in the moment in history.

For a full list of official presidential inauguration events and ways to watch, visit the Presidential Inauguration Committee's website. These are events that have traditionally taken place on National Park Service park land in D.C. or did in January of 2021—all virtual so people could participate from home!
January 19, 2021
National COVID-19 Memorial: An illumination memorial to remember and honor the lives lost to COVID-19 was set up around the Lincoln Memorial Reflecting Pool. Cities and towns across the country were invited to participate by illuminating buildings and ringing bells around 5:30 pm ET.

January 20, 2021
Swearing-In Ceremony: The president-elect and vice president-elect took the oath of office at the U.S. Capitol, located at the east end of the National Mall. The ceremony was broadcast and livestreamed on numerous media outlets worldwide.

Pass In Review: A long-standing inaugural tradition, the Pass In Review allows our military to recognize their new commander-in-chief. It took place by the U.S. Capitol in 2021.

Presidential Escort: The newly sworn-in president was escorted from Arlington National Cemetery to the White House on park land. Every branch of the U.S. military was respresented in the escort, which included performances by military bands.

Virtual Parade Across America: Instead of a traditional parade on Pennsylvania Avenue, there was a virtual parade that was televised for the American people and featured diverse, dynamic performances in communities across the country. The parade celebrated America's heroes, highlighted Americans from all walks of life in different states and regions, and reflected on the diversity, heritage, and resilience of the country.

Field of Flags: A new virtual experience this year, the Presidential Inauguration Committee set up an art display of 56 pillars of light and approximately 191,500 US flags to represent every state and territory. The display was located on the National Mall from 3rd Street to 13th Street to represent the American people who are unable to travel to Washington, D.C. for the inauguration.

Celebrating America Primetime Special: A 90-minute televised prime-time program featuring remarks from the newly sworn-in president and vice president and celebrity performances included scenes and special displays backdropped by the National Mall and Memorial Parks, including the Lincoln Memorial and Washington Monument grounds.
2021 Presidential Inauguration Photos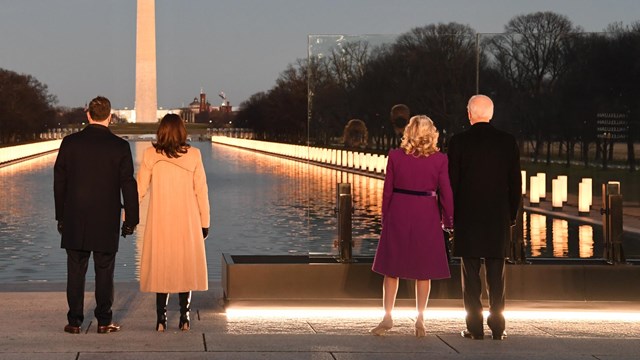 Virtual Presidential Inauguration Events
With traditional and new events reimagined as virtual experiences, see images of the 59th Presidential Inauguration events on park land.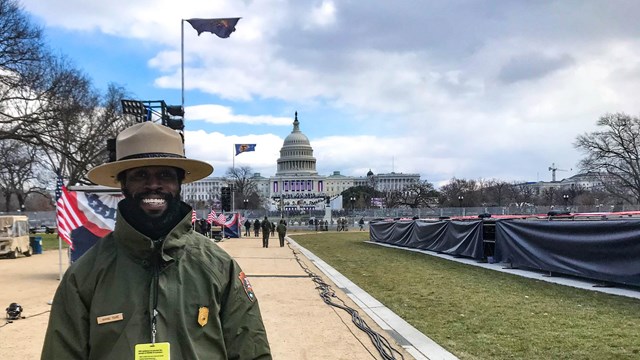 Behind the Scenes
Get a behind-the-scenes look at the collaborative work that went into setup and hosting the 59th Presidential Inauguration on park land.
Go Virtual with National Parks
We are one of America's biggest and oldest musuems to history, but we're hip with technology too. There are more than 400 national parks across the country, many dedicated to remembering the life and legacy of U.S. presidents. In celebration of Inauguration Day, explore presidential and inauguration history in national parks with virtual experiences and activiites.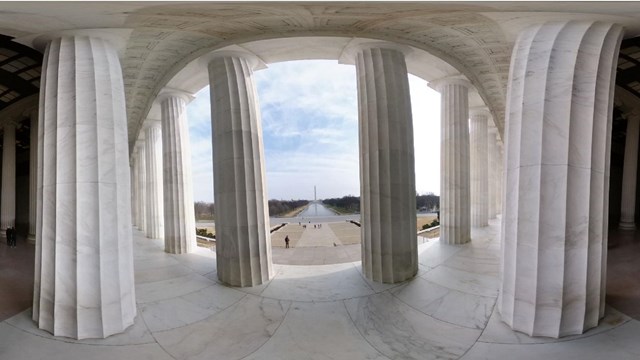 Presidential Places 360°
Remotely explore presidential memorials in D.C. in the round and see if you can pass the test to become a virtual tour guide.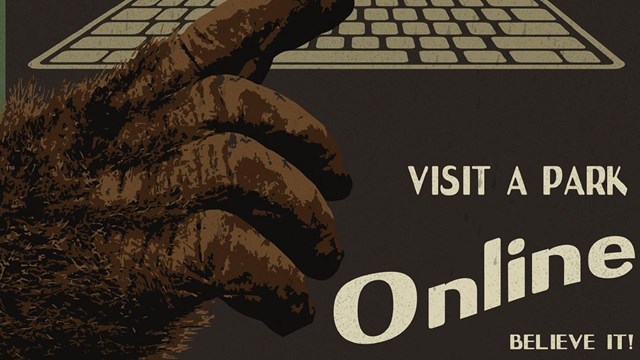 Virtual Tours
Take a tour of presidential monuments, memorials, and homes in national parks from the comfort of anywhere in the world.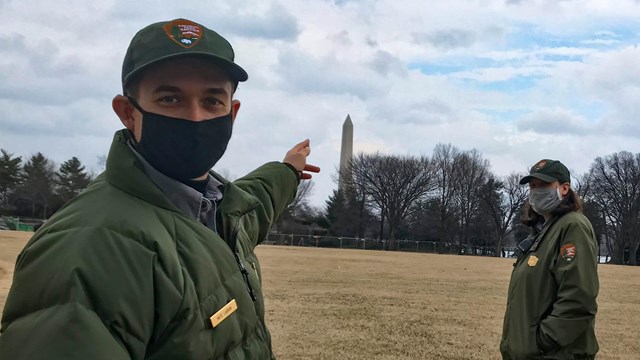 Virtual Ranger Programs
Don't move! We'll come to you to give ranger programs through your digital devices this inauguration.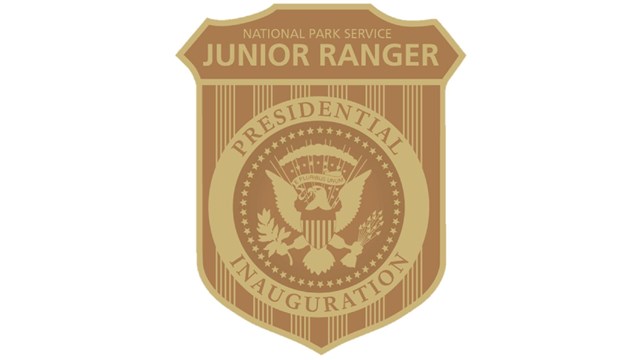 Junior Rangers
Gotta collect them all! Earn Junior Ranger badges while learning about U.S. presidents, inaugurations, and memorials.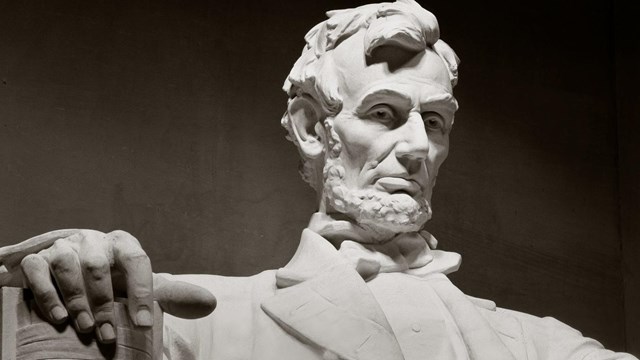 Game On
Trivia time! Test your knowledge of presidential history with games for all ages about history and places found in national parks.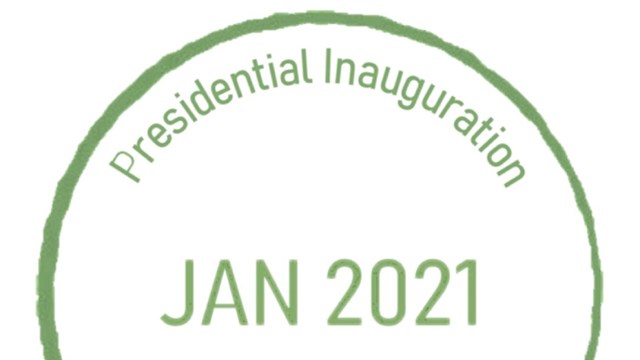 Virtual Passport Stamp
Do you collect national park passport cancellation stamps? Congratulations, you've found the virtual Presidential Inauguration stamp!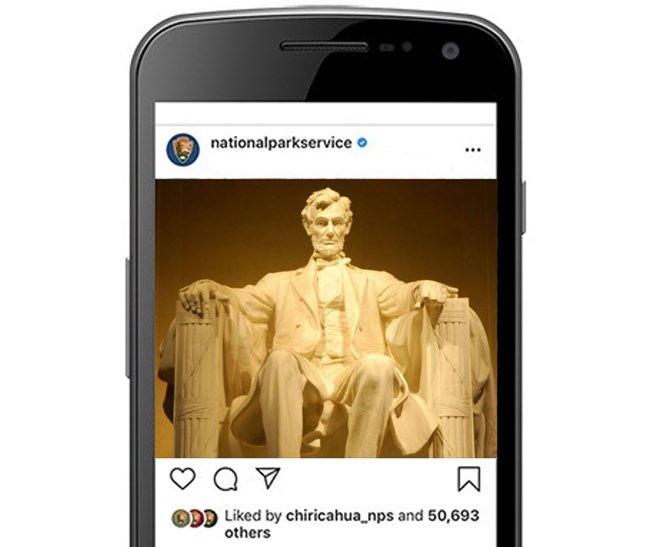 Social Media
Don't miss a moment with national parks. Follow along with National Park Service social media channels as some park and programs across the country post presidential history and activities on Inauguration Day. Join the action on Inauguration Day on the National Mall and Memorial Parks' Facebook and Twitter channels (@NationalMallNPS) as we share updates and activities from the virtual D.C. celebrations.

Share your own national park Inauguration Day experiences using #FindYourPark or #EncuentraTuParque. Who are your favorite presidents? What is your favorite presidential national park trivia? Which memorial is the most meaningful to you?
More Virtual Resources
Inauguration History

Every presidential inauguration is a moment in our nation's history. Follow the journeys of past presidents just beginning theirs.

Inauguration Stories

Learn about inaugurations of the past through histories, museum objects, and ranger stories.

Presidential Places

Find national parks in the nation's capital and around the country that member the lives and legacies of presidents.
Last updated: January 27, 2021