Oral History: In Their Own Words
The NPS Oral History Collection includes over 1,100 interviews with current and former NPS staff, their families, and affiliated individuals. The collection includes a variety of projects conducted from 1959 to today. The interviews describe people, parks, events, actions, and management decisions made from the establishment of the NPS in 1916 through to current events. Most interviews have associated correspondence and research notes.

Whether you are interested in a finding an interview with a family member, delving into the history of your favorite park, or learning more about the events that shape our nation, you can find out who has been interviewed and general topics of discussion in our searchable finding aid (795 KB, PDF). Full transcripts are posted online as they are digitized. In the meantime, if you need a transcript or have questions, contact the archivist.
Featured Interview of the Month
Coming soon!
A few collection highlights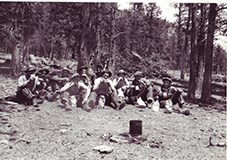 S. Herbert Evison's NPS Oral History Project — Collected from 1959-1963 and 1972-1974, these interviews focus on early NPS history, with a particular emphasis on Civilian Conservation Corps (CCC) men. Evison collected 475 interviews, including those with NPS directors, superintendents, program managers, and others.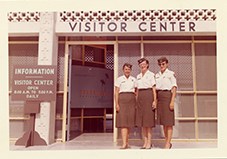 Dorothy B. Huyck's Women in the NPS Oral History Project — Collected from 1976-1979, these interviews focus on the experiences of women in the NPS. Huyck recorded interviews with 144 women and some men. She also conducted unrecorded telephone interviews with over 70 individuals and her notes are available in this collection. Interviews are with a wide range of "rank and file" women as well as notable figures in NPS history.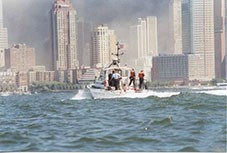 September 11, 2001 Oral History Project — Following the 9/11 terrorist attacks in New York, Washington, D.C., and Pennsylvania, NPS historians and ethnographers recorded the memories of staff who experienced the events and their aftermaths. More than 100 employees were interviewed for the project, primarily from the Statue of Liberty, Arlington House, and U.S. Park Police from Washington, D.C. and New York. Interviews with staff detailed from other parks to deal with emergency response are also included.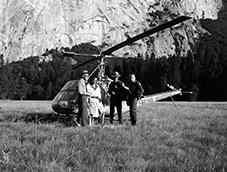 Association of National Park Rangers (ANPR) Oral History Project — Sixty-nine interviews conducted with employees that joined the NPS in the 1950s-1970s. Collected in advance of the NPS Centennial in 2016, the individuals interviewed occupied leadership positions during decades of great change for the NPS. Interviews are transcribed and available digitally.
Last updated: August 30, 2021