A Park as Home
"I mean, this is real. These people are tied to this land. This is sacred to them. What in the world am I doing as a bureaucrat saying, 'No, no, no, no, no'? And it totally changed my perspective on it."
Episode Three: A Park as Home

In conversation with Laurel Munson Boyers. What's it like to spend most of your life in Yosemite National Park, from childhood to wilderness manager?

Credit / Author:

NPS

Date created:

10/14/2020
LAUREL MUNSON BOYERS (NARRATOR): The family used to go for outings into the high country, and Dad used to carry me places in a banana box. You know, I was a little kid; we didn't have backpacks. I think I just got the wind on my face and the feel of the mountains at a really young age, and it imprinted. There I was. I was stuck with it.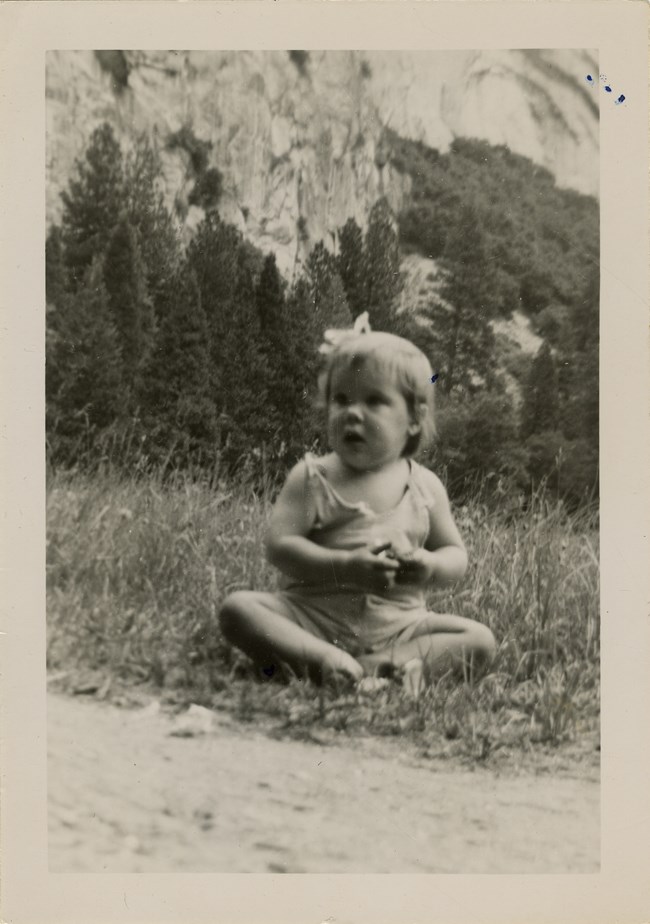 LU ANN JONES (HOST): Laurel Munson Boyers has called Yosemite National Park home most of her life. She was born there, and family roots run deep in the Sierra Nevada.
In the 1890s her great grandfather ran a store just south of what would become the park's main entrance. Her grandmother developed what Boyers calls her "mountain smarts" as she grew up in the Sierra foothills and as she later shared fire lookout duties with her husband. Boyers' parents worked for the park's main concession company. Boyers and her brothers spent the early years of their lives there.
Her backyard was the entire Yosemite Valley. As Boyers recalled:
BOYERS: It was a pretty wonderful childhood I think to be raised there where this stupendous natural beauty and the world on vacation
JONES: It was the early 1950s.
The park system was beginning to boom. Soon new interstate highways would make parks easier to reach, and young families were eager to pile in their cars and travel. The Park Service needed new staff, new facilities.
What Boyers's parents didn't realize is that two decades later their little girl in the banana box would find her calling in the National Park Service and she became a pioneer in her own right.
I'm National Park Service historian Lu Ann Jones, and you're listening to "A Sense of Place: Stories of Stewardship from the National Park Service," a podcast series about the people who shaped the parks and the Service.
Today: A park as home.
We view Yosemite through the eyes of someone who first saw it as a child and never lost her sense of wonder. For Boyers, Yosemite is not only a park and wilderness. It's also home, workplace, and lifelong companion. The park shaped her, and she shaped the park.
The 1960s and 1970s were a time of transition here in the states -- the Civil Rights Movement. Vietnam. Energy crises. The environmental movement. The women's movement.
The National Park Service was feeling those ripples when it became Boyers' professional home in 1976. It was an opportune time for someone with her outdoor skills, ecological values, and even temperament. Someone who had a sense of comfort and belonging in the woods.
BOYERS: I was physically fit for it and I think emotionally fit for it too, because I like people and enjoyed helping people as well as this commitment to protecting wild places. I was completely comfortable here, completely comfortable on my own, very comfortable in wild settings.
JONES: Boyers was among a trailblazing generation of women who assumed new roles as back country and law enforcement rangers, jobs that had traditionally belonged to men.
She came to know Yosemite National Park intimately. She became a bonafide ranger. She patrolled the back country on foot, horseback, and Nordic skis. She often spent weeks at a time alone, based in remote cabins or traveling through the farthest reaches of the park.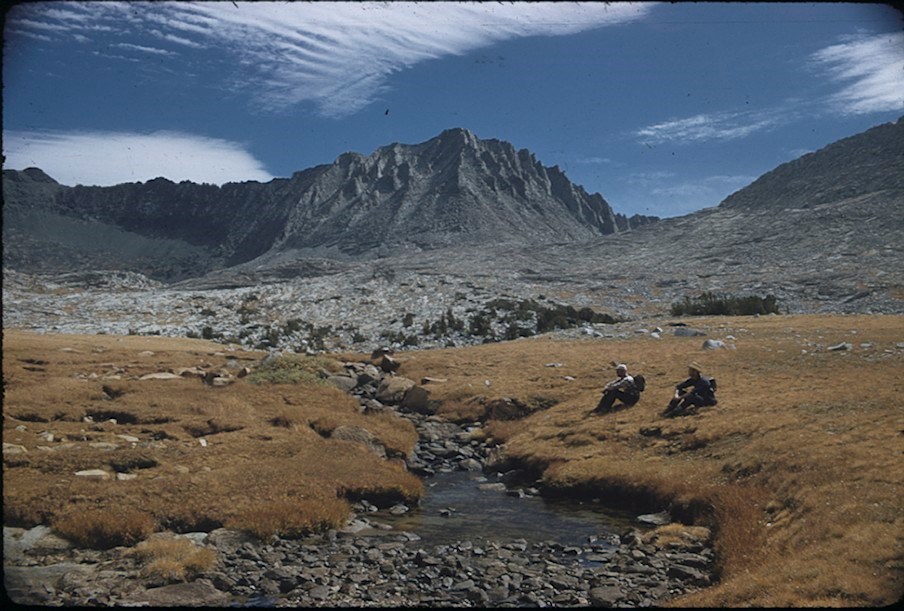 BOYERS: The rumor was that women couldn't do the mounted ranger job because they were too weak to get the saddles up on the horses.
I was the first female wilderness ranger so it was kind of like I had to be really tough. I could show no weakness. You know, I had to be really strong; so, it was hard back there.
JONES: She was able to join early efforts at Yosemite to meet the national standards of legislation protecting wilderness.
The first orders of business: collect visitor data and draw new boundaries around the park's wilderness area.
How many people could use a place in the wilderness before they muddied the streams or eroded trails or disturbed wildlife habitats?
BOYERS: We were really encouraged to try to find out as much as we could. We did great studies, you know. We did one when I was the Nordic supervisor, we decided we needed to try to find out what we could about Nordic users: "Are you carrying a map, yes no?" You know, "Did you do what you thought you were going to do?" You know, things that came back not only to resource protection but also for really good search and rescue information about what people think they're going to do.
JONES: Yosemite was one of the most heavily traveled wilderness areas in the United States. Boyers' boots-on-the-ground research measured how human use affected the park's vegetation and wildlife.
By 1987 Boyers was the assistant wilderness manager in the park; a decade later she had moved up to manager.
As her career evolved, Boyers came to appreciate Yosemite more deeply as a homeplace. It was land that had belonged to several indigenous tribes that had been forcibly removed as well as her own birthplace. By the time she joined the Park Service, Native American inhabitants of Yosemite, new settlers, and government agencies had struggled for decades over who had the right to live there and use its resources.
BOYERS: I think in Yosemite that maybe the Park didn't look at its indigenous populations very well for quite a while--people that had been there before or people that were actually using the land in a different way than sort of the way the Europeans came to use these lands.
JONES: Beginning in the 1990s, indigenous tribes from Yosemite revived a centuries old religious event known as "the walk."
BOYERS: If they're going west to east, they go from the Valley up through Tenaya to Tuolumne and into Bloody Canyon, so over Mono Pass and down into the east side there. It is the traditional route that they used for trade with the Paiute on the east side or the Mono Indians on the east side.
JONES: It lasted up to five days, with large groups of people -- crossing sensitive ecosystems of the high sierra from Yosemite Valley to the Mono Lake basin.
BOYERS: We'd spent so many years dealing with group size and capacity and people and limits and things, and then all of sudden here's this group of sixty or eighty or as many as a hundred people that want to walk as a group, and it was something that needed to be talked about.
I think all of us realized that it was appropriate for them to do it and it was part of their tradition, but what about that many people doing it and what are they doing about all of the things we talked to other users about, and how do we protect the resource?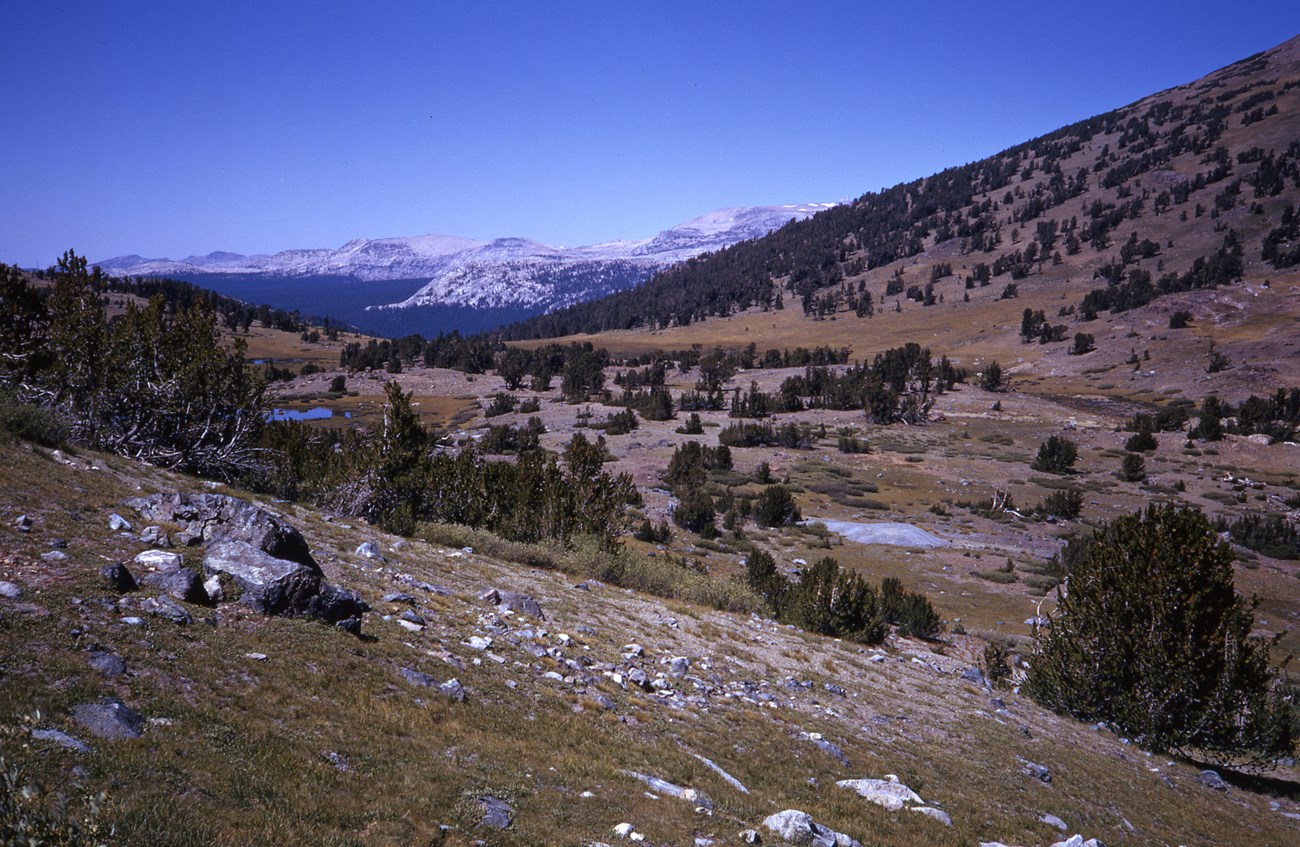 JONES: And it wasn't just about stewarding the physical space -- it was also helping to honor the relationships that inhabited it.
BOYERS: Then there's this thing, from a Native American perspective, or the tribes, the bears were their partners in life. The bears were part of their society. And for us to come in and say, "Well, don't you have your food storage? Where are your food canisters?"
JONES: Laurel sought counsel from Jay Johnson and Les James. They were elders and leaders of the Southern Sierra Miwuk nation. One day, they went for a walk.
BOYERS: We went up to Mono Pass, and they were going to bless the route. They had wormwood smoke and took it up, and we talked all the way up. They're both just wonderful, gentle souls, just amazing people. I was just delighted to be out in the woods with them. We went up and we got up on top of Mono Pass, and Jay lit the smoke and blessed the four directions, and they sang a song that was about the Walk.
I was moved to tears with it. It was so real to me and it was so genuine, and it was so clear that what they were doing was very appropriate and very much attuned to the woods. I was embarrassed that we were so bureaucratic about the whole thing. I was like, "You are kidding me." I mean, this is real. These people are tied to this land. This is sacred to them. What in the world am I doing as a bureaucrat saying, "No, no, no, no, no"? And it totally changed my perspective on it.
JONES: And Boyers carried that perspective with her. Over the course of her career, she had witnessed a lot of growth -- in the Service, in herself. There's an old saying that you are a product of your environment -- and it leaves one to wonder if the converse is true: how would Yosemite National Park be different without Boyers' thumbprint?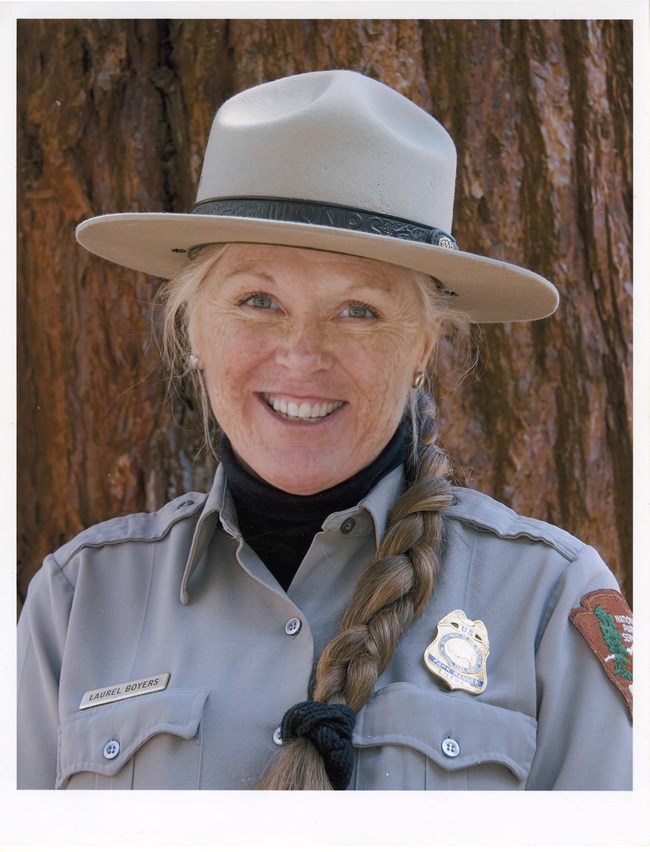 She's retired now. But before hanging up her flat hat in 2007, she made one last backcountry patrol: a ten-day horse packing trip with friends and colleagues that spanned her career.

BOYERS: We went as far as we could. We went from one end of the park to the other. All of us had done long trips. All of us had done ten-day trips. I used to do ten-day trips all the time, but not to cover one end of the park to the other, to go through all of the ecosystems. The south end of the park is very rolling, grassy, wildflowers, forested, and then you start working up higher and go over those passes, and you get into the Cathedral Range, and it has a character itself. Then you get into the Tuolumne drainage, and it has its own character. The north end is very rugged and rocky and up and down and up and down. Just to have that all in one trip was just magnificent.
I was so emotional on that trip because it was the end of my career and it was such a cool time, all these neat people. Coming down through Jack Main Canyon, which is one of my favorite places, there was a little wild bear, and he came down. He kind of was up on the hill above us, and he looked at us. But it was so wild. It was just a young bear, and it was so touching to me to know that this place was back there.
JONES: For Boyers the small bear was a striking symbol of all the fragile wildness she had worked to protect at Yosemite. Both she and the bear were at home.
This is "A Sense of Place: Stories of Stewardship from the National Park Service." I'm your host, Lu Ann Jones. We were fortunate enough to sit down with Boyers for a number of interviews -- here, you heard excerpts from a series of interviews conducted by myself, Brenna Lissoway, James O'Barr, Heather Young, Greg Cox, Joan Ilacqua, and Kathy Komatz between 2010 and 2012.
This episode was produced by Emma Courtland and Robin Miniter, with assistance from Marcelino Vialpando, for the National Park Service. Music by Blue Dot Sessions.
Last updated: August 13, 2021