Article
Wildland Fire: Types of Jobs
Looking for a job and/or a career which combines love of the land, science and technology skills, leadership and people skills? Then you may be the right person for a job or career in wildland fire management in the National Park Service.

The National Park Service Wildland Fire Program requires talented people working safely together to be successful. A large number of people work together for the common goal of fire management, fire prevention, and fire suppression.
The National Park Service's fire program includes nearly 400 permanent employees and 600 seasonal employees. The service both assists and receives assistance from our partners to manage fires and to enhance resources and safety through fuels reduction projects. Whether directly managing fires on a fire crew or providing support on an Incident Management Team (IMT), NPS employees spend thousands of hours supporting the nation's firefighting efforts.
There are many different specializations in the NPS Wildland Fire Management Program, some of which require special skills and training, and all of which require enthusiasm and dedication. This is a competitive arena which places physical and mental demands on employees.
Employees are hired for temporary and permanent jobs, year round depending upon the area of the country. As an employee's competencies and skills develop, their opportunities to advance in fire management increases.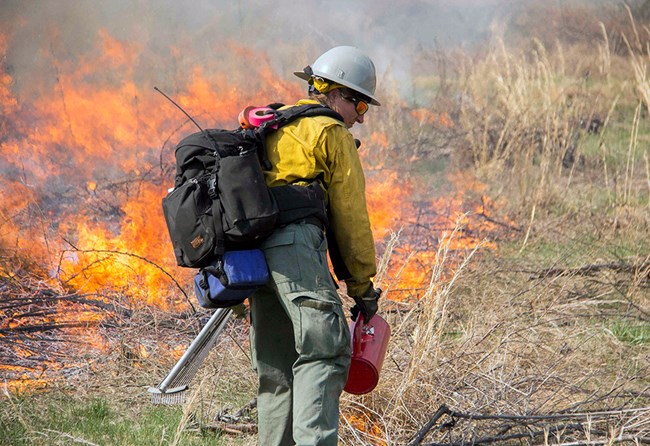 Positions Available
Firefighter:
Serves as a crewmember on a handcrew, using a variety of specialized tools, equipment, and techniques on wildland and prescribed fires. Job announcements for firefighter positions may also be titled as Forestry Technician or Range Technician.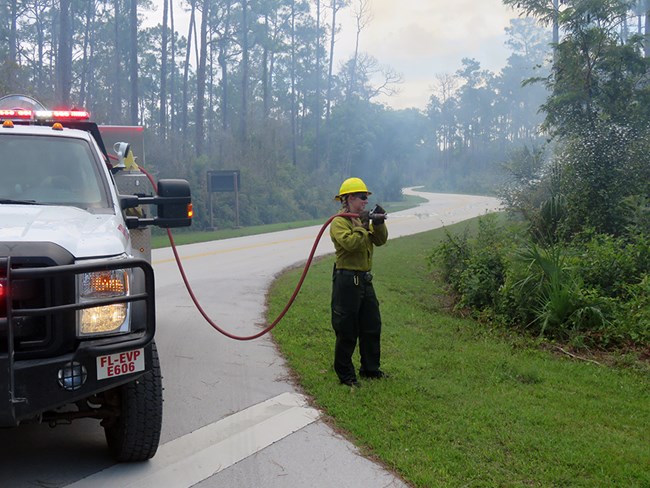 Engine Crewmember:
Engine crews are used for initial and extended attack fire suppression, support of prescribed fires, patrolling, and project work. These crews range in size from three to ten firefighters and work with specialized firefighting equipment and perform many strenuous activities such as –mobile attack with engines, hose lay, construction of fireline with hand tools, burnout operations, and mopping up hotspots.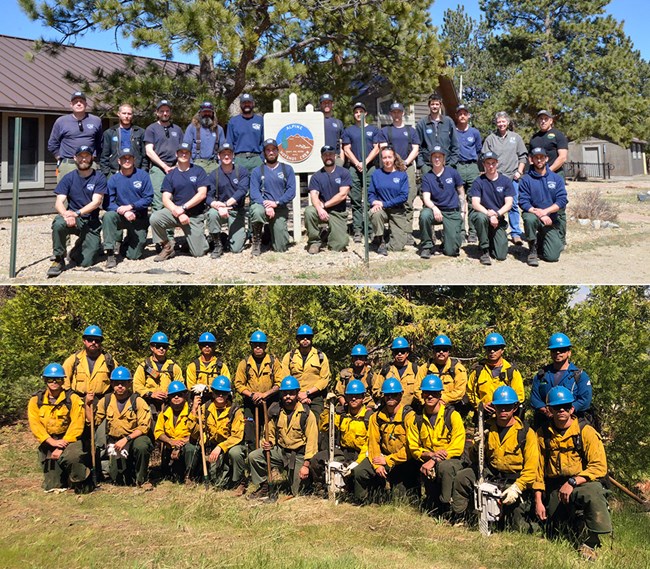 Hotshot:
Experienced firefighter who works on a hotshot crew specializing in extended attack on wildland fires. There are two hotshot crews in the NPS -
Arrowhead Hotshots
and
Alpine Hotshots
, located at
Sequoia and Kings Canyon National Parks
and
Rocky Mountain National Park
, respectively.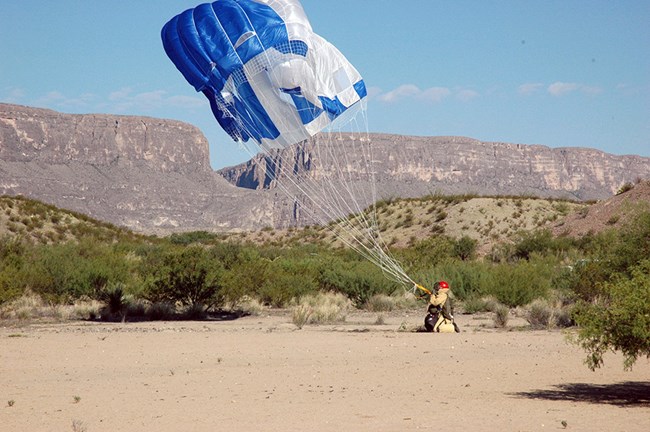 Smokejumper:
Specialized, experienced firefighter who works as a team with other smokejumpers, parachuting into remote areas for initial attack on wildland fires. The National Park Service does not employ smokejumpers since there is no NPS smokejumper base or crew, but they are hired by the
US Forest Service
and Bureau of Land Management (
Boise
and
Alaska
).

Helitack Crewmember:
Helitack crews are wildland fire suppression crews specializing in helicopter operations. Helitack firefighters are delivered to fires via helicopter and suppress wildfires with hand tools and chainsaws. Helicopters can be equipped with a bucket or fixed tank to drop water or retardant during firefighting operations. They deliver helitack crews for initial attack, and transport personnel and cargo in support of fires.
Some helitack firefighters are trained to rappel from the helicopter to reach fires in remote locations. A helitack crew provides land management agencies with a safe, highly skilled and a productive aerial firefighting resource. The crew can range in size from an 7 to 24 persons. Helitack crews may also be used to support prescribed fire operations or special projects requiring helicopters.
Wildland Fire Module Crewmember:
Wildland fire modules are 7 to 10 person crews that can assist in planning, fire behavior monitoring, ignition, holding, project preparation and execution. Modules are often times assigned to fires that are being managed for multiple objectives and provide expertise in areas of fire effects monitoring, ignition, holding, line construction, and long-term planning.
Wildland fire modules must be self sufficient for extended periods of time and perform many of their functions in remote areas of fires or wilderness areas. Wildland fire modules possess a unique skill-set that can help fire managers achieve objectives when managing fires for multiple objectives.
Dispatcher:
Serves as central coordinator for relaying information regarding a fire as well as ordering personnel and equipment.
GIS Specialist:
Uses satellite technology to map fire perimeters, vegetation areas, and other scientific studies.
Fire Effects Monitor / Fire Ecologist:
Studies and collects data on the effects of fire on plants and animals in burned and unburned areas to learn long-term effects of fire as well as effectiveness of fire treatments on native and non-native species.
Other Support Positions:
Warehouse worker, administrative positions, planners, communication and education specialists, management positions, vehicle operators and other positions will be advertised under several job titles.
Last updated: September 9, 2020