Wildland Fire: Types of Jobs
By Branch of Wildland Fire
Describes the types of wildland fire jobs available as a federal employee and discusses typical work hours, salary schedule, annual and sick leave, and other benefits.
The National Park Service's fire program includes nearly 400 permanent employees and 600 seasonal employees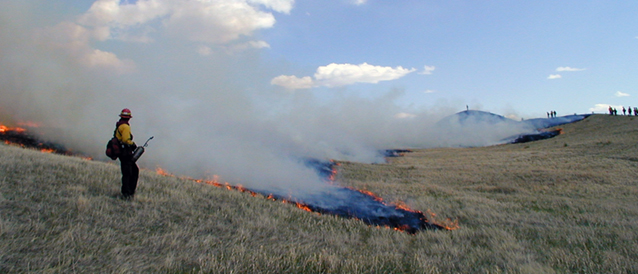 Employment with the National Park Service offers a variety of exciting opportunities.
Interagency wildland firefighters are the best trained and the best-equipped firefighters in the world. The National Park Service Wildland Fire Program requires talented people working safely together to be successful. A large number of people, including dispatchers, firefighters, fire managers, safety specialists, scientists and researchers, communication and education specialists, electronics technicians, and very patient timekeepers and purchasing staff work together for the common goal of fire management, fire prevention, and fire suppression.
The National Park Service's fire program includes nearly 400 permanent employees and 600 seasonal employees. The service both assists and receives assistance from our partners to manage fires and to enhance resources and safety through fuels reduction projects. Whether directly managing fires on a fire crew or providing support on an Incident Management Team (IMT), NPS employees spend thousands of hours supporting the nation's firefighting efforts. Fire Management Careers at NPS (PDF)
Tour of Duty
The following are the different types of positions and tours of duty available in federal employment:
A Permanent Full-Time Position
The tour of duty for a permanent full-time position is normally 8 hours per day, 40 hours per week for 52 weeks per year and includes all benefits (retirement, health insurance, life insurance, annual [vacation] and sick leave) of permanent employment.
A Permanent Part-Time Position
A permanent part-time position includes all of the benefits (retirement, health insurance, life insurance, annual [vacation] and sick leave) of permanent employment. Salary, vacation, and sick leave, which are normally based on a 40-hour week, will be prorated based on the number of hours worked. The government contribution to health benefits premiums is also prorated and will usually means a higher employee cost than for full-time positions at the same grade. Periods of full-time employment on a temporary basis could be scheduled, depending upon workload fluctuations.
A Permanent Career-Seasonal Position
A permanent, career-seasonal position includes all benefits (retirement, health insurance, life insurance, annual [vacation] and sick leave) of permanent employment, but does not provide for employment on a full-time year-round basis. In this position, the employee will work at least 26 weeks, but not more than 48 weeks, in a service year. The employee will work 40 hours per week when in this pay and duty status. When services are not required, the employee will be placed in a nonwork, nonpay status. Up to two weeks of paid vacation time may be used during part of the furlough period and/or unemployment compensation may be applied for. Salary, vacation, and sick leave earnings, which are normally based on year-round employment, will be prorated according to the number of weeks actually worked each year. The waiting period of within-grade increases and career tenure will also be extended by a portion of the time spent in nonpay.
A Temporary / Seasonal Position
A temporary/seasonal position is a nonpermanent position that does not acquire competitive status and does not provide benefits other than annual (vacation) leave or sick leave. These positions provide employment for a limited period of time, normally 6 months or less, although some temporary/seasonal positions may work as long as one year. Employees normally work 40 hours per week and may work holidays, weekends, evenings, nights, etc.
Salary Information
The National Park Service, like most federal agencies, generally pays employees according to one of three pay systems: General Schedule (GS), Wage Grade (WG), and Senior Executive Service (ES). Most positions are covered under the General Schedule. Wage Grade positions are blue-collar positions, and Executive Service are senior manager positions in the bureau. For specific salary information for General Schedule (GS) positions pertaining to jobs you are interested in, visit the Office of Personnel Management Pay Tables. There are specific salary tables for certain localities. If the locality in which you are looking for employment is not covered under a specific salary table, use the "Rest of the U.S." salary table.
Benefits Information
In addition to the challenging work and your ability to make a difference in matters of interest to all Americans, there are also employment benefits to you as a federal government employee. These include health insurance, paid holidays, leave, family-friendly policies, life insurance, retirement pensions, and employee development.
Health Insurance
Federal employees can enroll in health coverage for themselves and their families at reasonable rates. They enjoy one of the widest selections of health plans in the country. More than 245 plans participate in the health insurance program. Most enrollees pay only one-fourth of the health benefit premium with the government's contribution covering the balance. Unlike most employees in private-sector health benefit programs, federal employees can continue their health insurance coverage into retirement with a full government contribution.
Holidays
Federal employees are entitled to 10 paid holidays each year.
Leave
Sick leave and annual (vacation) leave policies are generous. Full-time federal employees earn 13 days of sick leave each year. There is no ceiling on the amount that may be carried over from year to year. Annual leave accrued in the first year (13 days) exceeds the standard 10 days in the private sector. Employees earn additional annual leave as their tenure with the federal government increases, up to a maximum of 26 days per year.
Family-Friendly Programs
In addition to earned annual and sick leave that employees can use, the federal government provides several different family-oriented leave programs.
Under the Family and Medical Leave Act, employees may be eligible to take up to 12 weeks of unpaid leave per year because of a serious health condition, to care for a family member who has a serious health condition, or to care for a child after birth or placement for adoption or foster care. Job security is mandated for employees who take such leave.
In other circumstances, employees may use sick leave for situations such as to care for family members, for medical appointments, to make funeral arrangements, and for purposes related to adoption of a child.
Another program allows other employees to donate their annual leave to a fellow employee if the employee or a family member has a medical condition requiring prolonged leave and that would result in loss of income. The donated leave allows the employee to receive their normal paycheck.
Federal Retirement Program
The Federal Employees Retirement System (FERS) is an outstanding three-tiered plan to provide secure retirement, disability, and survivors' benefits for employees and their dependents. This system includes a Thrift Savings Plan (TSP) with up to five percent government contributions in a tax-deferred retirement savings and investment plan offering the same type of benefits that many private corporations offer employees under 401(K) plans. For firefighter and law enforcement positions, there are special retirement provisions that may entitle an employee to early retirement after 20 years of service.
Workforce Development
The National Park Service provides their seasonal and permanent workforce various training opportunities related to overall park operations, as well as specific training for job-related enhancement.
Learn more about Wildland Fire careers on our Fire Subject site. 
Last updated: December 7, 2016