Indigenous Fire Practices Shape our Land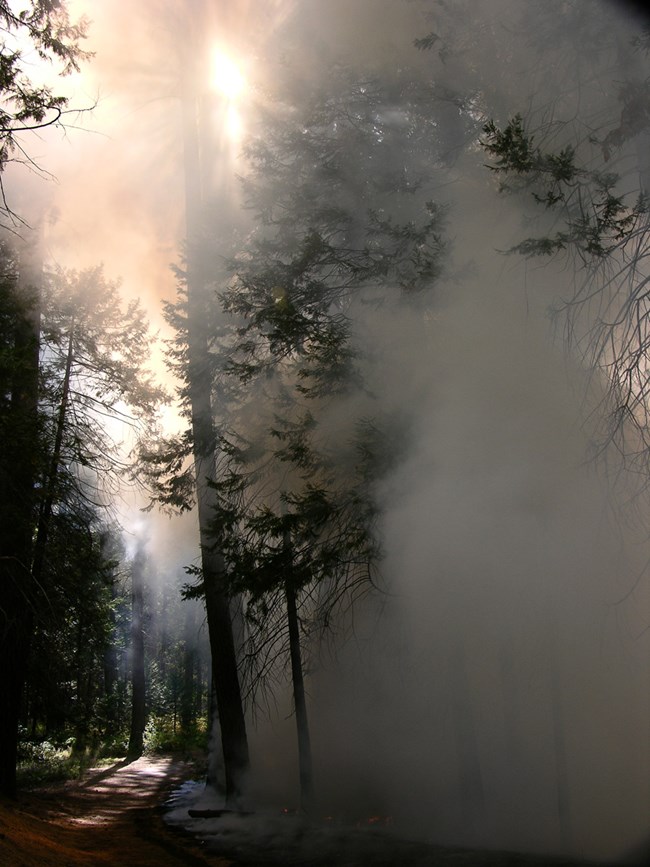 For many millenia, fire was integral to many Indigenous peoples' way of life. Native Americans, Alaska Natives, and Native Hawaiians used fire to clear areas for crops and travel, to manage the land for specific species of both plants and animals, to hunt game, and for many other important uses. Fire was a tool that promoted ecological diversity and reduced the risk of catastrophic wildfires.
"Cultural burning" refers to the Indigenous practice of "the intentional lighting of smaller, controlled fires to provide a desired cultural service, such as promoting the health of vegetation and animals that provide food, clothing, ceremonial items and more" (Roos, 2021). According to Frank Kanawha Lake, a research ecologist with the USDA Forest Service, and a wildland firefighter of Karuk descent, "[Cultural burning] links back to the tribal philosophy of fire as medicine. When you prescribe it, you're getting the right dose to maintain the abundance of productivity of all ecosystem services to support the ecology in your culture" (Roos, 2021).
In many areas, cultural burning took a hiatus during the era of fire suppression in the 20th century due to land management agencies' enforcement of differing practices. However, this has been changing over the past few decades and cultural burning is again becoming an accepted practice for land management in some areas. Learn more about
Cultural Interpretations of Fire and Human Use
.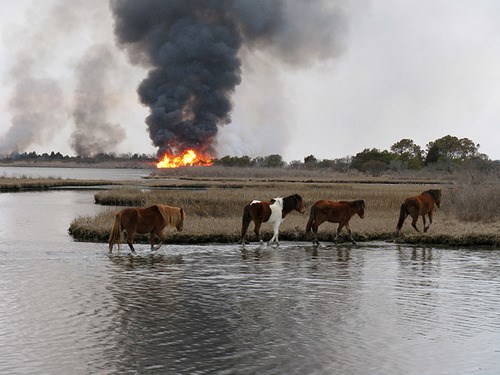 In the eastern United States, oak and chestnut trees, dominant in many forests, are the result of targeted burning to achieve specific nut crops. In the Midwest, Native Americans likely cleared and maintained the tall grass prairies of the area for use as herd animal pastureland.
Native Americans in the Great Lakes region have used fire for many generations. Damon Panek, of the Apostle Islands National Lakeshore states that prescribed fire has been used, "… to improve habitat, increase blueberry production, and clear the understory of vegetation. These frequent, low-intensity fires promoted fire adapted and dependent ecosystems. The medicines, species abundance and diversity, and foods created are what our Anishinaabe culture is rooted in. Our way of seeing the world was developed here around this lake and with fire," said Damon. (Panuk and Kipfmueller, 2021).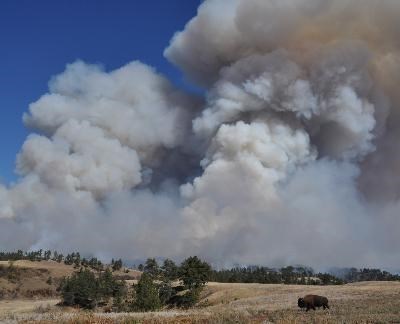 In the northern Great Plains, unlike in other parts of the country, tribes lit large fires instead of smaller, contained burns, to drive animals such as bison herds in a specific direction. Fire was even used to herd grasshoppers as a food source (Roos, 2021).
The Lakota tribe, in the Black Hills of South Dakota
used fire to clear campsites of brush and tall grasses, to protect camps from wildfires and remove cover that an enemy could use to sneak up on them. Burning of the prairie improved the grazing for horses and helped to propagate medicinal plants. The Lakota used fire to assist in securing food sources such as bison. By burning an area in the fall, the bison could be excluded from that area by removing any forage that could be used by the bison during the winter months. This forced the bison to graze in unburned areas. These could be areas closer to ideal winter camp sites and could help improve hunting success. In the spring, the same areas burned in the fall would have excellent grazing and provide good hunting opportunities. Today, the Lakota people living in the Black Hills may not use fire in the same way, but still utilize it.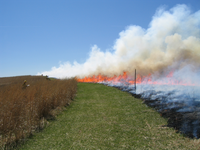 In the Northern Rockies, tribes such as the Salish, Pend d'Oreille, and others periodically set fire to the land for thousands of years, which had a profound impact on plant and animal communities. Fires were traditionally used to reduce the risk of more serious fires, to nurture the land to support specific vegetation used for food and medicine, to provide better quality grazing land for horses, and more. The
Confederated Salish and Kootenai Tribes website
contains a wealth of information, including information on landscapes shaped by fire and how fire suppression has changed them, elder interviews about fire, a Coyote fire story about the gift of fire, and information about the traditional use of fire by the tribes and how tribes are using fire on the landscape today (CKST, 2021).
Throughout California, Indigenous nations have used fire for thousands of years as a tool to steward the land, and still do today. When Europeans colonized California, they found a garden of redwoods and other lands. Evidence of this stewardship can still be seen on the trees at Muir Woods. Fire scars tell the story of Indigenous cultural burns set by the first stewards of Muir Woods, the Coast Miwok. Cultural burns passed down through generations have benefited both land and people, by improving soil quality, and spurring growth of certain plant species, creating a healthy and resilient landscape.
For more than 4,000 years, American Indians have relied on Yosemite Valley's meadows and oak woodlands to provide food, medicine, and materials for baskets, string, and shelter. Yosemite's early inhabitants periodically set fires to promote the growth milkweed, dogbane, sedge root, and bunch grass. Research on mud cored from Yosemite Valley showed a marked increase in ash deposits after people began living in Yosemite Valley.
Some tribes in the western states also used fire to ensure growth of straight and slender types of specific plants used for making woven baskets, or to provide habitat for certain bird species whose feathers were used for ceremonial dress (Roos, 2021).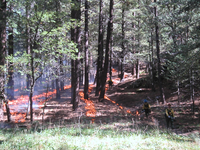 Some, though not all Alaska Natives used prescribed burns to aid in their subsistence lifestyle. Not as much is known about the human relationship with wildfire in Alaska as in other parts of the country. However, a study on human-fire interaction in two different Athabaskan groups in Interior Alaska found that the Koyukon, an Athabaskan group of the western Interior area of Alaska "considered fire a destructive force and had no recollection or oral history of using fire for landscape management." They lived in an area with few lightning strikes, a moist climate, and salmon as a main food source, so fire was not a positive or needed factor. However, The Gwich'in, a neighboring Athabaskan group in the eastern Interior portion of Alaska, actively used fire. They used it to clear forest underbrush which helped in finding and pursuing game, to influence movements of fall hunts, and to kill standing timber to create fencing for caribou. The Gwich'in lived in an area with more lightning strikes, therefore more wildfire activity, and traveled longer distances to hunt moose and caribou. As a result, they were able to avoid and/or target habitats that were affected by wildfires (Natcher et al., 2007).
In Hawaii, Native Hawaiians reshaped much of the vegetation in drier lowland communities on all the major Hawaiian islands, up to about 1800. "In these ecosystems, Hawai'ians used fire to clear land for agriculture, to support shifting agriculture, and for cultivating tanglehead, which was used to thatch houses. While direct research on fire frequency during this time is lacking, burn layers in soil strata, paleoecological evidence, and observations by early European explorers suggest widespread use of fire for agriculture and forest clearing practices." (Abrahamson, 2013).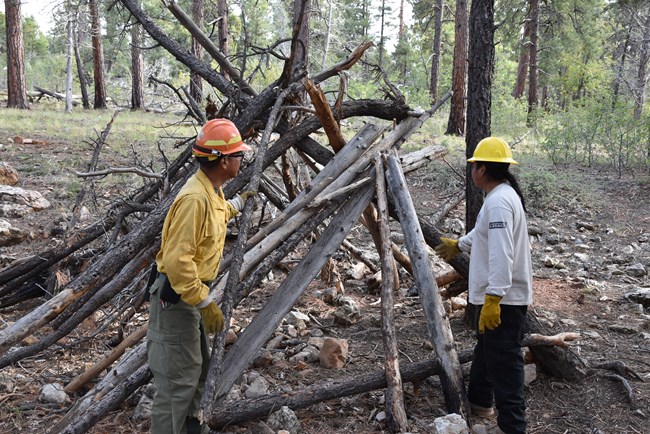 Modern Day Impacts
As European colonizers spread across the United States, fire suppression became more common. Without cultural burns, organic matter built up, putting forests at risk of devastating fire. Suppression, along with urban development and climate change has led to more large, uncontrolled fires that can quickly spread through areas with lots of underbrush. Now, there is better understanding that the Indigenous peoples' tradition of human-controlled burns is a valuable way to reduce out of control wildfires. Traditional ecological knowledge (TEK) is being incorporated more and more into modern management. (
Learn More about TEK and about the recognition of TEK in modern science, particularly in wildland fire management in the Pacific Northwest
).
This increased understanding of Indigenous traditions has led to many partnerships between Tribal, state, and Federal governmental agencies, with the goal of reintroducing cultural burns in many parts of the United States.
Here are a few examples of these partnerships, and ways the National Park Service and other partner agencies value connections to Indigenous heritage, history, and way of life: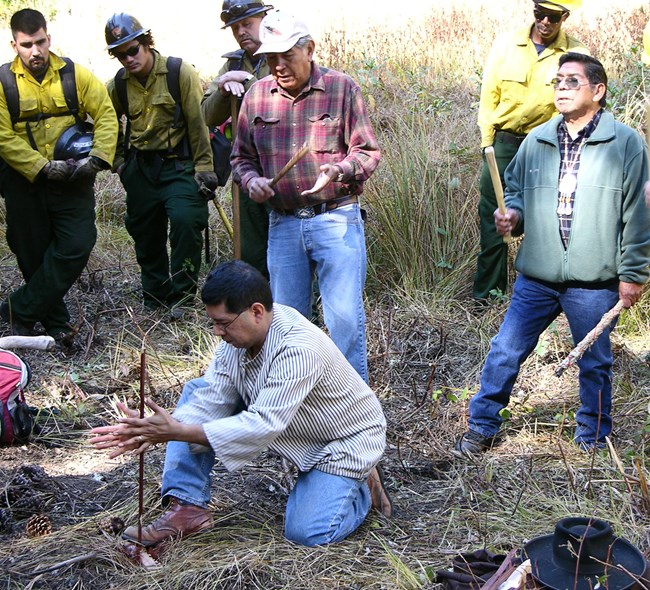 Partnerships
The Bureau of Indian Affairs (BIA), in partnership with Injunuity, has produced an educational video, "
Native Fire
," which discusses how TEK about prescribed fire is used in modern-day practices, and how BIA is forming partnerships to put this knowledge to use.
Secretary of the Interior Deb Haaland highlighted the importance of incorporating Indigenous knowledge into discussions on climate change, at the 26th United Nations Climate Change Conference of the Parties (COP26) in November 2021. At the conference, Haaland opened a discussion with a
video
discussing Indigenous use of fire, produced by The Salish Kootenai College, through a NASA grant to develop a Living Landscapes Climate Science Education Project. The project uses traditional knowledge combined with the best available science to explore the effects of climate change on a Tribal community. It teaches the next generation of Indigenous scientists to ensure the voices of Tribal people are heard as the world works toward climate solutions. (White, Rockwell, and McDuff, 2021).
Yosemite
National Park, CaliforniaIn 2005, members of the Southern Sierra Miwuk Nation and the Tuolumne Band of Me-Wuk
partnered to conduct a prescribed burn
that benefited both ecological and cultural resources in Yosemite Valley. Yosemite firefighters had the opportunity to work with the Native American tribes with knowledge of the area and burning experience that spans thousands of years. The goal of this prescribed fire was to control the non-native and invasive Himalayan blackberry and to encourage growth of traditionally-used plants. The Miwuk used traditional ignition methods for this prescribed burn, which was preceded by a traditional ceremony.
Muir Woods, California
As the National Park Service works to address issues such as climate change, we can continue to learn from the first caretakers of Muir Woods, the Coast Miwok people.  Muir Woods is a living reminder of regeneration, and how learning from Indigenous TEK can chart a path forward for our forests.  Descendants of the Coast Miwok, members of what is known today as the Federated Indians of Graton Rancheria, continue to participate in research, education, cultural revitalization, and preservation of sacred sites.  
Apostle Islands National Lakeshore, Wisconsin
The National Park Service uses prescribed burning for vegetation management and to restore cultural landscapes. In 2017, Apostle Islands National Lakeshore collaborated with the Red Cliff Band, Bad River Band, and other Great Lakes Indian Fish and Wildlife Commission member Tribes to conduct the first cultural burn on Stockton Island in many generations, acknowledging the wisdom and cultural practice of using fire (
ishkode
) within this rare ecosystem. "It is critical that we recognize the importance of traditional ecological knowledge as we steward these islands, which are within the ceded territories of the Ojibwe people," said park superintendent Lynne Dominy. In 2021,
another prescribed fire took place on Stockton Island
to continue the work previously started in 2017.
Objectives of the prescribed cultural fire include restoring globally imperiled pine barrens habitat, with an emphasis on increasing blueberry (miin) production. "Generations of Anishinaabe harvested blueberries on islands within the archipelago. Accounts of families picking berries tell of camping and coming together to harvest; they also tell of fire. Along with other forest species, blueberries respond positively to fire. Knowing this, local Ojibwe tribes used fire to promote the harvest on Stockton Island for centuries. This relationship between humans and fire helped shape the Ojibwe culture that still utilizes these islands today," said Damon Panek, Park Ojibwe Education Specialist.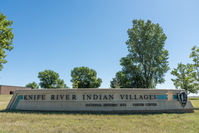 In
Knife River Indian Villages National Historic Site
in North Dakota, a group of middle school students learned about the use of prescribed fire, and then put that knowledge to use as they worked to restore prairie land, in partnership with the National Park Service and Colorado State University.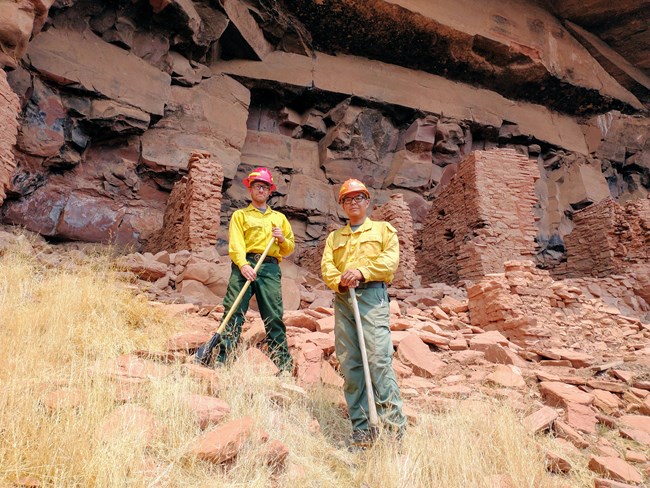 References:
Abrahamson, Ilana L. 2013. Fire regimes in Hawai'ian plant communities. In: Fire Effects Information System, [Online]. U.S. Department of Agriculture, Forest Service, Rocky Mountain Research Station, Fire Sciences Laboratory (Producer).
www.fs.fed.us/database/feis/fire_regimes/Hawaii/all.html
CKST (Confederated Salish and Kootenai Tribes). 2021. Fire on the Land: Native People and Fire in the Northern Rockies. Confederated Salish and Kootenai Tribes, Division of Fish, Wildlife, Recreation & Conservation.
http://fwrconline.csktnrd.org/Fire/index.html
Natcher, D. C., M. Calef, O. Huntington, S. Trainor, H. P. Huntington, L. DeWilde, S. Rupp, and F. Stuart Chapin III. 2007. Factors contributing to the cultural and spatial variability of landscape burning by native peoples of Interior Alaska. Ecology and Society 12(1): 7.
Natcher, David. 2004. Implications of Fire Policy on Native Land Use in the Yukon Flats, Alaska. Human Ecology. 32. 421-441. 10.1023/B:HUEC.0000043514.19598.23.
Panek, D. and Kipfmueller, K. 2021. Apostle Islands 50
th
Anniversary Resource Stewardship Symposium. Day 1. April 1, 2021.
https://friendsoftheapostleislands.org/2021/04/01/past-present-and-future-of-fire-in-the-apostle-islands/
Roos, Dave. 2020. Native Americans Used Fire to Protect and Cultivate LandIndigenous people routinely burned land to drive, prey, clear underbrush and provide pastures.
https://www.history.com/news/native-american-wildfires
White, G., Rockwell, D., and McDuff, E. 2021. Embracing Indigenous Knowledge to Address the Wildfire Crisis. U.S. Department of the Interior, Office of Wildland Fire.
https://www.doi.gov/wildlandfire/embracing-indigenous-knowledge-address-wildfire-crisis
Last updated: September 5, 2023