Article
Yosemite National Park Fire Managers Partner with Indian Tribes for Prescribed Fire Project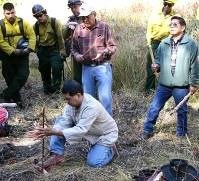 A very unique prescribed fire project was completed in the fall of 2005 in Yosemite Valley. Yosemite fire and resource managers, members of the Southern Sierra Miwuk Nation and the Tuolumne Band of Me-Wuk partnered on a prescribed fire project for both ecological and cultural resource benefit.
This fire was timed to try to control the non-native and invasive Himalayan blackberry and to encourage growth of traditionally-used plants.
Yosemite firefighters received the opportunity to work with the Native American tribes who have thousands of years of burning experience.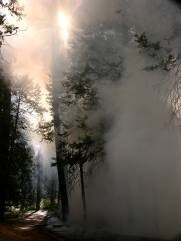 The indigenous people of Yosemite Valley have used fire as a tool for thousands of years. These anthropogenic fires clear meadows and open the canopy for sun-loving species like the black oak --a staple food source for the indigenous people of Yosemite Valley.
A traditional ceremony preceded the prescribed fire project and the Miwuk employed traditional ignition methods for the burn.
Last updated: November 15, 2021