Article
Fire & Redwoods—What Does the Future Hold for this Ancient Species?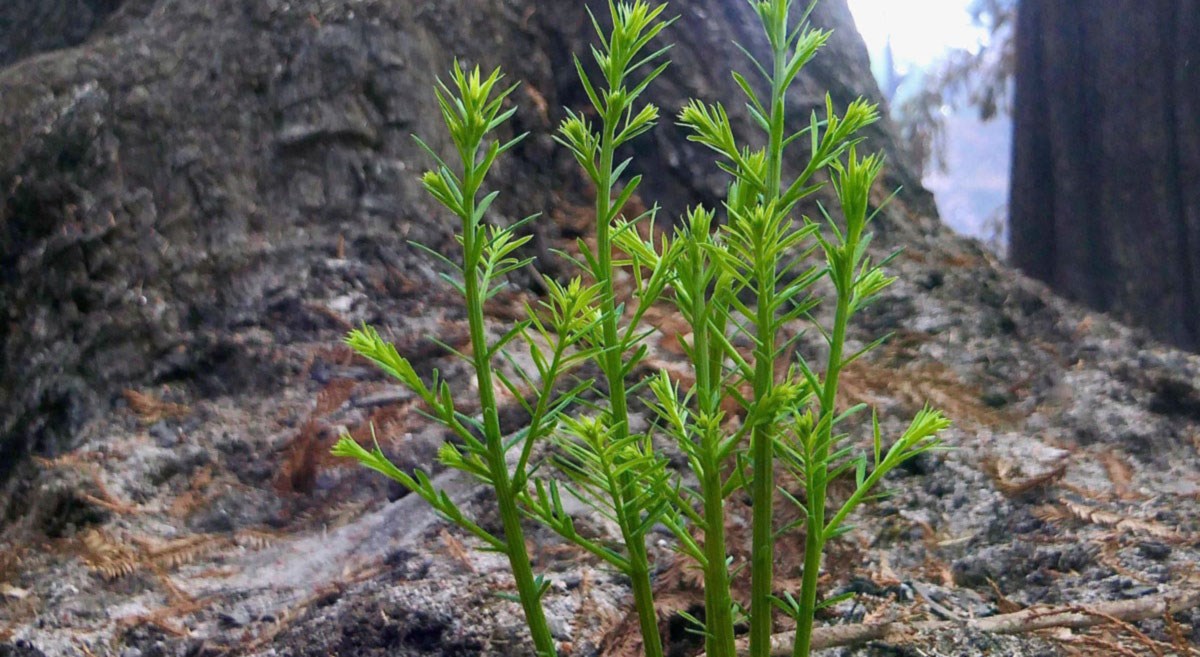 Did you know redwoods have a superpower? They're fire resistant! Tannic acid is a chemical infused in their thick and fibrous bark which keeps them safe from fires. If a fire ever does harm them, they also can re-sprout from burl tissue. Fires have shaped redwood ecosystem for a long time, creating healthy groves of trees.
For thousands of years, Indigenous nations throughout California have used, and still use, fire as a tool to steward the land. When Europeans colonized California, they found a garden of redwoods and other lands. You can still see evidence of this stewardship on the trees at Muir Woods now. Fire scars tell the story of Indigenous cultural burns set by the first stewards of Muir Woods, the Coast Miwok. Cultural burns are a form of traditional fire management passed down through generations. They benefit both land and people.   Burning has many benefits for creating a healthy and resilient landscape. Some are that it improves soil quality, and spurs growth of certain plant species.
European colonizers in California violently forced Indigenous tribes from their land. They tried to stop Indigenous people from practicing their culture and traditions. They suppressed fires and logged old-growth forests. Without cultural burns, organic matter  built up, putting forests at risk of devastating fire. When fire reaches an area that hasn't burned in centuries, it can permanently disrupt plant and wildlife diversity and threaten humans.
In the last few years, California has seen a record breaking fire season. The dramatic increase in wildfires, which has burned more than 3 million acres, continues to impact the state due to the ongoing historic drought, heatwaves, and fuel loads. The severity of fires and prolonged fire season are a direct result of human caused climate change and malpractice stewardship of our lands. When we use coal, oil and natural gas, we release excess carbon dioxide into the atmosphere. This carbon dioxide acts as a heat training blanket and alters climate patters around the globe. Climate change has increased temperatures and droughts throughout California and much of the West.
Even though coast redwoods are fire resistant, severe fires can destroy redwood ecosystems and it can take years for their crowns to redevelop. These mega-fires can also impact the habitat for other species, especially, endangered bird species such as the spotted owl and coho salmon.
As the National Park Service works to address issues such as climate change, we can continue to learn from the first caretakers of Muir Woods, the Coast Miwok people.  Muir Woods is a living reminder of regeneration, and how learning from Indigenous traditional ecological knowledge, can chart a path forward for our forests.  Descendants of the Coast Miwok, members of what is known today as the Federated Indians of Graton Rancheria, continue to participate in research, education, cultural revitalization, and preservation of sacred sites.  
Last updated: July 17, 2022