References
The NPS Park Cultural Landscapes Program has published a collection of documents that is used to support the management of cultural landscapes. 

The reports provide comprehensive, professional preservation guidance by documenting the history and significance of cultural landscapes, providing preservation guidance, and identifying management objectives. These resources are all managed through the Integrated Resource Management Applications (IRMA) Portal, the NPS-wide repository for documents, publications, and data sets related to natural and cultural resources of the National Park Service.

Discover and download NPS cultural landscape publications from the IRMA Data Store. Each series below contains a collection of reports. Can't find what you're looking for? Ask us!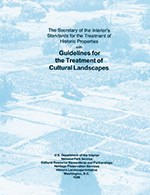 The Secretary of the Interior's Standards for the Treatment of Historic Properties with Guidelines for the Treatment of Cultural Landscapes
These guidelines explain how the four treatments - preservation, rehabilitation, restoration, and reconstruction - can be applied to cultural landscapes. These standards are intended to provide guidance to cultural landscape owners, stewards, managers, planners, contractors, and project reviewers before and during the planning and implementation of treatment projects.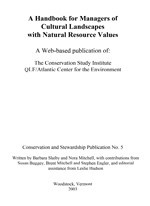 A Handbook for Managers of Cultural Landscapes with Natural Resource Values

This handbook addresses the relationship of nature and culture in cultural landscapes, presenting strategies and advice to encourage a comprehensive approach for more effective management of cultural and natural values of a landscape. This is intended for superintendents, site managers, resource managers, and other professional staff.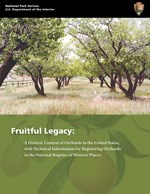 Fruitful Legacy: A Historic Context of Orchards in the United States, with Technical Information for Registering Orchards in the National Register of Historic Places

This study provides information about the development of the most common types of historic orchards and fruit trees in the United States. It describes events, important individuals, patterns of development, and spatial characteristics associated with these horticultural properties, as well as a national context for evaluating landscapes that may be eligible for listing on the National Register of Historic Places.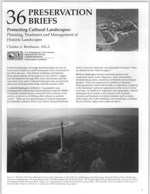 Preservation Brief 36 Protecting Cultural Landscapes: Planning, Treatment, and Management of Historic Landscapes
The full series of Preservation Briefs is available from Technical Preservation Services. These publications, which provide guidance on preserving, rehabilitating, and restoring historic buildings and features, are especially useful to Historic Preservation Tax Incentives Program applicants because they recommend methods and approaches for preservation that are consistent with the historic character of a resource.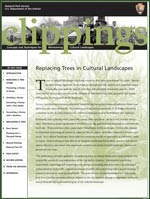 Clippings: Concepts and Techniques for Maintaining Cultural Landscapes
This publication provides guidance on replacing trees in cultural landscapes using methods that respect the sensitivity and importance of the site and its features. The goal of these recommendations is to help guide field practices that minimize adverse impacts to the site, prevent damage to important resources, and protect the character and integrity of the cultural landscape.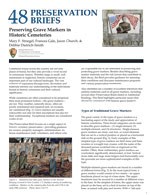 Preservation Brief 48: Preserving Grave Markers in Historic Cemeteries
This Preservation Brief (also part of the series from Technical Preservation Services) focuses on one aspect of historic cemetery preservation. The publication provides guidance for owners, property managers, administrators, maintenance staff, volunteers, and others who are responsible for or interested in preserving and protecting grave markers.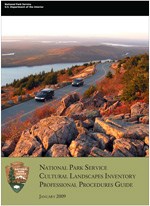 National Park Service Cultural Landscapes Inventory Professional Procedures Guide

This guide presents the conceptual framework of the Cultural Landscapes Inventory (CLI), implementation, and detailed guidance for completing a CLI inventory unit record. The CLI is a comprehensive management inventory of all cultural landscapes in the National Park System. This guide ensures consistent and high-quality data in accordance with policy guidance and existing references.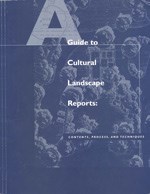 A Guide to Cultural Landscape Reports: Contents, Process, and Techniques

Comprehensive guidance for the creation and use of Cultural Landscape Reports (CLRs). The CLR is the principle treatment document for cultural landscapes and the primary tool for their long-term management. This guide outlines each section of a CLR and describes the document's origins and uses.
Landscape Lines is a publication series with subject-specific technical guidance on cultural landscape management. Each publication was prepared with input from experts across the country.

The seventeen published reports in the series are available for download:
Explore notable moments from the past 165 years of cultural landscape preservation in the United States with this online timeline, or download your own copy.
Partner Publications
Related resource materials published by other agencies, organizations, or individuals (digital and hardcover editions)
Expand your Collection
Last updated: August 7, 2018