Toolkit: Publications
Believe it or not, but people still read. Some, however, only skim content. Will you write War and Peace, or opt for bulleted lists? Discover a variety of writing styles and design layouts with publications that have resonated with audiences. Match these with your intended audience so your message is powerful, effective and will hold your audience's interest in a digital world.

Alaska National Parks
State of Change Visitor Guide [PDF], 2014
This 24-page visitor guide is part of an on-going conversation with people who visit and work around Alaska's national parks. It describes many of the impacts being experienced by Alaskans, and helps illustrate what we're doing about changing climate. It includes facts about the science, visible evidence of current park impacts, examples of how parks are making a difference, and actions readers can take to make a meaningful difference. For more details, visit the project webpage.

Glacier National Park
Climate Change Brochure [PDF], 2014
This one-page, front and back brochure uses one of the unigrid official park brochure templates to highlight climate change impacts affecting Glacier National Park. A full bleed, color brochure was chosen to indicate the topic's importance to the park. Laid out similarly to a site bulletin, sections describe different resource impacts as well as management strategies and what visitors can do to make a difference. The brochure ends with a message of hope; that our actions can shape the future. The climate change brochure is handed out at visitor centers, programs, and available online.

Lassen Volcanic National Park
California Drought site bulletin [PDF], 2015
Something about how the climate change content is woven into the main site bulletin itself. Does Amanda know who created it and could fill out John's submission form?

South Florida National Parks
Climate Change in South Florida's National Parks [PDF], 2007
This is a four-page, book-fold, 8.5" x 11" full-color fact sheet that explores the potential ramifications of climate change for Everglades, Biscayne, and Dry Tortugas National Parks and Big Cypress National Preserve. The publication also discusses some of the management responses being undertaken. The project was initiated by the science communications team from the South Florida Natural Resources Center in Everglades National Park.
Going Green Site Bulletin
[PDF], 2013
This full-color site bulletin was developed to highlight mitigation efforts at both Everglades and Dry Tortugas National Parks, and to inspire audiences to take complementary actions at home.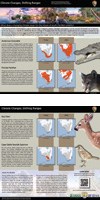 Climate Changes, Shifting Ranges
, 2014
This full-color brochure was developed using results from a research partnership (USGS, USFWS, NPS, and University of Florida) that modeled the changing climate space for several vertebrate threatened and endangered species. The publication highlights model output for four species that exhibit significantly different responses, and encourages reflection about possible management action. The project was initiated by the science communications team from the South Florida Natural Resources Center, Everglades National Park. Authors worked with partners from the Joint Ecological Modeling (JEM) network to generate and refine illustrations resulting from a robust climate envelope modeling effort. Accompanying text was drafted by the science communications team, and vetted through multiple rounds of review from NPS, FWS, USGS, University of Florida staff. The proposed final version was subsequently approved by the South Florida Ecosystem Restoration Task Force.
Last updated: February 7, 2020