Outreach Materials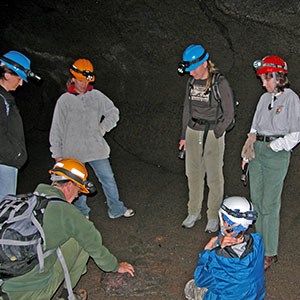 Education and outreach are vital in our efforts to promote good stewardship, better understanding of the places we manage, and buy-in as to the values these resources hold for the American public. This is even more important in the understanding of cave and karst areas because they are generally underground and out of sight. These resources are quite often complex and cannot always be studied first-hand. The education of a park's staff including park management is a critical first step in promoting good stewardship. This should be followed by education and outreach to all visitors and potential visitors including school groups from kindergarten through college-aged students.

Junior Cave Scientist Program
The Junior Cave Scientist Activity Book engages young people in learning activities to help them discover cave and karst resources, and introduces wide-range of cave experiences. The
Junior Cave Scientist Program
is a fun-filled way to learn about the National Park System and become a steward of cave conservation.

Caves of the National Parks Poster
Caves are diverse, fascinating, and rich in resources and a valuable part of our geologic heritage. This classroom poster helps students learn about Caves of the National Parks and why caves are important. Download
[PDF 2.4 MB]
.

Growing Speleothems
In this activity students will grow their own speleothems, learn about the process of mineral formation, and record observations at the end of each day.

Park Education Highlights
Some cave parks in the National Park Service have developed webpages with educators in mind. These pages can assist teachers in planning a field trip and some provide curriculum material. Visit
Park Education Highlights
for resources from across the NPS.

Webinars and Presentations
On-line presentations related to the topics of caves and karst are now available from a number of sources. This webpage lists some recommended
Webinars and Presentations
.

Karst Topography Paper Model
In this activity, students will construct a 3-D paper model that shows how water moves through karst and cave systems. Peering into the model's cave opening reveals a miniature diorama with many cave features.

CavesLIVE—A Distance Learning Adventure
Join scientists and CavesLIVE for an exploration of the world beneath our feet, and find out how we are connected to these amazing underground resources.
Webcast information:
https://caveslive.org/

Video—Bats: Tiny Creatures, Big Challenges
Although bats are small mammals, they face some large challenges. Learn more about what the National Park Service is doing to preserve bat populations in national parks.
Watch now >


Making a Cave
After making clay models of caves students will learn about weathering processes and be able to conceptualize how water creates caves and cave formations.

Children's Books
Love reading? Here are some of our favorite books about caves and cave science for young readers. Use this list to find your cave adventure.
See Children's Books on caves and karst.

Recommended Reading
We have selected to highlight some of the fundamental books on general cave and karst science, as well as books that focus on the history and resources of some NPS units. The
Recommended Reading
list is a great jumping off point to discover the fascinating world of of caves.

Brochures & Posters
Outreach materials are occasionally produced for conferences or other venues by national cave and karst program and individual parks. This collection of general interest
Brochures and Posters
is available for download and distribution.
Last updated: May 15, 2023