Recommended Reading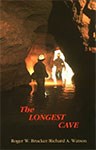 The Longest Cave
By Roger Brucker and Richard Watson, Southern Illinois Press, 1987 (reprint of 1976 original with new afterword) 331 pages.
The history of the modern exploration of Mammoth Cave, Kentucky, through the connection with Flint Ridge Cave in 1972, with an appendix about earlier exploration.

Beyond Mammoth Cave: A Tale of Obsession in the World's Longest Cave
By James Borden and Roger Brucker, Southern Illinois Press, 2000, 353 pages.
Takes up the exploration of Mammoth Cave where The Longest Cave ended, through the connection with Roppel Cave that took the length of Mammoth Cave to 365 miles.

Mammoth Cave and the Kentucky Cave Region
By Bob and Judy Thompson, Arcadia Publishing (Images of America), 2003,128 pages.
The history of Mammoth Cave, Kentucky, and other caves in the area before the Second World War in pictures.

The Jewel Cave Adventure: Fifty Miles of Discovery under South Dakota
By Herb and Jan Conn, Cave Books, 1981, 238 pages.
How the authors and a few helpers turned Jewel Cave, South Dakota, from a small cave into one that was over 50 miles long during 569 exploration trips between 1959 and 1978.

Jewel Cave National Monument
By Judy Love, Arcadia Publishing (Images of American), 2008, 128 pages.
The history of Jewel Cave and the national monument in pictures.

Wind Cave: An Ancient World Beneath the Hills
By Arthur Palmer, Black Hills Parks and Forests Association, 2001, 64 pages.
The story of this cave in Wind Cave National Park, with an emphasis on geology.

Wind Cave National Park: The First 100 Years
By Peggy Sanders, Arcadia Publishing (Images of America), 2003, 128 pages.
The history of Wind Cave and its park in pictures.

Deep Secrets: The Discovery and Exploration of Lechuguilla Cave
By Stephen Reames, Lawrence Fish, Paul Burger, and Patricia Kambesis, Cave Books, 2009 (reprint of 1999 edition), 381 pages.
The story of the first five years of exploration in Lechuguilla Cave, discovered in Carlsbad Caverns National Park in 1986.

Carlsbad, Caves, and a Camera
By Robert Nymeyer, Cave Books, 1978, 318 pages.
The author's story of exploring and photographing Carlsbad Cavern in the 1930s, with nearly 200 photographs.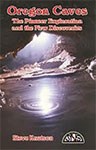 Oregon Caves: The Pioneer Exploration and the New Discoveries
by Steve Knutson, National Speleological Society, 2006, 196 pages.
The history of this cave and its national monument.

Cave Geology
By Arthur Palmer, Cave Books, 2007, 454 pages.
Excellent introduction to cave geology at upper high school or beginning college level.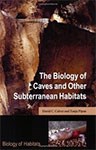 The Biology of Caves and Other Subterranean Habitats
By David Culver and Tanja Pipan, Oxford University Press (Biology of Habitats series), 2009, 254 pages.
Comprehensive survey of cave biology and ecology at advanced undergraduate level.

Encyclopedia of Caves
Edited by William White and David Culver, Academic Press, second edition 2012, 966 pages.
Everything you wanted to know, and more.

Living With Karst A Fragile Foundation
By Veni, DuChene, Crawford, Groves, Huppert, Kastening, Olson, and Wheeler, American Geological Institute, 2001, 64 pages.
A well-illustrated booklet which discusses karst related environmental and engineering concerns with guidelines for living with karst. Extensive lists of additional information. It includes a poster and is written by notable researchers in the karst world. Available as a PDF from the American Geosciences Institute: http://www.agiweb.org/environment/publications/karst.pdf
---
Reference in this web page to any specific commercial products, processes, or services, or the use of any trade, firm or corporation name is for the information and convenience of the public, and does not constitute endorsement, recommendation, or favoring by NPS.
Ordering from your National Park Cooperative Associations' bookstores helps to support programs in the parks. Please visit the
bookstore locator
for park books and much more.
---
Last updated: March 1, 2016