Frontcountry Camping (car camping)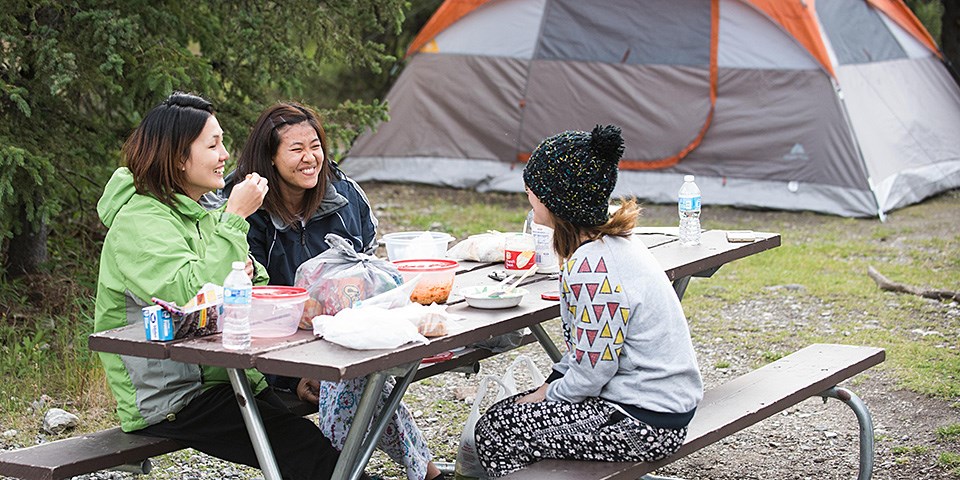 Most camping that occurs in parks is considered frontcountry camping, where visitors drive to an established campground. It's commonly referred to as car camping. The campground typically consists of camping loops (roads shaped in an actual loop), and each loop has numerous camping sites established to accommodate tents, and in some cases, towed campers and RVs.
General Amenities
Most frontcountry campgrounds offer similar amenities:
Check-in station - This may be a building with an employee to assist you, or a self check-in board to register and pay for your site.

Site number - This identifies the site number and loop a site is in.

Parking spot - Designated parking spots for vehicles are evident, along with spaces for vehicles towing a camper or parking a longer RV.

Electric hookups - This amenity is generally designated for RV sites.

Dump stations - A location were RVs park to, um, dump toilet waste.

Restrooms - Some restrooms have flush toilets and sinks with running water (often cold water). The restrooms may also be referred to as comfort stations. Campgrounds with a "primitive" designation will most likely have vault toilets (think of a modern-day outhouse), non-potable water (water you don't drink), or no water at all.

Showers - Not all campgrounds have showers, but those that do are generally coin operated.

Potable water (water you can drink) - Spigots are found throughout the campground.

Picnic tables - Wondering where to eat? Picnic tables are located in each camping site.

Fire rings - Build your campfire here. Some campsites provide grill lids with the fire rings; use the attached grill lid for cooking over an open fire.

Tent pad - This is a designated spot for your tent, typically lined with wood and filled with gravel for rain drainage. Some campsites do not have this, but it's obvious where to pitch your tent.

Amphitheater - Some campgrounds have amphitheaters where Park Rangers give special programs.

Camp store - Not all campgrounds have a nearby camp store, but some do. Don't be surprised by the supply and demand prices.

Food storage boxes - In some campgrounds, food is required to be stored in special boxes to prevent animals from getting to it.

Wheelchair accessible - Campgrounds have wheelchair accessible campsites, paths, and restroom facilities. Be sure to check with the park you are visiting for a complete list of accessible accommodations.
What to Expect
Aside from the wild and scenic surroundings, frontcountry camping is a lot like living in a neighborhood. You'll likely have neighbors surrounding you, kids playing and riding bikes, some noise, the smell of BBQ cooking, and sometimes, a little night life (stories and snacking) when the campfires start roaring. Here are some other things you can expect.
You need to plan - Planning is critical for an exciting and safe experience. You should always make a plan for how long you will be camping, the gear you will take with you, environmental factors you might face, and emergency contact information. You may need to plan months in advance to reserve camping sites, too (often through Recreation.gov). Planning is key, and the park you will be visiting will have detailed information about camping on their website. Learn more in our Staying Safe section.
Cell connectivity and wifi - You will not always have a cell signal, and wifi is pretty much nonexistent in campgrounds. Don't fear -- consider this your digital detox. Try it. Pick up a book, take a walk, and talk to each other. Memories are made with human connections.
Park Ranger patrol - Park Rangers patrol campgrounds to ensure that everyone is safe and enjoying themselves. Sometimes Ranges have to issue fines, but if you don't break any rules, this isn't a concern.
Pets - They are part of the family and welcome in parks, but most, if not all park regulations, will require your pet to be on leash and restrained at all times. Be sure to check with the park you're visiting for a complete list of pet regulations. Learn more on our Camping with Pets page.
Food storage and disposal - You won't be the only one who's hungry. Wildlife will be on the lookout for spilled food, unattended food and coolers, and a handout from you. Please do not feed wildlife. Be sure to check with the park you are visiting for a complete list of food storage and disposal regulations. Learn more about food storage on our Cooking in Camp page.
Crowds - Campgrounds can be busy places, especially during peak seasons or holidays. Obey speed limits and be careful driving around campground loops - it's common to see children riding bikes or visitors walking along roadways. For those seeking more solitude, look for off-the-beaten-path campgrounds or backcountry camping.
Noise - Parks have set quiet hours where visitors are expected to "keep it down." This also includes the use of generators and music. Listening to the natural sounds of birds, the wind, or water is one of many reasons people choose to camp, so please be respectful. But, don't be surprised if you hear your neighbor snoring in the campsite next to you. Just add earplugs to your list of items to bring.
Practice good stewardship - A common rule of thumb is to leave the area cleaner than you found it. After all, you chose to experience the great outdoors for a reason. Preserve the wilderness for the enjoyment of others by protecting the habitat of resident plants and animals. Know and practice Leave No Trace principles

.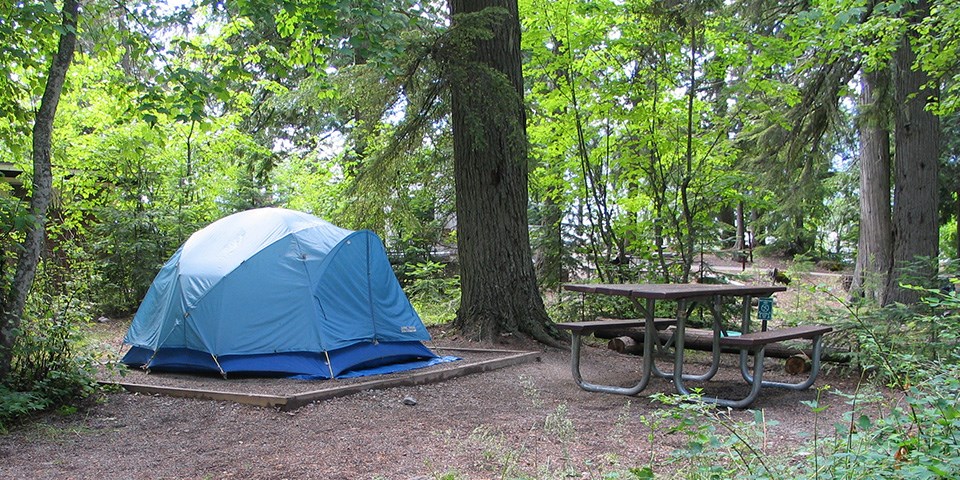 Last updated: July 25, 2018