Camping with Pets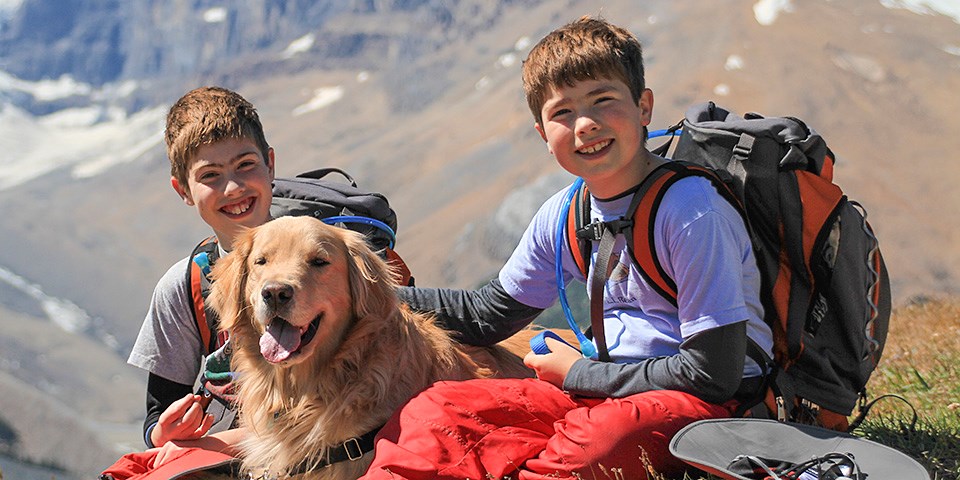 Camping is a great way for your pets to experience new sights and smells, get some exercise, and spend time with you. Plus, you may already share your beds with your furry friends, so why not snuggle up together under the stars, too?
It's no doubt that camping can be fun for you and your pet. But before you go, you should be aware of rules and responsibilities, and extra steps of preparation that come along with it.
Before You Go
Know your pet! - You know your pet better than anyone else. If you think camping may pose a danger or threat to you or other campers, leave them at home.
Find out if the campsite allows pets - Some parks may have restricted areas, like park facilities, lakes, ponds, creeks and streams, and the backcountry.
Ask yourself if your pet is in good health - Are they in good enough shape to meet any physical demands of the trip? If your pet has trouble with longer walks and your camping spot requires a hike to get to, you might want to leave your pet at home.
Vaccinations - Be sure your furry friend is up-to-date on all required vaccinations and protected against heartworm, fleas, and ticks. Dogs can encounter a variety of wild animals while camping, even if they are leashed. Ask your vet about the area you'll be camping in to be sure your pet is protected.
Collars and ID - Outfit your pet with the right collar and ID tags. Your dog should always be leashed at a campsite, but in case they get lost- make sure they have their best chance at getting back to you. Keep a collar with ID tags securely on your dog at all times. Even well behaved dogs can slip out of a loose collar and chase after a wild animal if they become too excited. Microchipping and registering your dog is an added measure you can take to ensure that you will be contacted if they are found.
Hiking on Trails - Many parks do not allow pets on hiking trails or boardwalks. Always check park regulations if you plan on hiking during your stay. Get tips on hiking with pets

.

Ask yourself how included will your pet be - Pets are family members, but if you plan on spending a lot of time participating in activities that are not pet friendly, you may need to consider alternative like a boarding facility.
What To Bring
Food and Water - This is a bit obvious, but don't forget to pack your furry friend's food, water and bowls. Find light or collapsible bowls, these take up less space and are easier to carry. Bring extra food if you'll be doing any strenuous activity. Like you, your pet will be hungry from exerting extra energy.
Tether and Stake - A long leash or tether is a great way to allow your dog to explore the campsite while you relax knowing he'll stay in the area. Many parks will not allow you to tie your tether to a tree, so bring a stake to put in the ground. Most parks have a 6 ft leash policy, but check your park for specific rules.
First Aid Kit - Be prepared for minor scrapes.

Poop Bags - Pick up after your pet!

Towels - Towels will come in handy while you camp. From lining your car or tent to wiping off your dog, you'll probably use your towel so much you might want to bring two!
While You're Camping
Be mindful of restricted areas.

Be courteous to other campers by picking up after your dog and control barking and other noise.

Keep your pet on a leash. Some parks have a 6 ft. leash policy; check with your park for specific rules.

Never leave your dog unattended, especially

in a hot vehicle.
Last updated: July 10, 2018