Cooking in Camp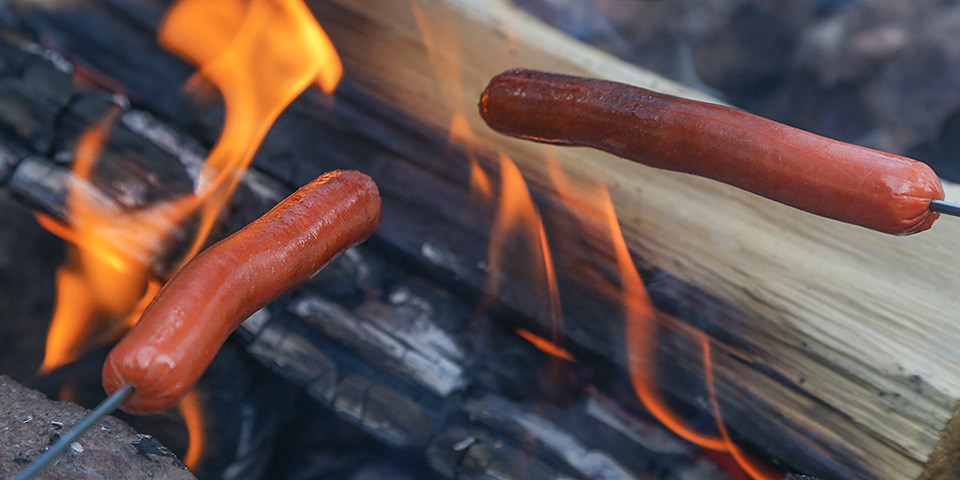 Meal Planning
When you're planning your meals, there are a few things you can do to make preparation, eating, and cleanup go quicker and easier at the campground.
Consolidate - Any meal that can be cooked in one pot instead of two is more efficient. There's less to carry and less to clean up if you can consolidate cooking items.
Weight - Think about weight! You can save weight and space by planning around foods that are packaged dry, such as drink powders, powdered soup, dry noodles, rice, and beans. Remember, water is heavy. Backcountry campers will need to filter and purify water that they use in dehydrated or dry meals.
Bulk - Bringing food that comes in packages that you can flatten (such as a box or plastic wrap) makes packing out your garbage easier. Bottles and cans are bulky before and after use.
Repurpose - If you pack some foods in large, sealable plastic bags, you can reuse the bags as waste bags. Conveniently, they'll seal so they don't stink or attract flies and wildlife.
Spoilage - If you're bringing foods that need to stay cold, such as meat and cheese, eat those foods first so you do not need to buy supplemental ice. Backcountry campers will find it difficult to bring food that needs to stay cold and could run the risk of food poisoning.
Odors - Food that is smelly and odorus can attract wildlife. This is an important consideration when camping in bear country, as bears have an excellent sense of smell and could be attracted to your campsite.
Check out our Camping Recipes page for some inspiration and ideas!
Choose Your Fire
Will you be using a camp stove, or will you cook over an open fire?
If you're going the open flame route, get tips on
how to have a safe, fun campfire
. If you're bringing a camp stove, be sure to practice using it before your trip if it is new to you, in case it's difficult to start or has any broken parts.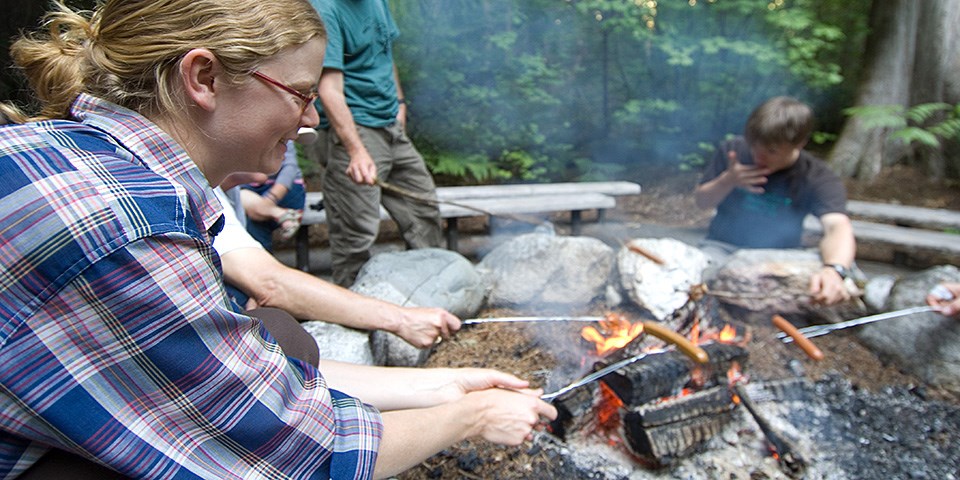 Storing Food
Food storage is very important for the safety of you and wildlife. Animals can become habituated and comfortable with humans if they are fed or get into your food. This can be a dangerous situation for you and wildlife as animals can be aggressive. Never feed wildlife.
Freshness - Keep your food in airtight sealable bags, containers and coolers to keep food fresh. This also reduces odor around your campsite and on your gear, which will attract wildlife and insects.
Never leave food unattended - Food and liquid containers should not be left unattended in campgrounds. If you're camping in bear country, check your campground's regulations for storing your food properly.
In the backcountry - Backcountry camping necessitates the need to store your food in a food sack hung by a rope above the ground and away from a tree trunk. Some designated backcountry campgrounds have food bear boxes

, cables or poles to hang your food. Food should be placed in special containers (often bear proof) and stored in a location away from your camp. In bear country, food should be stored 100 yards away from your tent.

Cleanliness - Keep a clean camp free of food scraps and food packaging. Check picnic tables, fire rings, fire grates, and the ground for anything that might attract animals.
Organization - A little organization goes a long way when you're packing for your trip. Make sure the supplies you need are accessible.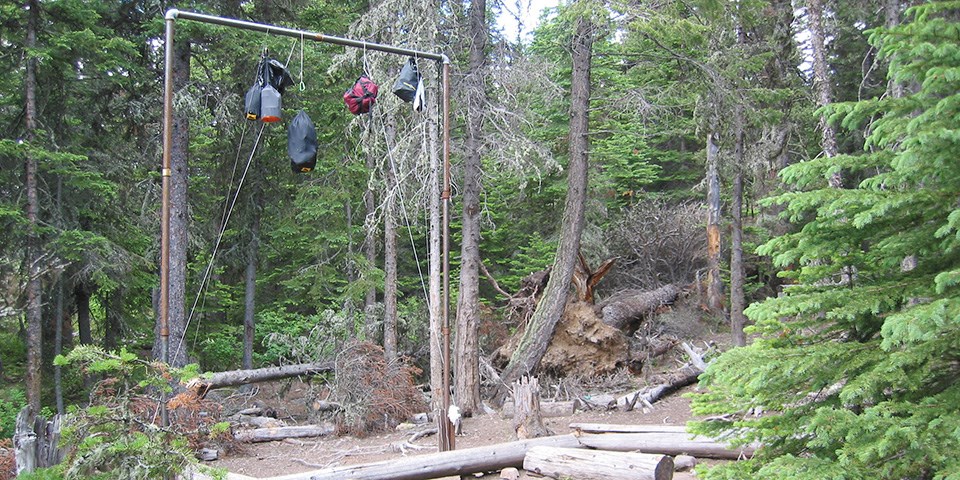 Preparing Food
Put on your chef's hat and enjoy cooking outdoors. Here are a few suggestions that will make the process enjoyable and safe.
Wash Your Hands - Cleanliness while camping is important, especially when preparing food. Always wash your hands before touching food. Wash hands after handling raw meat. Consider wearing food grade gloves, too.
In the frontcountry - Cooking in a frontcountry campground takes place at the picnic table and fire ring/grate. Try to set up the area so you have room to work.
In the backcountry - Backcountry camping often requires you to prepare and cook food in a designated food preparation area. This is to keep food and odors away from your tent and sleeping area -- and any animals that may visit that spot. If there is not a designated spot to prepare your food in the backcountry, find one that is 100 yards away from your tent and 100 yards away from a water source.
Spills and odor - Try to avoid spilling food on your clothes or cooking aromatic foods that permeate your clothes. If this happens and you are in bear country, change clothes before you head to your tent for the night.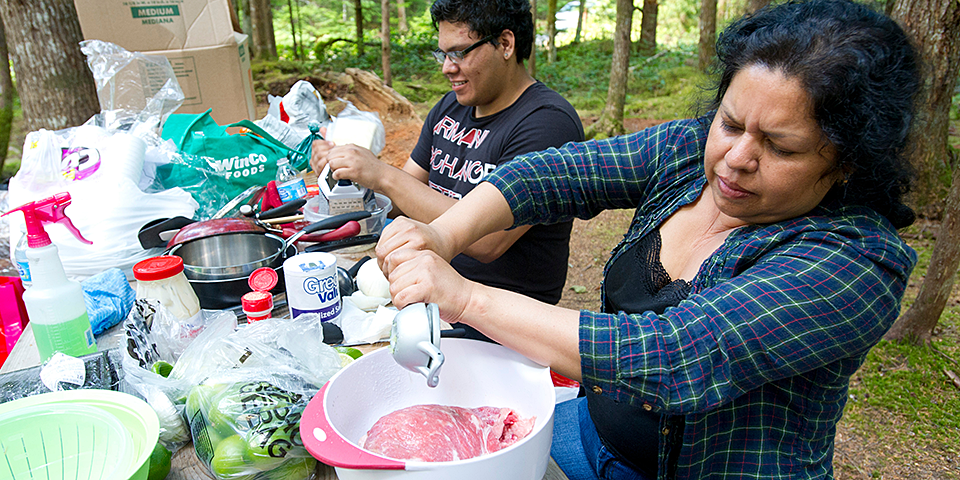 Clean-up
Cleaning up your dishes and food preparation area is important for your safety, wildlife, and other campers.
Wash, rinse, sanitize - Prevent bacteria growth by washing, rinsing, and sanitizing dinnerware and utensils in 3 different bins. This can be done at a frontcountry campsite.

1. Wash cookware and utensils with warm water in one bin.
2. Then rinse cookware and utensils with warm water in the second bin.
3. Rinse again in a third bin with a water bleach solution (2 teaspoons of bleach per 1 gallon of water).
4. Let cookware and utensils air dry before putting them away.

In the backcountry, wash dinnerware and utensils using a biodegradable soap and rinse thoroughly.

Pick up - Clean the area immediately when you're finished with your meal. Doing so will prevent insects and animals from becoming a nuisance. Be nice to the next camping party by leaving the campsite cleaner than you found it.
Teamwork - Camping is more work than cooking and cleaning at home. Make it a team effort!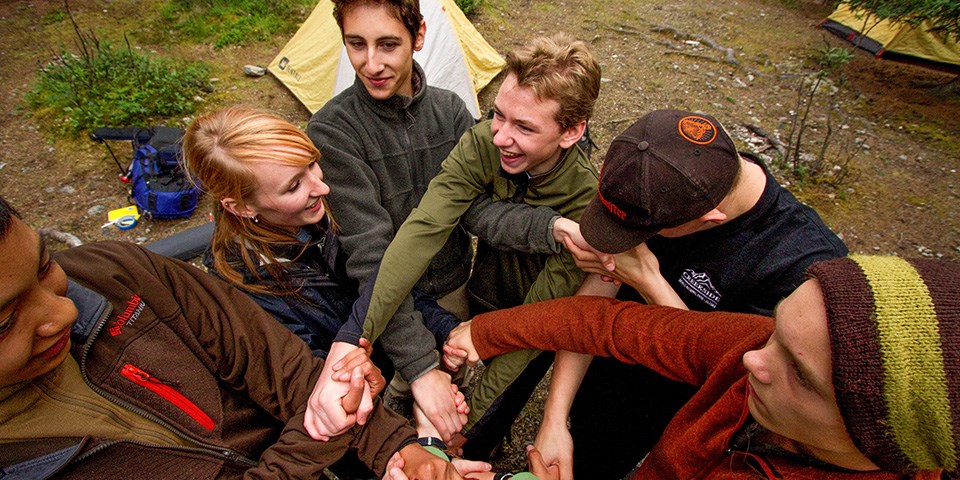 Last updated: June 22, 2022