400 Years of African American History
In 2019 and 2020, the National Park Service is commemorating a significant moment in American history: the landing of the first enslaved Africans in English-occupied North America in August 1619 at Virginia's Point Comfort, now part of Fort Monroe National Monument.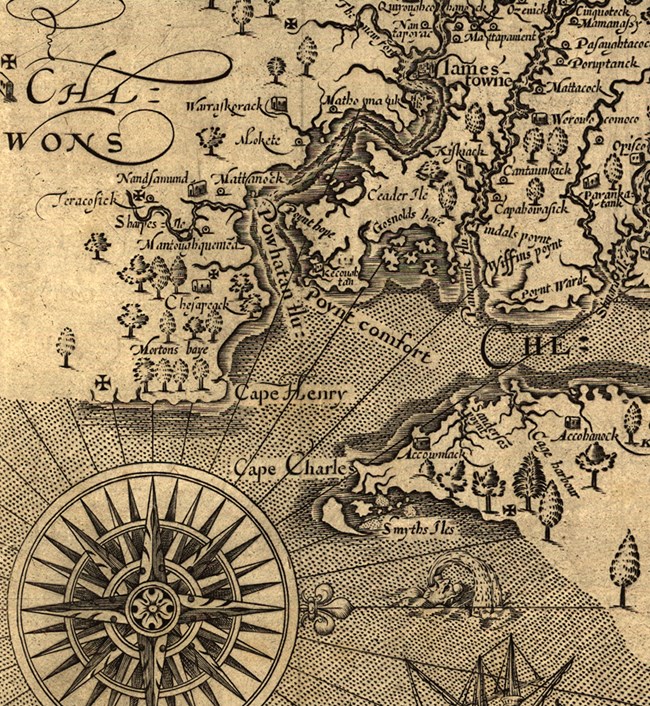 August 1619
The first documented landing of Africans to the colony of Virginia was recorded by English colonist John Rolfe: "About the latter end of August, a Dutch man of Warr of the burden of a 160 tunes arrived at Point-Comfort, the Comandors name Capt Jope, his Pilott for the West Indies one Mr Marmaduke an Englishman. … He brought not any thing but 20 and odd Negroes, w[hich] the Governo[r] and Cape Merchant bought for victuall[s]."

The landing of these first enslaved Africans in English-occupied North America was in late August 1619, now believed to be August 25. They were not on a Dutch ship as Rolfe recorded, but rather the White Lion, an English privateer ship sailing under Dutch authority. The White Lion had captured its human cargo from the Spanish slave ship São João Bautista or San Juan Bautista during a battle in the Gulf of Mexico. Before returning to Europe, the White Lion stopped in Virginia for rations.

Those "20 and odd" were not originally intended for the English colonies; they were bound for the Caribbean and South America in the Spanish colonies where slavery was already established. The Spanish had previously brought enslaved Africans to other parts of the Americas and what became the southern and southwestern part of the United States. (See, for example, Coronado National Memorial's story of Esteban de Dorantes, an enslaved member of the Coronado Expedition.)

The landing of the first enslaved Africans was a significant event in our country's history, but it is still widely unknown. With their arrival in Virginia in 1619, slavery expanded into English-occupied North America. Although the Africans arrived in bondage, they brought useful skills that the early English colonists needed to survive. They were skilled farmers, herders, blacksmiths, and artisans. Along with their skills, they brought their own culture, language, and beliefs that shaped innovations in food production and crop cultivation and contributed to American cultural traditions. Despite the skills, innovations, and creativity they brought to this new land, they would undergo generations of hardship and turmoil. Those first "20 and odd" Africans who landed at Point Comfort marked the beginning of 246 years--almost two and a half centuries--of slavery in the United States.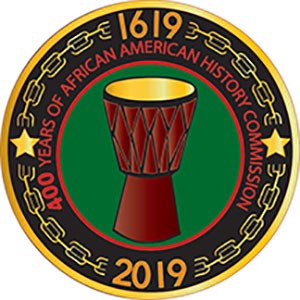 400 Years of African American History Commission
Established by Congress and appointed by the Secretary of the Interior in 2018, the 400 Years of African-American History Commission encourages civic, patriotic, historical, educational, artistic, religious, economic, and other organizations to coordinate and participate in commemorative activities designed to expand our collective understanding and appreciation of the contributions of African Americans.

The commission's logo symbolizes 400 years of African American history. The drum stands for global communications and healing; segmented chains represent breaking the cycle of slavery and the perpetual struggle for equality; and two stars depict balance between inspiration and aspiration.
Commemoration Events across the National Park Service
The site of the first landing, Fort Monroe National Monument, is hosting a year of events to commemorate 400 years of African American history. An anniversary weekend of events from August 23 to 25, 2019, included a nationwide bell ringing ceremony to honor those who landed at Fort Monroe in 1619.

The story of the African Americans in North America spans four centuries--and beyond. Events and activities across the National Park System explore this history.
Search Filters
By Park
By State/Territory
By Event Type
Last updated: August 26, 2019