Joshua Barney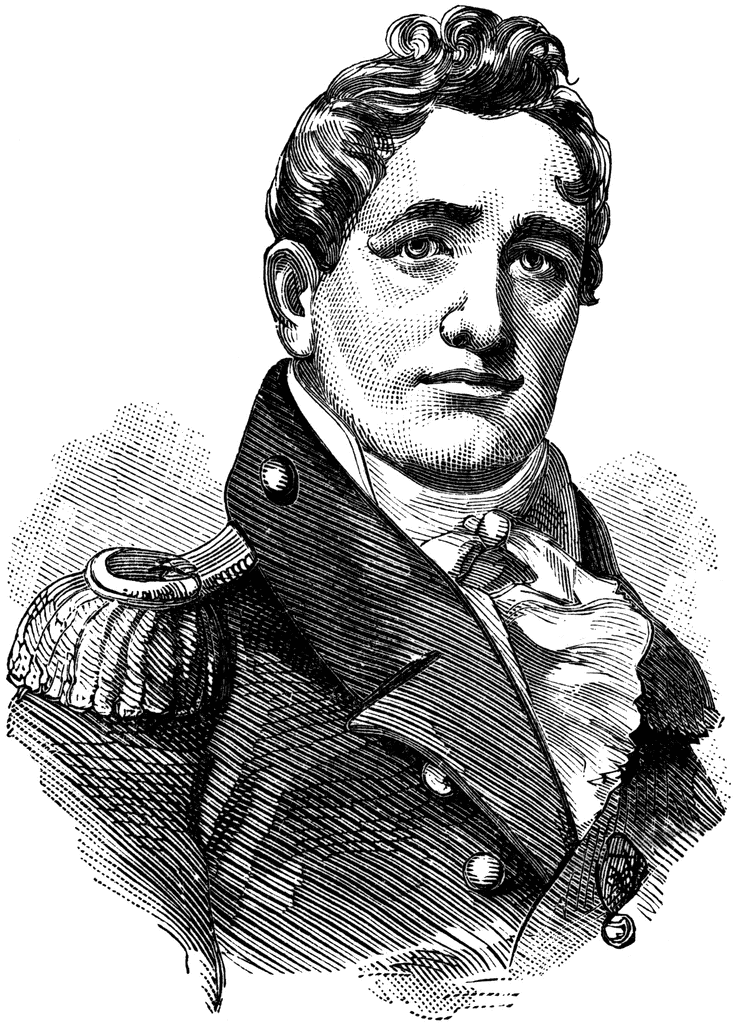 "I am therefore of the opinion the only defence we have in our power, is a Kind of Barge or Row-galley, so constructed, as to draw a small draft of water, to carry Oars, light sails, and One heavy long gun…."
On July 4, 1813, Revolutionary War veteran Joshua Barney sent a letter to the Secretary of the Navy, William Jones, outlining a bold and daring plan to create a "flying squadron" of ships to help turn the tide against the British ships terrorizing the Chesapeake Bay during the War of 1812.
Early Life
Born on July 6, 1759, Joshua Barney was raised on a farm along the Patapsco River near Baltimore, Maryland. One of 14 children born to upper middle-class parents, Barney was encouraged to pursue a mercantile career. He developed a love for the sea early on, however, and became an apprentice at age 12 to his brother-in-law, Captain Drysdale, who was a merchant ship captain. Barney was a quick learner, but was tested early on when Drysdale passed away during a 1775 voyage to France, and the 15-year old had to take over command of the crew and a damaged ship. Not only did Barney complete the trip, he managed to survive hostile treatment when he arrived, including imprisonment and impressment of his ship and crew. When finally returning home to the Chesapeake in 1776, he found out that war had broken out between the colonies and Great Britain. By now a seasoned sailor, Barney quickly joined the fight.
Revolutionary War
Barney joined the Continental Navy at age 17, first as a master's mate on the Hornet, and later becoming the youngest captain of a frigate. He participated in multiple battles with British ships, most famously as captain of the Hyder-Ally, when he managed to capture the much larger British warship General Monk during the Battle of Delaware Bay. This was one of the few American naval victories during the Revolutionary War, and in recognition of his achievements, Barney received an honorary sword from the city of Philadelphia. Barney was taken prisoner several times during the war, escaping twice, and was also chosen to carry diplomatic papers to Benjamin Franklin during the Treaty of Paris negotiations. After the war, Congress appointed Barney as one of six captains in the new U.S. Navy. However, Barney disagreed with the seniority he was given, and chose to decline the appointment, a decision he may have later regretted.
The Slave Trade
After the Revolutionary War ended, Barney sought various other government appointments in vain, and so attempted to settle down to a life in business. Barney had a growing family to support, having married Anne Bedford of Philadelphia in 1780; together they would have five children. After several failed business ventures, Barney found success in a partnership that collected tax revenue for the State of Maryland. He then decided to enter the international slave trade, purchasing a brig that would transport human cargo from Baltimore to South America. A dangerous but highly lucrative endeavor, it is unclear how long Barney continued with this venture. He was also a slave owner, like many Maryland farmers at the time, and owned enslaved workers throughout his lifetime. But it was his dabbling in the international slave trade that would come back to haunt him later, when he unsuccessfully ran for Congress, as this was increasingly seen as an immoral pursuit. Barney's opponents also painted him as a pirate and a traitor for the privateering work he pursued during the years after the Revolutionary War, including his time serving as a commodore with the French Navy in the West Indies, where he made a fortune.
In 1812, Barney decided to leave Baltimore and settle down on a farm in Elkridge, Maryland. He had married Harriet Coale Tunis after his first wife died, and would have three more children. But the winds of war soon found him again, as the country moved closer to another conflict with the British.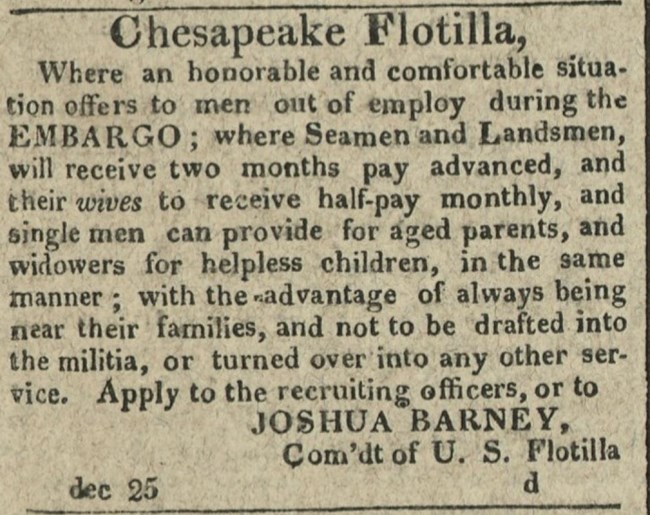 The Mosquito Fleet
After the United States declared war on Britain in 1812, Barney went back to sea as a privateer, taking command of the Rossie and capturing several British ships. In the summer of 1813, as
British Rear Admiral Geroge Cockburn
was
terrorizing small Maryland towns up and down the Chesapeake Bay
, Barney saw another chance to serve his country. He sent a proposal to Secretary of the Navy William Jones, with a plan to build a fleet of small inexpensive barges that could easily navigate the shallower waters of the Bay and serve as a surprise distraction to the enemy. At 100 feet long and 15 feet wide, with light sails and only one heavy long gun, the boats could be quickly moved to wherever they were needed. In need of a better defense plan against Cockburn, and in recognition of Barney's prior naval accomplishments, Jones accepted the proposal. He appointed Barney as acting commander, and later as a captain in the Flotilla service of the U.S. Navy. Barney's flotilla first engaged the British in June 1814 at
St. Leonard's Creek
, and would soon be nicknamed the "mosquito fleet" for their success at annoying and routing the much larger British forces. Cockburn in particular resolved to destroy Barney's flotilla, but he was denied this satisfaction even after the flotilla became trapped at Pig Point in the Upper Patuxent River. As the British approached, the boats suddenly blew up, having been rigged by Barney and his crew to keep them out of enemy hands.
Bladensburg
While Cockburn was seething over his lost opportunity, Barney was busy leading his flotillamen overland towards Washington, D.C., where they would make a heroic stand during the ill-fated
Battle of Bladensburg
. As the British troops advanced towards the city, it became clear that the American militia forces were outnumbered.
Charles Ball
, an escaped enslaved worker who was one of many African Americans that Barney took into his flotilla, noted that the militia "ran like sheep chased by dogs." As the militia fled, Barney's men and a contingent of marines were left to hold the line. From high on a hill, they fired their cannons down on the advancing British lines, taking the soldiers by surprise and inflicting severe casualties. But without backup, it wasn't enough to stop
Major General Robert Ross
's army, and the advance continued. Barney was soon shot in the leg and ordered his men to retreat, staying behind on the battlefield. Although he was taken prisoner by Ross and Cockburn, they later released him as a gesture of respect for his bravery.
Kentucky Calls
In a show of commitment to his men, Barney attempted to get a congressional bill passed that would award them compensation for their service and the loss of their belongings. But the bill failed, infuriating Barney, and a subsequent order for his men to raise the sunken barges they had abandoned only added insult to injury. When Barney resigned at the end of the war, he was 55 years old and living with chronic pain from the musket ball lodged deep in his leg. His thoughts turned towards Kentucky, where he had purchased 50,000 acres as a young man. Barney had visited Kentucky over the years, and dreaming of eventually settling there. After selling the Elkridge farm, Barney finally set off with his family for Elizabethtown, Kentucky in the fall of 1818, but they only made it as far as Pittsburgh. The arduous journey and difficult traveling conditions caused Barney's leg injury to flare up and by the time they reached Pittsburgh, he was close to death. Joshua Barney died on December 1, 1817, finally succumbing after a lifetime of perilous pursuits and honorable service to his country.
Flotilla Wreckage
In 1978, an
underwater archaeological survey
discovered the possible resting place of the Barney's flotilla flagship, the
USS Scorpion
. Further expeditions determined that the ship was relatively intact, and recovered numerous artifacts, including personal items and weapons. Although it is yet certain the ship is the
Scorpion
, archaeologists determined that the site was consistent with a wreckage from the War of 1812.
To learn more about Joshua Barney and the Chesapeake Bay Flotilla, visit
Jefferson Patterson Park and Museum
to see where the Battles of St. Leonard Creek took place. The
Calvert Marine Museum
also houses remains of the barges.
Last updated: February 10, 2021