Tour Stop 4 - Holding Fast

Thousands of retreating Union troops burst from the cedars in front of these cannon, followed by Confederates. The Chicago Board of Trade Battery sprang to action as the Pioneer Brigade poured volley after volley into the gray ranks. Canister charges forced the Confederates back to the cedars.
---
Shouts of "Give them hell!" rose up from the men who fought on this ground. As the Confederates broke through the tree line onto this field, two untested units anchored this part of the Union line: The Chicago Board of Trade Battery and the Pioneer Brigade.

The Chicago Board of Trade Battery's creation was in response to President Lincoln's call for 300,000 volunteers. The unit took on the name of their sponsors, the wealthy businessmen and merchants of the Chicago Board of Trade. The Stones River Campaign was their first taste of combat. Their assignment was to support another unit, the Pioneer Brigade, as it carried out its duties.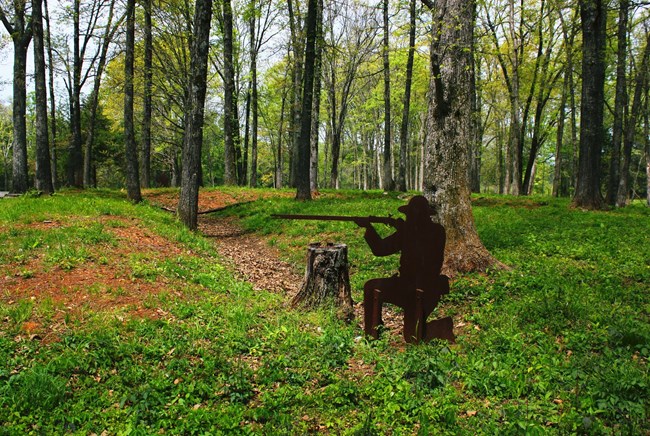 Union General William S. Rosecrans understood that an army on the march was only as good as the roads that carried them. To address this, he ordered that two men from each company in the army be selected for their skill with an ax and shovel to serve in a Pioneer Brigade. The Pioneers built and repaired roads, bridges, and fortifications. When the army encountered the enemy, they were to return to their original units and take up arms.

When the fight came to the Pioneers at Stones River, there was no time for them to return to their original units.
On the afternoon of December 31, 1862, the Confederates attacked the Union troops here three times. The Confederates came within 50 yards of the Union line before they faltered. A Union sergeant of the Pioneer Brigade recalled "the rebel flag, seen dimly through the smoke and trees, wavered, started forward, and then surged back. Yes! There was no mistake about it! It was going back!"

The Chicago Board of Trade Battery fired nearly thirteen hundred rounds into their attackers that afternoon. The Union counter-charged, and the line moved forward about a quarter of a mile to a small ridge lost earlier in the day.

The Chicago Board of Trade Battery and the Pioneer Brigade had passed their baptism of fire, and by doing so, kept the Nashville Pike in Union hands.
Last updated: May 4, 2020