The Tweddle Farm
The Tweddle farm is located about 1 mile west of M-22 on Norconk Road. The old Tweddle School is on the corner of Norconk and M-22. Drive west on Norconk to the sharp corner. The Tweddle Farm is on your left and is currently used for housing NPS seasonal employees as well as our annual Artists-In-Residence program. While admiring this picturesque farmstead you can clearly see why this site would be so inspirational for a working artist.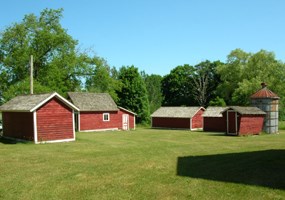 This picturesque farm was home to the Tweddle family. John Tweddle originally settled in this area around 1840 and built a log cabin at the present site of the Treat Farm about ½ mile from here. This was a one-room log house. The family built the larger house, now known as the Treat Farmhouse around 1880, and around 1895 they moved down to this site at the corner of Norconk Road. Some time later, the Crouch family purchased the farm from the Tweddle family. The farmhouse is now used for temporary housing for Lakeshore Staff, volunteers, and the Artist-in-Residence program.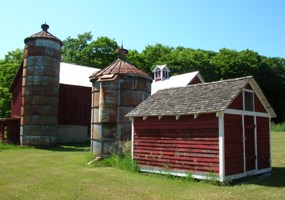 The buildings are typical of small family farms. The barn was used for dairy cattle in the bottom level with hay storage above. The metal silo near the barn was used for silage (chopped corn or hay that was stored wet and fermented over time). The other smaller silo may have been used to store dry grains. There are also several smaller buildings: a corn crib, granary, chicken coop, pump house, etc.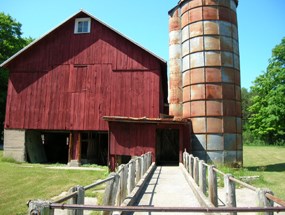 This photo is taken from the south of the barn looking north up the feed bunk. Dairy operations can often be identified by the silos which were used to store chopped corn or alfalfa, which would ferment and provide a high energy food for the cows. This is a good example of a feed bunk used to feed the silage to the cows. The farmer (or his kids) would climb up into the silo and, using a pitch fork, dig out the packed silage and throw it down the chute to the little room at the bottom. The silage would then be carried in baskets or a wheelbarrow down the bunk for the cows to eat. The cows love this feed and they would clean it right up. There wouldn't be hardly a fleck of silage left in the bunk when they were done!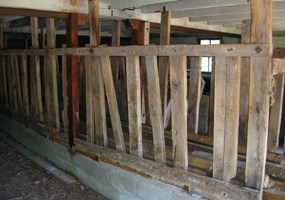 The Tweddle barn has a good example of stanchions used in the dairy operations. In this case, there are two sets of stanchions facing a manger. Two rows of cows would face each other over a common manger where hay or grain would be placed in front of them and the stanchions would be closed to hold the cows in place while they were being milked. Cows are creatures of habit, and would usually go to the same stanchion day after day.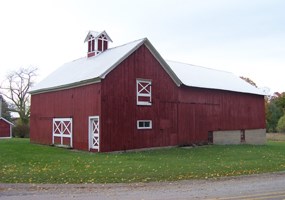 Last updated: April 10, 2015