Port Oneida Fair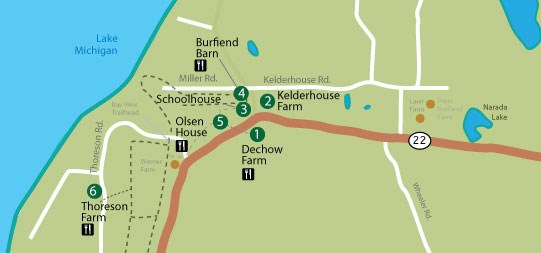 ---
We won't be hosting a Port Oneida Fair in 2021. We invite you instead to our Port Oneida Sampler.
On four Wednesday afternoons in August, one of our Port Oneida farms will open a barn or house for one-way traffic and tours and may have a demonstrator on site.

Join us for a Port Oneida Sampler:
August 4: Dechow Farm
August 11: Olsen Farm
August 18: Kelderhouse Farm
August 25: Thoreson Farm
Historic Sleeping Bear will also be selling available Fair posters online and at the Port Oneida Heritage Center/Olsen Farm; open Tuesday – Friday 11-3 and Saturday 1-4.
Watch our social media channels for more details as we get closer.

The Port Oneida Fair will be back in 2022 on Friday, August 12 & Saturday, August 13! See you there!
---
2021 Port Oneida Fair canceled. Sleeping Bear Dunes National Lakeshore, along with its many partners, has made the decision to cancel the Port Oneida Fair scheduled for August 13-14, 2021. Although the park continues to work toward a phased reopening of park facilities, the uncertainty about when public health guidance will safely allow large gatherings of people has led us to cancel the Fair. Superintendent Scott Tucker stated that "The significant preparation that would be needed from staff, partners, and volunteers precludes waiting any longer to make the decision. We look forward to when we can welcome crowds of people back into the park – and to celebrating with you at the next Port Oneida Fair on August 12-13, 2022!
---
Most years, near the beginning of August, you can take a step back in time at the Port Oneida Fair and experience life as it was in the late 1800's and early 1900's. Imagine the life of the pioneers as you help bale hay or watch a broom-maker at work. Learn about spinning, basket weaving, soap making, butter making, candle dipping, and fur trapping. Listen as park rangers and local history experts share the area's history. Watch as teams of oxen and horses cut, load, and haul hay and artists and craftsmen demonstrate their skills.
The fair is held at 6 of the historic farmsteads in Port Oneida. Each farm has a variety of artists, crafts, food, and activities for visitors. Click on the farm names below to see what's happening at each farm. A shuttle bus runs between the farms on a regular schedule during the fair, so you can park your car and easily get around to the different venues.
Dechow Farm
Kelderhouse Farm
Schoolhouse
Burfiend Barn
Olsen Farm
Thoreson Farm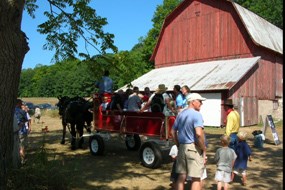 Are you an artist who has created work in or of the Port Oneida area? We are always looking for submission for our Port Oneida Fair poster.
The Port Oneida Fair is presented by Sleeping Bear Dunes National Lakeshore in partnership with Preserve Historic Sleeping Bear. To learn more about how you can help support the park, visit www.phsb.org.


Last updated: June 29, 2021