Port Oneida Fair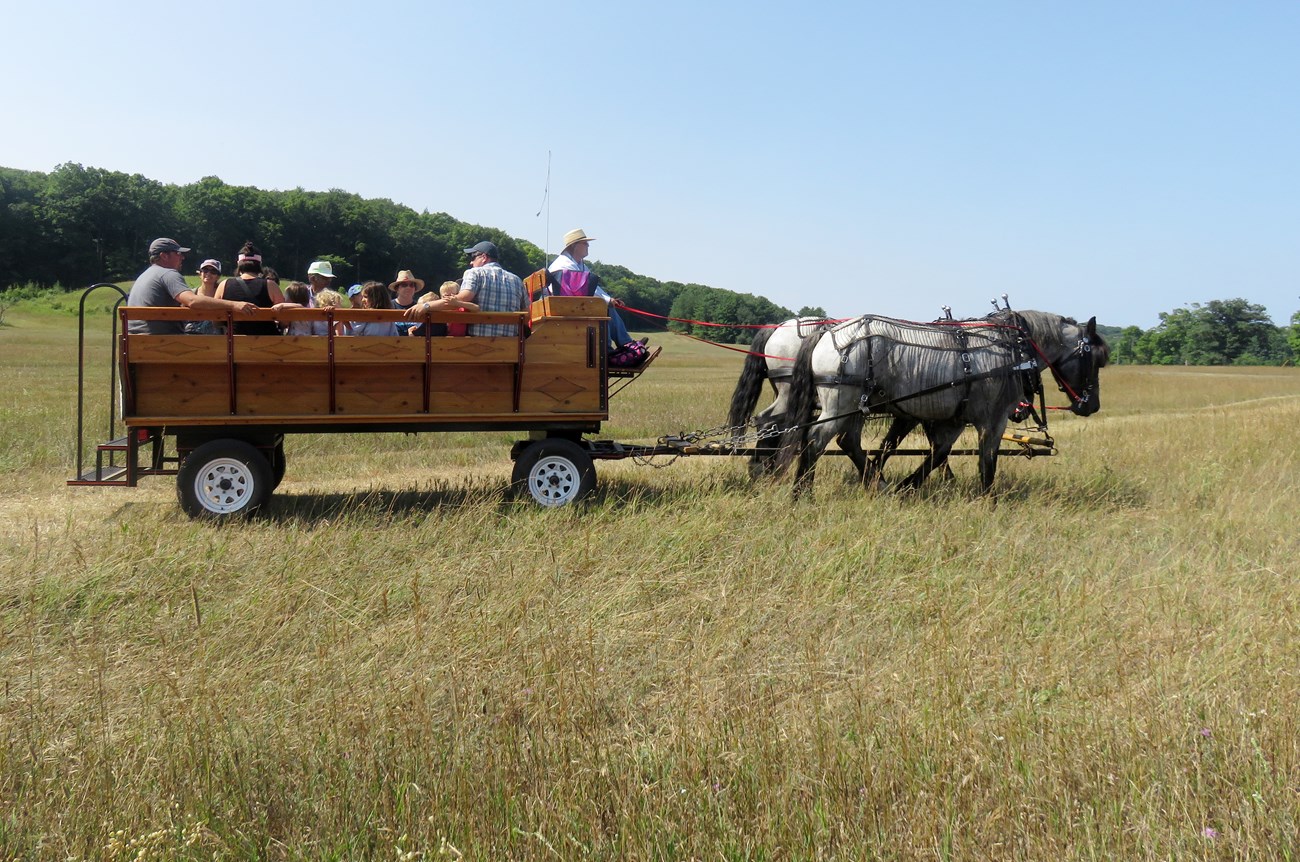 ---
August 11 & 12, 2023
---
Step back in time at the Port Oneida Fair and experience life as it was in the late 1800's and early 1900's. Imagine the life of Euro-American immigrants as you help bale hay or watch a broom-maker at work. Learn about spinning, basket weaving, soap making, butter making, candle dipping, and fur trapping. Listen as park rangers and local historians share the area's history. Watch as teams of oxen haul hay and artists and craftsmen demonstrate their skills.
The fair is held at six of the historic farmsteads in Port Oneida. Each farm has a variety of artists, crafts, food, and activities for visitors. Click on the farm names below to see what's happening at each farm. A shuttle bus runs between the farms on a regular schedule during the fair, so you can park your car and easily get around to the different venues.

The Port Oneida Fair is presented by Sleeping Bear Dunes National Lakeshore in partnership with Preserve Historic Sleeping Bear. To learn more about how you can help support the park, visit www.phsb.org.
Get Involved
Volunteer
The following list provides a few examples of volunteer activities for the Port Oneida Fair:
Assist with activities like shelling corn and making rope
Help greet and direct visitors
Photographer
Parking attendant
Assist with set-up and take-down

If this sounds like something you may be interested in, contact our volunteer coordinator, Matt Mohrman or call 231-326-4729. He will match your interests, skills, and time availability with the wide variety of volunteer projects available.
Demonstrate a skill
Sign up to demonstrate a skill or facilitate an activity. Demonstrations must fit with the Port Oneida period, 1870s to 1930s.
We are seeking demonstrators of traditional skills from the 1800s - early 1900s, such as canning, quilting, soapmaking, painting, sculpting or other art, basket weaving, knitting, candle making, etc. Craft must be demonstrated or offer hands-on activities for visitors, such as assisting with part of the demonstration or practicing the craft.
Demonstrators who wish to sell items must:
demonstrate, model, or explain their craft or skill related to those items.
submit a $35 demonstrator fee. If you are not selling, there is no fee.
Non-profits may only sell items that they created, produced, or published. They may NOT solicit donations or have donation forms on any information.
e-mail us with your traditional skill and contact information.
Food vendor
If you are a food vendor that would like to sell food at one of the various sites, please contact Preserve Historic Sleeping Bear at
Phone: (231) 334-6103 or email: phsb@centurytel.net.
Must have a food truck or other contained, state inspected, food service vehicle.
Submit a work of art
To help celebrate the fair, the Port Oneida Fair committee prints a fair poster. The committee is always looking for potential poster art. If you have painted a recognizable scene in the Port Oneida district and want to share, please consider submitting it for the poster.

It's easy to submit your work. Just email the highest possible quality image (jpg, tif, gif, or png) under 1MB to e-mail us, and include the title, size, and medium of the work.
All we ask is that all artwork be original and two-dimensional, and it's best if your artwork is horizontal in orientation approximately two units high by three units wide. We may have to slightly crop your image if it's necessary to fit it to the poster format.

You may submit up to five entries. There is no entry fee. The deadline for poster art submissions is always April 15.
Selecting the winner
Submissions will be juried by the Port Oneida Fair Poster Committee. If we choose your artwork, we will require a high-resolution image for printing. You would retain all ownership rights of the original artwork.
AND, the artist must be able to spend time at the fair signing posters!
Farm Activities
Fair events at the Dechow Farm
10:00 am - 4:00 pm
Food:
Schwenk'in Wagon
Moomer's Ice Cream
Music:
Accordian Music
Children's activities:
Farm animals
Moomers' calves
Kathy Schutt—Horse and Wagon Rides, Horse teams working fields
Trisha Wilson -- Donkeys
Cathy Cole. Friends of Sleeping Bear Dunes—Information and Scavenger Hunt
Sue Ann Carpenter—Hand spun wool
Schwenk'in Wagon--Food Service-Lunch both days and Breakfast on Saturday morning
NPS Interpretation—Natural history hikes, barn tour, etc.
Northwest Michigan Invasive Species Network—Invasive education (Friday only)
Colin Bohash—Antique Bicycles
Sue and Michael Duncan—Farm animals and Chickens
Bob Plummer —Moomers Ice Cream and Calves in Barn Stalls
Cathy Siterlet—Hand weaving and Basket Making
Kathleen Bieri, Spring Hollow Farm—Rug Weaving
Susie Viswat—Vintage Glass Jar/Mason Jar History and Tumbled Glass Treasures
Paul Dechow—Dechow Family History
Empire Area Museum—Wind-up musical instruments
Cathye Williams—Goat Milk Soap Making
Peggy Roth—Mrs. Dechow leads tours of the Barn "The Past in Present Time"
Grace Johnson—Historic Photographs and Maps of the Area
Preserve Historic Sleeping Bear—2022 Poster Sales and Donation Can
Traverse City Model A Club—10 Autos
Youth Work and City Girl Farm—Goats conducting Conservation Grazing
Xi and Del Bromley and Ania Spitzner—Beekeeping and Native Species Habitat for Pollinators
Patti Rudolph—Chair Caning
Sue Nichols – Felted and Knit Items
Claude Fields – Maple Grove Cemetery
Rudy Rudolph and Claude Fields—Single Engine Motors
Grow Benzie - Native Seeds
Rudy Rudolph and Claude Fields – Old Engine Display
Fair events and demonstrators at the Kelderhouse Farm and Orchard
10:00 am - 4:00 pm
Explore the Kelderhouse farm and historic apple orchard
Follow the trail to visit the Kelderhouse Port Oneida Cemetery
Kelderhouse family history presented by Thomas P. Kelderhouse descendants
Period Music by Luke Kawecki
Leelanau Historical Society - early Leelanau maps, lighthouses of the Manitou Passage, the wreck of the Rising Sun
The Farrants of Glen Haven and Empire: A Story Restored - Mae Keller, Kay Bond, and Andrew White
Fair events at the Schoolhouse
10:00 am - 4:00 pm
"School Days in a One Room Schoolhouse" (11 am, 1pm & 3 pm)
Fair Events at the Burfiend Barn
10:00 am - 4:00 pm
Food:
Country Fair Kettle Corn and Fresh Squeezed Lemonade
Music:
Bob Sadler and Students Saturday 11:30 - 3:30 pm
Antique Farm Hand Tools
Early American Michigan Cricket - Friday
Leelanau Historical Museum
Hands on Preservation Experience Traditional Building Skills
Fair events at the Olsen Farm
10:00 am - 4:00 pm
Charles Olsen Farm/Preserve Historic Sleeping Bear—Shuttle Stop; horse and wagon stop
Penny Rug Making
Rug Braiding
Old Tyme Photography
Tom VanZoeren – oral history recording; his books; Port Oneida History
Dulcimer – Jerry Kloock
Sewing – bonnet patterns
Preservation Station- see what we're restoring or making using traditional methods
Historic Cooking Demonstrations/food-ways
Olsen Barn Tours
Bread and Butter - butter churning, story boards about milling of grain; interpret cream separator
Ice Cream – Cherry Republic
Wood toy boats and trough fishing
Washtub demo
Vegetable and Flower Garden
Leather stamping
Float your boat – make wood boat from our templates
Children's Games
Root Cellar – storyboard– samples of vegetables
Fair events at the Thoreson Farm
10:00 am - 4:00 pm
Friday, 6:30 pm - 8:30 pm - Sleeping Bear Stories: Two Lost Tales of the Past Presented by Beach Bards and Co.
Children's activities:
Children's Art Activities
Junior Ranger Program Activities

Leonard Thoreson—Family photographs and memories
POF poster sales
Coiled Pine Needle Baskets
Basket Making
Pottery
Ponies
Soap Making and Lavender Bundles
Plein Air Artist, Painting Local Landscapes
Antique Button Displays, "A Window on History" & Button Activities
Shaker Boxes & French Rolling Pins
Heritage Flower Seeds----Outhouse Hollyhock and Heritage Farm Poppy
Blacksmithing
Hand needle felting
Basket weaving


Last updated: February 1, 2023