Glen Arbor and Empire Area Lakes
Tucker Lake is a very small lake very close to Glen Arbor. Look for the boat ramp sign near the corner of County Road 675 and Westman Road. About a third of the lake is weed-choked, but there area several fishing spots in the open areas. It is surrounded by swamp and woods. Perhaps because it feels so isolated, it's a fun place to fish. The ramp is pretty good for such a small lake, but mosquitoes can be nasty. No motorized boats are allowed.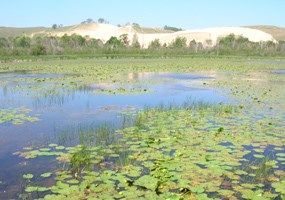 The
Mill Pond
is easily overlooked as you drive along M-109 just north of the Dune Climb across the road from the Little Glen Lake Picnic Area. The Mill Pond is a nice nature lake, a little bigger than it first appears. There is a beaver lodge on the lake that you can see from the road, but don't try to walk in there. You can sink up to your hip in the marshy area surrounding it. There are often herons and egrets that live here most of the summer. This lake can be enjoyed from the road.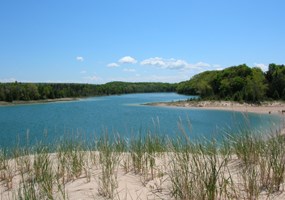 North Bar Lake
is one of the most popular inland lakes in the Park for swimming. It's all sandy and shallow which makes it good for little kids and early season swimming. It has a big sandy beach, not surprising since it is just across a low sand dune from Lake Michigan. Many bathers wander over to the big lake as well. North Bar Lake has an exccellent boat launch. You can carry in a canoe or kayak. No motorized boats are allowed. There is a restroom at the parking area. You can access North Bar by going north out of Empire on LaCore Street. Turn right on Voice Road and then left on Bar Lake Road, which is gravel. Browse a full page about
North Bar Lake
.
Taylor Lake is a small nature lake about a mile south of Empire on M-22. It is surrounded by marsh and woods and separated from the road by about half a mile. There are no paths or trails to it, though you can walk there using a compass and a map. It takes some effort because, although part of the way is fairly open field, the remainder is through tangled woods. When you get there you will find that the lake is pretty, but nearly inaccessible due to the soft shoreline.
The content of this page is based on an article by Jane Greiner published in the Glen Arbor Sun on June 29, 2006.
Last updated: April 10, 2015