Exploring Dark Skies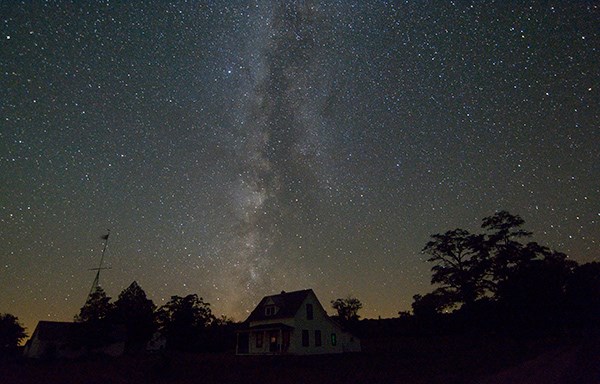 Forget not to look up. Step out into the darkness and let the moment shape itself as you get lost in the beauty above. Stand under a blanket of stars and be filled with awe and wonder.
Natural darkness is quickly becoming a rare sight. Cities are letting off light pollution, filling the evening sky with a lightened hue. If you are lucky enough, your backyard may be a place to go out, look up, and see what's above. If not journey here to Sleeping Bear Dunes National Lakeshore, or to your nearest National Park site to take in the breathtaking views of a star-filled night sky.
At Home

---
"If people sat outside and looked at the stars each night, I'll bet they'd live a lot differently." - Bill Watterson
---
If you are lucky enough to be out of the city lights, step out into your backyard and enjoy the scene above. Here are some helpful hints for stargazing in your own backyard:
Camp out in your own backyard on a starlit night.
Allow your eyes time to adjust; it takes about twenty minutes for your eyes to become accustomed to the nighttime darkness.
Make a red flashlight or use one with a red LED. To make your own, use red paper or cellophanes to cover the white light of the flashlight.
Grab your binoculars to get a better look the the fuzzy spots in the sky overhead. Also, use the binoculars to gaze upon the Milky Way.
Educate yourself on the constellations overhead with the use of a free star finding app downloadable for your smartphone or tablet.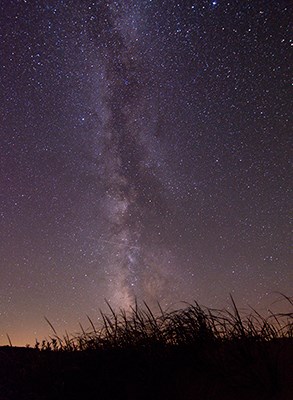 In the Park
If you find yourself journeying to Sleeping Bear Dunes, be sure to plan to set aside an evening for stargazing. Bob Moler, of the Grand Traverse Astronomical Society calls Sleeping Bear the "perfect place to observe the heavens and contemplate the universe."
Sleeping Bear Dunes is home to many prime stargazing locations. Here are a handful of places to explore:
Any of the beaches that stretch along the Lake Michigan shoreline
Along the Pierce Stocking Scenic Drive, specifically at the number three stop
The parking lot of the Dune Climb
Thoreson Farm in the Port Oneida Rural Historic District
Platte River Point
When venturing out to stargaze in the park make sure to bring a red flashlight to journey from your car to your destination. Be sure to dress in layers, as summer nights are often cool in northern Michigan. Bring a blanket or a set of chairs to sit on. And last, don't forget the mosquito repellent!
Last updated: July 5, 2016