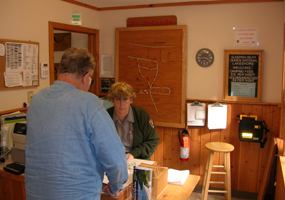 During the summer season, there are nightly ranger-led evening programs. From tall tales of local lore to learning more about the lakeshore's environment to beautiful awe-inspiring slide shows that bring nature up-close and personal. Evening programs are a great way to start the family's evening campground activities or to end a long, too-much-fun, tuckered-out day.
During the summer months the Campground Ranger Station is staffed from 8:00 a.m. to 9:00 p.m. During the Spring and Fall months the ranger stations hours may vary. See the reader board outside the station for times and special messages.
There is a sanitation station available near the campground entrance for the convenience of self-contained camping units. Generator-use is restricted to sites #1 thru 31 (the first loop) and then only from 9:00 a.m. to 6:00 p.m.