D.H. Day Campground
Safety measures being taken in the campgrounds
The park is following all CDC guidelines for cleaning and disinfecting public spaces found at: https://www.cdc.gov/.../pdf/Reopening_America_Guidance.pdf. This includes routine cleaning of outside surfaces, showers and restrooms, plus twice a day deep cleaning/disinfecting of showers and restrooms using EPA approved disinfectants against Covid-19. Our campground offices have implemented once a day disinfecting at opening, then all touched surfaces will be disinfected after each group uses the office, barriers have been installed on the desks, our staff wear masks, and only one group will be allowed into the office at a time. Please call the visitor center at 231-326-4700, ext. 5010 if you have a specific question about one of the park's safety measures at the campgrounds.
D.H. Day Campground is open from the first Friday in April until the last Sunday in November (weather permitting). Reservations are required from May 1 through October 15. Reservations can be made up to six months in advance of your arrival date and can be made online at www.recreation.gov or by calling 1-877-444-6777. Both the phone bank and the website open at 10 a.m. Although reservable dates often fill months in advance, there are frequent cancellations and date changes that result in openings closer to or on the date of arrival. Same-day reservations, as available, will be offered and can be booked either with the park staff at the campground ranger station (credit or debit card only) or online at www.recreation.gov or by calling 1-877-444-6777.
During the summer season there are nightly ranger-led evening programs in the campground amphitheater or historic log cabin: hear tales of local folk lore, learn more about the lakeshore's environment, view nature in beautiful awe-inspired slide shows. Evening programs are a great way to start the family's evening campground activities or to end a long, too-much fun, tuckered-out day. Check with the campground staff for times and subject.
The ranger station is staffed during the summer months from 8:30 a.m. to 7:30 p.m. daily. Throughout the season, campground host are on site and available 24/7. During spring and fall, ranger station hours may vary. Hours are posted on the ranger station door as well as in the bulletin boards located throughout the campground. Weather is available on the info screen located on the front porch of the ranger station.
There is an RV sanitation station available by the ranger station with easy access for self-contained camping units. Generator-use is restricted to sites #1 thru 31 (the first loop) from 9 a.m. to 6 p.m.
Quiet hours in the campground are from 10 p.m. to 6 a.m., although noise levels must be controlled at all times to avoid disturbing other campers. Fires are allowed ONLY in the fire rings provided on the sites and on the beach between the water and the first dune. No fires are permitted in dune grass. Never leave fires unattended and extinguish them with water only. Never bury a beach fire with sand.
Travel Direction: From Empire, MI: Drive north on M-22 for 2 miles to the intersection of M-109, turn left onto M-109, continue for another 5.3 miles (past the Scenic Drive, Dune Climb & entrance to the D.H. Day Group Campground), the entrance to the campground will be on your left. From Glen Arbor, MI: Drive west on M-109 for 1.4 miles, the entrance to the campground will be on your right. Campground address: 8000 W. Harbor Hwy, Glen Arbor, MI 49636. Phone number is 231-326-4700, ext. 5035.
Note that the D.H. Day Group Campground is located at a different location. It is just north of the Dune Climb on M-109 then turn west on Harwood Rd. Parties camping at DH Day Group Campground must check in at the main DH Day Campground to purchase their camping permit before setting up camp.
PLEASE REVIEW ALL CAMPGROUND REGULATIONS UPON ARRIVAL - IT IS YOUR RESPONSIBILITY TO BE AWARE OF AND COMPLY WITH ALL RULES AND REGULATIONS. THANK YOU FOR YOUR COOPERATION!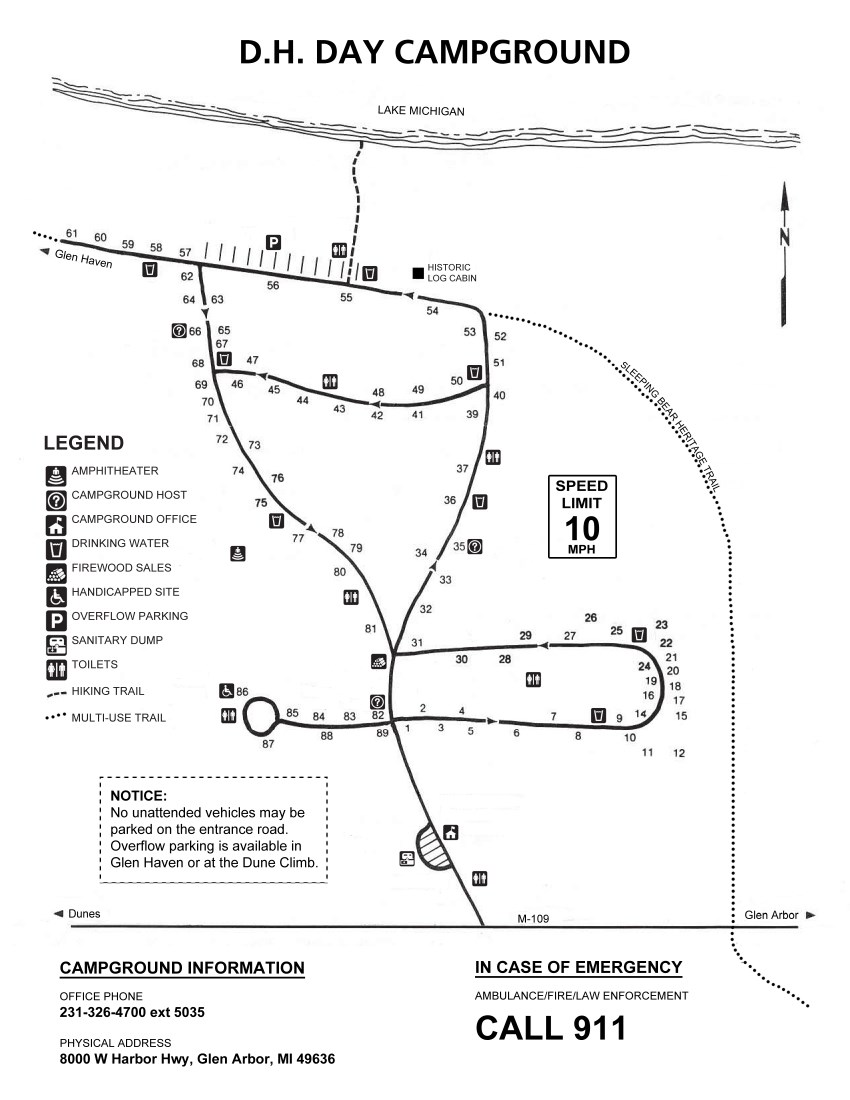 -


Last updated: June 8, 2021