D.H. Day Campground
Campers wishing to reserve a campsite can make a reservation up to six months in advance for arrival dates of May 1 through October 15 by calling 1-877-444-6777 or you can make your reservation online.

If you are planning on camping at the Lakeshore between May 1 and October 14 and making a same day reservation when you get to a campground, be sure to establish your Recreation.gov user profile before you arrive by visiting www.recreation.gov or phoning 1-877-6777.

The rustic D.H. Day Campground is located in the northern district of the Sleeping Bear Dunes National Lakeshore, on the lower peninsula of Michigan. This beautifully wooded campground is one of the most popular in northern Michigan, with easy access to the Dune Climb, the Pierce Stocking Scenic Drive, and the museums in the historic village of Glen Haven and is located only 2 miles from the restaurants and shops of beautiful downtown Glen Arbor. If you're looking for a slightly more rugged camping experience, then D.H. Day is probably for you. Choose one of 81 private sites, all within a short walking distance of a beautiful Lake Michigan beach. D. H. Day provides an excellent setting for a relaxing family vacation.
Vault toilets and water spigots and fountains are available throughout the campground. Hot showers are available at the Platte River Campground located approx. 17 miles to the south just off M-22. Each site has a large picnic table and a fire ring. The campground is both tent and RV friendly (no hookups). Pets are also welcome! There is even a firewood-vending machine located in the center of the campground. The multi-use Sleeping Bear Heritage Trail winds its way through the campground offering easy access to more than 20 miles of hiking, biking and fun. The harbor side village of Leland is approx. 30 minutes away and is the gateway to both North and South Manitou Islands.
D.H. Day Campground is open from the first Friday in April until the last Sunday in November (weather permitting). Reservations are required from May 1 through October 15. Reservations can be made up to six months in advance of your arrival date and can be made online at www.recreation.gov or by calling 1-877-444-6777. Both the phone bank and the website open at 10 a.m. Although reservable dates often fill months in advance, there are frequent cancellations and date changes that result in openings closer to or on the date of arrival. Same-day reservations, as available, will be offered and can be booked either with the park staff at the campground ranger station or online at www.recreation.gov or by calling 1-877-444-6777.
During the summer season there are nightly ranger-led evening programs in the campground amphitheater or historic log cabin: hear tales of local folk lore, learn more about the lakeshore's environment, view nature in beautiful awe-inspired slide shows. Evening programs are a great way to start the family's evening campground activities or to end a long, too-much fun, tuckered-out day. Check with the campground staff for times and subject.
The ranger station is staffed during the summer months from 9 a.m. to 9 p.m. daily. Throughout the season, campground host are on site and available 24/7. During spring and fall, ranger station hours may vary. Hours are posted on the ranger station door as well as in the bulletin boards located throughout the campground. Weather is posted every morning on the bulletin boards as well.
There is an RV sanitation station available by the ranger station with easy access for self-contained camping units. Generator-use is restricted to sites #1 thru 31 (the first loop) from 9 a.m. to 6 p.m.
Quiet hours in the campground are from 10 p.m. to 6 a.m., although noise levels must be controlled at all times to avoid disturbing other campers. Fires are allowed ONLY in the fire rings provided on the sites and on the beach between the water and the first dune. No fires are permitted in dune grass. Never leave fires unattended and extinguish them with water only. Never bury a beach fire with sand.
Travel Direction: From Empire, MI: Drive north on M-22 for 2 miles to the intersection of M-109, turn left onto M-109, continue for another 5.3 miles (past the Scenic Drive, Dune Climb & entrance to the D.H. Day Group Campground), the entrance to the campground will be on your left. From Glen Arbor, MI: Drive west on M-109 for 1.4 miles, the entrance to the campground will be on your right. Campground address: 8000 W. Harbor Hwy, Glen Arbor, MI 49636. Phone number is 231-326-4700, ext. 5035.
Note that the D.H. Day Group Campground is located at a different location. It is just north of the Dune Climb on M-109 then turn west on Harwood Rd. Parties camping at DH Day Group Campground must check in at the main DH Day Campground to purchase their camping permit before setting up camp.
PLEASE REVIEW ALL CAMPGROUND REGULATIONS UPON ARRIVAL - IT IS YOUR RESPONSIBILITY TO BE AWARE OF AND COMPLY WITH ALL RULES AND REGULATIONS. THANK YOU FOR YOUR COOPERATION!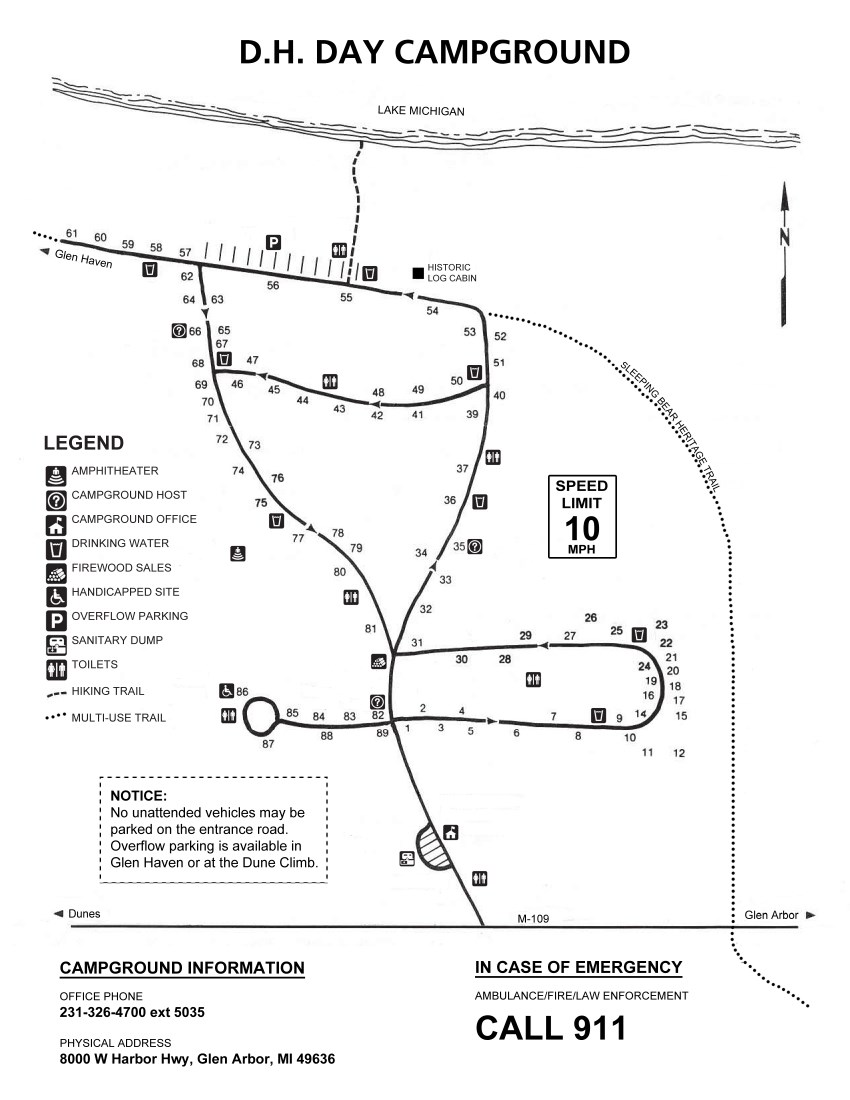 Map of D.H. Day Campground


Last updated: April 25, 2019