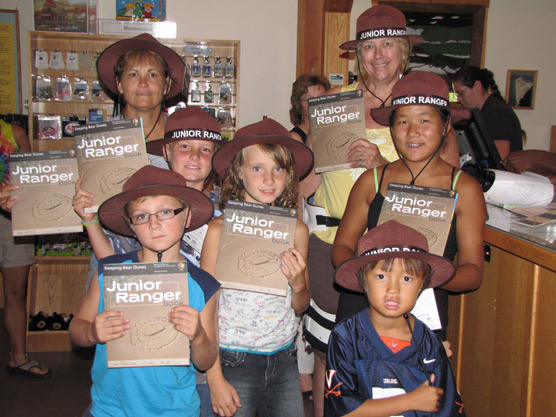 News Release Date:
August 6, 2010
Contact: Lisa Griebel, 231-326-5134, ext. 301
On August 4, 2010, Sleeping Bear Dunes National Lakeshore launched its new Junior Ranger Book; a 20-page, full-color publication, full of fun and educational activities for people of all ages. The first group of people to complete the new books received special recognition. The program promotes healthy family recreation on public lands and was chosen as one of only 20 national parks to launch Let's Move Outside Junior Range;a component of First Lady Michelle Obama's campaign to end childhood obesity.


"We are so excited about our new Junior Ranger book," said Lisa Myers, Chief of Interpretation and Visitor Services. "We had the previous book for many years and it was popular. However, the colorful design, increased number of activities to choose from, and attention to a variety of learning styles makes this edition very special. It really encourages people to get out in the park and explore the many different natural and cultural features of this national park site. Also, we are honored to have been selected as a pilot park for the new Let's Move Outside Junior Ranger initiative that the First Lady is promoting. Persons who complete at least one physical activity in pursuit of their Junior Ranger badge receive a special sticker that designates them as a Let's Move Outside Junior Ranger." Myers added, "And almost every Junior Ranger exerts some energy on the Dune Climb, if not on a hike with a Park Ranger, or swimming with their families!"
Two family groups had the honor of becoming the first Junior Rangers to have completed the necessary requirements of the updated Junior Ranger Program. Sue and Chance Spencer from Bay City, Michigan and Janet, Teresa, Thomas, Connor and Rebecca White from Virginia Beach, Virginia had originally planned on visiting the National Lakeshore for just one day. They had such a great time that they returned again the next day and finished the new Junior Ranger Program. Park Rangers bestowed a Junior Ranger hat on each person and had everyone raise their hands and recite the official pledge. After being sworn in, the excited and proud Junior Rangers posed for pictures with the patches and badges they earned as their achievement was announced in the visitor center. Park staff and visitors applauded the honorees. Neither the adults nor children had any idea that they would be the first 'new' Junior Rangers and be recognized with such fanfare.
The Junior Ranger Program has been in existence in the National Park Service since the 1920s. Young people can become Junior Rangers at more than 200 national parks nationwide. The Sleeping Bear Dunes Junior Ranger Program is free and offers badges, patches, and certificates for those that complete the activity book. Depending on your age, a specific number of activities must be completed in order to earn an award. This program offers a fun and educational way to explore the National Lakeshore, learn about its resources, and help the Park Rangers protect it for all future generations.                                                                                               
By summer's end, 50 national parks will offer Let's Move Outside Junior Ranger Programs. Before heading out, families can look at http://www.letsmove.gov/letsmoveoutside.php for more information about activities and participating parks. This website hub will link families to the great outdoors and give tips and ideas on how to best plan and enjoy an active adventure. The National Park Service provides 84 million acres to explore, so there are many places and ways to move outside!
For more information about the Junior Ranger Program, please call the National Lakeshore at 231-326-5134 or Visit This Link on our website. Although all Park Ranger-led programs are free, participants need to purchase the park entrance pass or have an annual pass already to display in their vehicle.