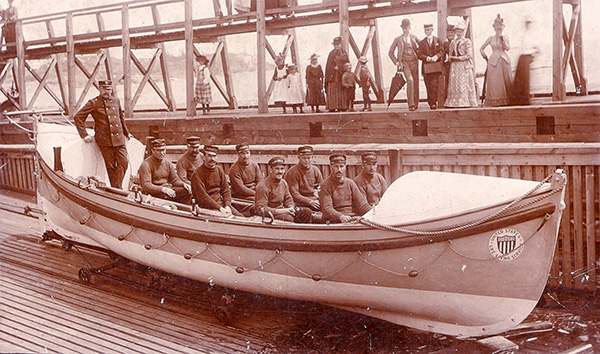 News Release Date:
September 20, 2013
Join park rangers and guest speaker Tim Dring for a special program at Sleeping Bear Dunes National Lakeshore (National Lakeshore) about the U.S. Lifesaving Service and U.S. Coast Guard rescue boats entitled "You have to go out, but you don't have to come back." The one-hour program will be held on September 29 at 3:00 p.m. at the Cannery Boat Museum in Glen Haven. Learn about the various craft used in rescues on the Great Lakes and how they compare to East Coast Lifesaving Service station craft.  
The guest presenter, Tim Dring, is a retired U.S. Naval Reserve Commander and currently on the Board of Directors of the U.S. Lifesaving Service Heritage Association. Mr. Dring has tremendous knowledge of historic water rescues and the watercraft used in those rescues. He is the co-author of American Coastal Rescue Craft, and a regular author-contributor to the Heritage Association's quarterly journal Wreck & Rescue. He is very excited to be spending time at the National Lakeshore. "We are exceptionally pleased to have Mr. Dring present this program at the National Lakeshore's Cannery Boat Museum along the shore of Lake Michigan. Maritime history is very important to this area and it will be wonderful to have him speak about the Lifesaving Service," said Paul Purifoy, Acting Chief of Interpretation and Visitor Services.
All public programs are free, but you must purchase a Park Entrance Pass and display it in your vehicle. Please call 231-326-5135, ext. 328, to make reservations (if you plan to bring a group), or ask questions, or visit their website at www.nps.gov/slbe. Program information is also available on the National Lakeshore's Facebook page at www.facebook.com/sbdnl and Twitter site at www.twitter.com/sleepingbearnps.