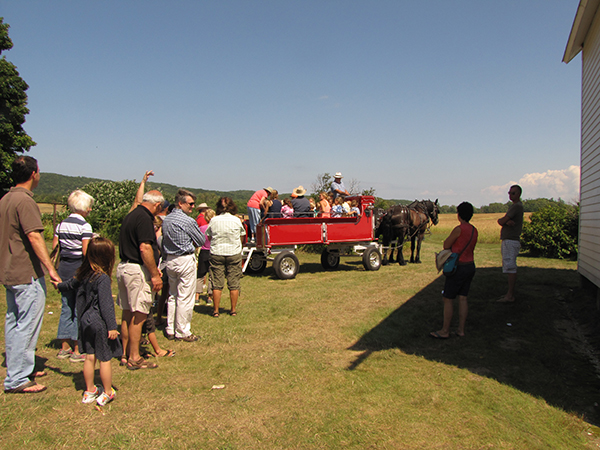 News Release Date:
March 20, 2015
Think of warmth, sunshine and fun! Plan your August visit to Sleeping Bear Dunes National Lakeshore (National Lakeshore) for the 14th Annual Port Oneida Fair. Mark your calendar for August 7 and 8, 10:00 a.m. - 4:00 p.m., with special events on Friday and Saturday evenings. The fair will feature activities for all ages at six sites in Port Oneida, a chicken dinner on Friday, and it will end with solar viewing and an astronomy party on Saturday night. This two-day special event is free. Participants need only purchase the Park Entrance Pass or have an Annual Pass displayed in their vehicle to join in the fun.
All your favorite activities will be there, including blacksmithing at the Thoreson farm, live music at the Burfiend farm, demonstrations about family life at the Olsen farm, the Civil War encampment at the Kelderhouse farm, living history classroom sessions at the Port Oneida Schoolhouse, wagon rides at the Dechow farm, and many more unique activities.  
Plans are in the works for new activities as well. Spring planting is coming to the Kelderhouse farm. Imagine crops growing in the fields this summer and harvested at the fair. Heritage grains (oats, wheat, barley, buckwheat, millet, and rye) and vegetables important to rural agricultural life and sustenance will be planted at the Kelderhouse farm. During the fair, you can see the grains cradled, shocked, and threshed, and vegetables that are ready will be harvested.  There will be opportunities to learn from, observe, and engage in these activities.
The Olsen farm will have a new garden with corn and potato planting and harvesting at the fair along with a potato hunt for kids. The new "Port Oneida:  Past and Present" demonstration will show early Port Oneida and what's happening now with historic preservation in the National Lakeshore. Over 80 demonstrators will participate in the fair. Each site has its own theme with unique activities so no two stops are the same.  
The six Pot Oneida Fair sites:
Thoreson farm: art/artists
Olsen farm: domestic farm life, food
Burfiend farm: maritime history, music
Kelderhouse farm:Kelderhouse family and Civil War
Port Oneida schoolhouse: education, children
Dechow farm: farm equipment, animals
If you know someone who would like to be part of the fair, there are plenty of volunteer opportunities available from parking cars to demonstrating a special skill. Please contact Matt Mohrman, Volunteer Coordinator, at e-mail us or 231-326-4729.
Calling all artists! Do you have artwork from Port Oneida? The National Lakeshore is accepting place-specific pieces for the 2015 Port Oneida Fair poster. The selected work will be sized to 12" by 16" for the poster.  Interested artists should email a digital image by April 15 to Susan Sanders, Media Specialist, e-mail us. The chosen artist will be invited to sign their poster during the fair at the Thoreson farm.
For more information about the fair, go to www.nps.gov/slbe and search "Port Oneida Fair." The National Lakeshore is hoping for another great turnout at this year's fair. Think summer!